For years, Apple's Siri digital assistant has skulked in the corner of iOS, usually assisting only when asked. Like the wallflower who gets a summer makeover, however, the new Siri that steps out with iOS 9 this fall will be outgoing and eager, bounding forward to help.
Siri's upgrade (revealed at Apple's Worldwide Developers Conference on Monday) emphasizes proactivity and has achieved parity with the primary features of Google Now and Microsoft's Cortana: time- and location-based reminders, hunting down videos that can be played within an app, identifying contacts via their phone number, or launching particular songs. But several of Siri's promised features actually push the platform ahead of the competition: pulling useful data from your apps, controlling your smart home, and kicking off specialized tasks based on your habits or current needs.
Now that the power balance is shifting, here's how Siri stacks up to her competition.
Tracking your health, thoughtfully
Most health apps are by definition somewhat passive. For example, Microsoft's Windows Phone Bing Health and Fitness app tracks your exercise, and assesses how far you've traveled and how many calories you've burned. Ditto for specialized apps that run on top of Android. But none of them, to my knowledge, allow you to dictate a run that's defined by the number of calories you want to burn—such as asking Siri to oversee a "300-calorie bike ride." I can't help but think fitness fiends will love that one.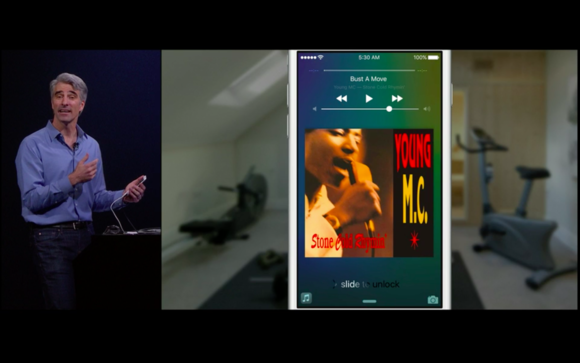 Using app data to refine suggestions
The expanded iOS 9 Spotlight search also takes contextual awareness to a new level. By swiping left on the iOS home screen, you can bring up relevant search information—which in iOS 9, means relevant apps, contacts, even nearby locations. It's the sort of feature that Android launchers like Aviate have attempted, using its knowledge that you're out and about, for example, to suggest using apps like Foursquare or Yelp. Likewise, the new version of Siri promises to tap into the knowledge you've added to those apps. It's the difference between asking "Where is Harry's Chinese restaurant?" and "Where's that Chinese restaurant I like?"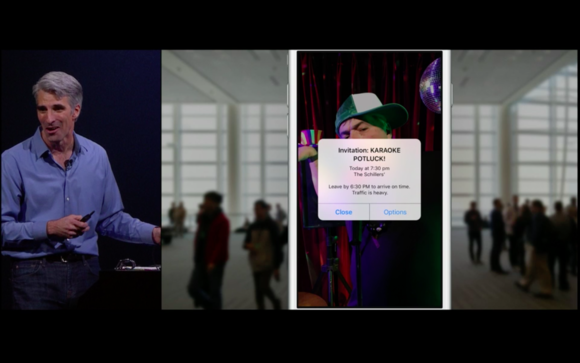 What's less clear is how much control Siri will have over those apps. In his demonstration, Craig Federighi, Apple's senior vice president of software engineering, implied that Siri would understand you were entering the gym at a certain time, and it would have a bouncy mix of exercise music ready when you plugged in your headphones.
Taken a bit further, Siri could even automatically launch the Target app, for example, if you used the phone at the store, or launch Apple Pay when you approached the register. That seems like a lot to hope for in iOS 9, so we'll see.
Siri's big ideas vs. Google Now's discrete tasks
Android fans will eye the new Siri with particular interest, given the compelling advantage of Google Now's contextual features. Siri both exceeds and falls short of Google Now's capabilities. The primary difference, however, is in the interface.
Google Now relies on a series of discrete "cards," each containing a modular piece of information: the upcoming weather forecast, for example. Siri can pop up a reminder for you to leave to reach your next appointment on time, but Siri seems more integrated into the OS and apps themselves rather than as a separate interface. In Windows Phone, Cortana is a dedicated app. No one approach really stands out as superior.
What Google Now does best is supply all the little details that Siri has traditionally ignored: Where'd I park? When does that next bus arrive? When is my water bill due? A handy task-oriented interface lets you to flick cards off the screen into oblivion once you're done with them. Google Now can also use internal app data to provide a list of Airbnb rentals in Lake Tahoe for this coming weekend, and it appears Siri will be able to do the same.
The upcoming Siri appears to have taken a more focused approach, though. For instance, you can order Google Now to play a particular playlist, or a song by a particular artist. But asking Siri to play the "top song of 1989" will launch that specific song, while Google returns a list of search results. (I'd expect that feature to be matched by Google before iOS 9 launches).
The new, proactive Siri will know what you're referring to without having to be explicitly told—or at least it did on the particular email used in Apple's demo. Google's getting there, too: At the company's own recent developer conference, I/O, it showed a similar Now on Tap feature due to ship with its Android M mobile operating system.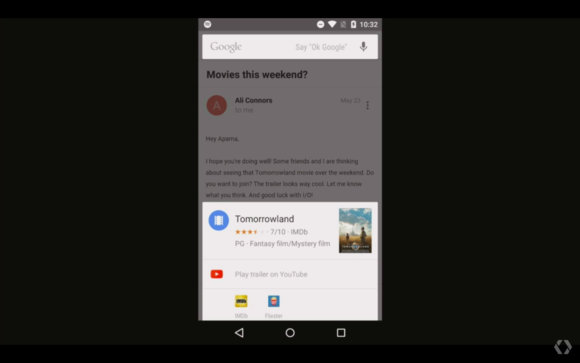 Siri will assist without being intrusive
Last but certainly not least, there's privacy. Google's grubby paws grab as much of your data as it can get, and makes no bones about it. Cortana also digs through your personal info.
Apple says it won't tie any queries it makes on your behalf to your Apple ID, and any email mining will take place on your machine, not the cloud. That may be a convenient way to avoid stressing Apple's cloud further, but it's also going to appeal to average consumers and techies alike who worry about how much of their life is being compiled into a digital dossier.
Cortana who?
So you noticed Cortana hasn't come up much. Call it a good digital assistant trapped in a platform that still needs to prove itself. Microsoft would probably argue that it has one advantage over Google and Apple: a unified OS—Windows 10—that ties together embedded devices, phones, tablets, notebooks, desktops, and even massive wall-sized screens, not to mention Microsoft's upcoming Edge browser.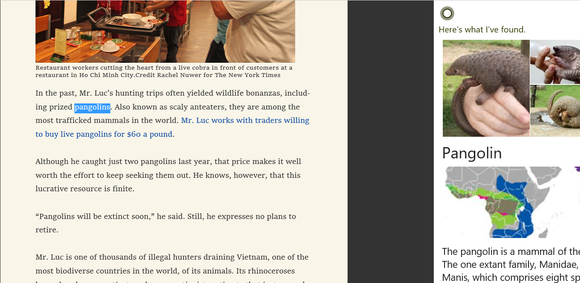 Apple reserves Siri for its phones, tablets and watches, although notifications can make their way into Mac OS. (Some of us thought that Siri integration into Mac OS X would be a no-brainer.) Google sort of straddles the two, allowing users to trigger Google Now via their desktop Chrome browser.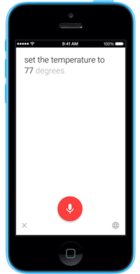 Cortana has missed some big opportunities, though. When Google bought Nest, some scratched their heads: What's Google doing here? Since Apple introduced its own HomeKit platform, however, the way forward's been clearer—and Microsoft has no real answer to that, nor to the smartphone-car connectivity of Apple CarPlay and Android Auto. ( Microsoft has announced a partnership with Insteon, however.)
We all know about Microsoft's app gap, but even worse, Microsoft hasn't revealed any way to tap the knowledge you've added to those apps to match the capabilities being built into Google Now and Siri.
For now, Microsoft uses a separate OS to power the Microsoft Band, and the company lacks the breadth of hardware that both Apple and Google do. Let's see what Cortana can do on the Xbox One, however, before we rule out Microsoft entirely.
I really like Cortana. I use it every day, alongside Google Now (and, less frequently, Siri). But here's the bottom line: A year ago, the battle between the three digital assistants was waged primarily on the accuracy of answers they provided to spoken queries. Now, we're going to have to evaluate them based on how well they perform behind the scenes, managing your digital life without supervision.