Apple to Spotify: We'll take it from here.
Apple's long-awaited new streaming-music service, Apple Music, isn't just a shot at the dominant player, which has 60 million active users. The new app challenges the way people get songs from Apple itself, which has long placed a high premium on its iTunes digital download storefront and emphasized how that platform revolutionized the music industry.
Apple's new service, unveiled during Monday's keynote at the company's annual Worldwide Developers Conference, takes iTunes to the next level by making 30 million of the expansive catalog's songs streamable. That's millions of songs on demand, right alongside the music you already own. You can comb through the iTunes catalog to find tracks you like or want to save for later.
Then there's For You, a recommendation tool that serves up songs and artists based on the genres of music you tell Apple Music you like. You can use Siri to call up a song or playlist and immediately launch it in Apple Music, even if you don't know the exact name. "Play that song from Selma," for instance, calls up John Legend's "Glory."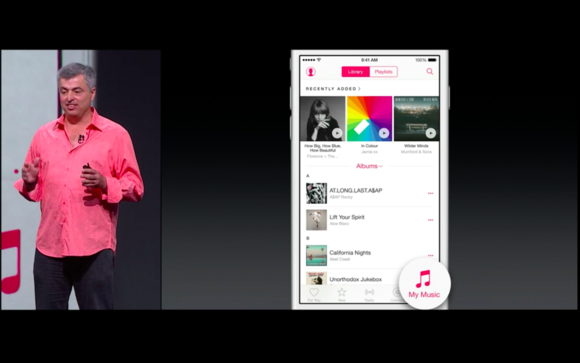 The same, but different
Apple Music has the standard streaming service features—a big library, playlists curated by activity, offline listening—and it has the standard streaming service price tag: $9.99 per month, or $14.99 per month for families with up to six people. But unlike Spotify, Apple Music will feature a 24/7 live radio station, Beats 1, anchored by three DJs based in New York, Los Angeles, and London respectively. Former BBC personality Zane Lowe will lead the effort.
Every listener around the world will hear the same handpicked songs, plus celebrity interviews, pop culture news, and other musical nuggets. Apple is clearly hoping the celebrity curation element will turn Beats 1 into a bigger draw than iTunes Radio, which also relied on human curation but never caught on.
Then there's Connect, a social networking feature that lets fans follow artists. Hip-hop star Drake was in the house at WWDC to talk about how he'll use Connect to share snippets of his current album, behind-the-scenes photos of his life, and other content his following will love.
Pandora, Spotify, Rdio, and other streaming services paved the way for Apple to wade into streaming by making people realize they didn't need to own songs to enjoy them. Apple certainly isn't reinventing the wheel with Apple Music, which takes pieces of Beats Music and iTunes Radio and blends them. But there were other MP3 players before the iPod, none of which perfected the means by which we buy and listen to music.
Apple Music debuts June 30 on iOS, OS X, and Apple TV, and has plans to open the doors to Windows and Android users this fall. The company is offering a free three-month trial period to give you a taste of what Apple's take on streaming is all about.