Apple's iOS 9 has plenty of major features to look forward to, such as a more intelligent Siri, transit maps, and, and side-by-side iPad apps. Just as important, however, are the little things—the minor headaches of previous iOS versions that Apple is now getting around to alleviating.
To recap, here are six iPhone and iPad annoyances that will disappear in iOS 9:
1. A less-confusing shift key
Pop quiz: On the default iOS keyboard, are the letters uppercase when the shift key is gray, or white? Unless you bother to memorize, this issue has likely been a constant source of confusion since iOS 7. (The answer, by the way, is white.) As 9to5Mac notes, hitting shift in iOS 9 will toggle the letters on the keyboard between uppercase and lowercase, so there's no ambiguity about what you're about to type.
2. A much smaller OS update
With iOS 8, updating from an older device required a whopping 4.6 GB of free storage space. This was a huge barrier for people who wanted the latest software, and likely contributed to slower-than-usual adoption. Apple says iOS 9 will only require 1.3 GB by comparison, so even 16GB iPhone and iPad users will have an easier time upgrading.
3. Rotation lock for the iPhone mute switch
The iPhone might not have needed a dedicated rotation lock switch when screens were smaller. But the iPhone 6 and iPhone 6 Plus can practically act as miniature iPads, so you might want to quickly enable landscape mode for videos and pictures before switching back to portrait-only. Macrumors notes that iOS 9 will have an option to repurpose the iPhone's mute switch for rotation lock, just like you can on the iPad.
4. A search function for settings
As the iPhone has grown more sophisticated, its settings menu has become much more complex, with dozens of mazelike submenus. It probably won't get any simpler in iOS 9, but at least you'll be able to find specific settings with a dedicated search bar at the top of the app.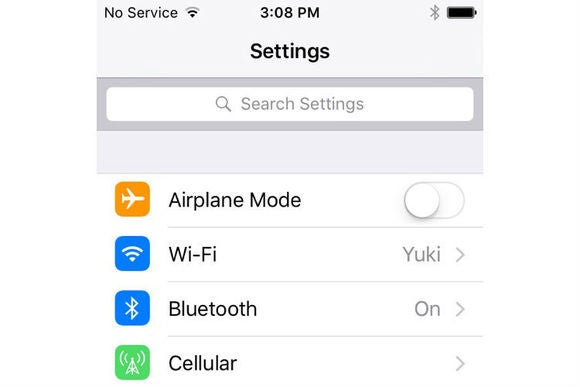 5. A way back to Safari
We've all been in the situation where a website really wants you to install its iOS app, and you either end up in the App Store by accident or get maliciously redirected. As MacRumors points out, iOS 9 will add a "Back to" button when you hit an app link from Safari, so you can easily return to the browser.
6. A proper app for iCloud Drive
After resisting the idea of an iOS file manager for years, Apple took a step in that direction with iCloud Drive in iOS 8. But while this service provided a common storage directory for apps, it didn't have a centralized app of its own for users to manage their files. With iOS 9, users can expose a proper iCloud Drive app through system settings, bringing Apple's online storage solution in line with competitors such as Dropbox and Google Drive.