The Apple OS X productivity apps formerly known as iWork (Pages, Numbers, and Keynote) allow a fair amount of data manipulation and back-and-forth handling. The latest major revisions to each one brought the code up to date but left features critical to some behind.
A few weeks ago, I wrote about how to manage the previous versions of these OS X apps so you could retain access and even round-trip files between old and new.
Before and since then, many of you have written in with questions about merging data, selectively printing or exporting data, or gaining access to options that you think should be there. In this column, I'll try to help, and point you to previous Mac 911s that may offer more in-depth assistance.
In Pages 5, people are afraid to merge
Despite mail merge and data merge being one of the greatest features (often horribly implemented) of business software, Apple stripped it out of Pages 5. However, earlier this year, Chris Breen wrote about a free app provides much of the functionality: Pages Data Merge. It's not supported by Apple, but it's made by a long-time AppleScript guru there.
Charles Giai-Gischia wrote from Paris (the one in France) about one dissatisfaction with the free app:
The only problem is that once I've filled all the fields in the app in order to merge the data, I would like to keep and save the filled window to be able to reuse it a next time instead of needing to refill it again. But Save As in the menu remains gray.
In the current state of the app, you can't save the state of your field assignments. The app is still being updated, and I'd suggest visiting an Apple Support Communities thread, where there's an active discussion going, and making a feature request. (You'll note I asked the question there in case I missed a setting.)
Jan Taylor has a merge question, too, which I'm not sure relates to Pages 4 or Pages Data Merge, but the answer is the same:
I think I have followed the steps, and my placeholder tag in my Pages document is fine: the placeholder "Name" is the same as a column in my Numbers spreadsheet. When I begin the merge I get the following message: The import table contains no assigned placeholder tags. How do I create assigned placeholder tags?
Select your placeholder text in Pages, choose Format > Advanced > Define as Placeholder Text.
One from column A, 700 from column back
Shirley Allan is trying to take just the names field from a Numbers spreadsheet for her computer club. (It's over 700 names! Congratulations on having a thriving club!)
I need to create a Pages document that contains just a list of names in three columns. When I select and copy just the names column and paste it into the Pages document, it goes in as a table. How can I create a list of names without retyping?
The easiest way to preserve formatting and line breaks is slightly annoying but will get you were you want to go. Unlike Word, you can't just select a table and opt to convert it to text. Instead you have to go through a few steps.
Select the cells you want to copy in Numbers, just as you did.

Copy the cells you want from a Numbers document.

In Pages, paste. This will create a floating table instead of inserted into text.

Paste the table cells into Pages.

Now select all the cells in Pages. Make sure to not select a heading row cell, or this won't work.

Select Format > Table > Merge Cells. (This is grayed out if different kinds of cells are selected.) Now you have a single cell with all the entries with line returns.

Double-click in the field to get an insertion point, and choose Edit > Select All.

Copy the merged results that are now in a single cell.

Copy that selection, which contains all your items.

In the toolbar, click the Text icon, which creates a Text box. Double click to get an insertion point and paste.

Create a three-column Text box in Pages.

In the Format inspector at right with the Text box selected, click the Text tab. Now enter 3 in the Columns field. You may need to create boxes on multiple pages to contain all the names. (A + appears at the bottom of the Text box if contents can't fit the display area.)

Delete the imported table.
Does not share well with others
Tom McIntosh (great name, Tom) wants to share data from Pages 4, and I assume this is in Yosemite, because something is broken:
The options [in the Share menu] Send via Mail and Export are grayed out. Their submenus are black. Selecting the Mail menu does not bring up Mail—nothing changes.
Because of updates to the Mail app and OS X, you're not doing anything wrong: These options no longer work. You'll need to export a file and attach it via email, adding a step.
Batch printing Pages files
David Palmer asks:
I have created 30 individual documents which I now want to print. How I can I make these into one file and avoid having to open each in turn, print it, close it, and open the next for printing? In the old Pages merge they all arrived in one file and were printed in turn with just one command.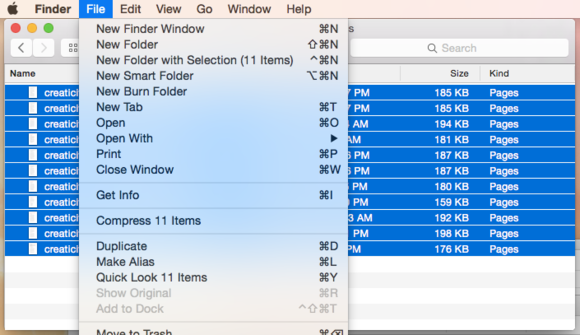 Pages 4 had the option to view Thumbnails and then drag thumbnails into other documents to combine them. I'm not sure precisely how you created these Pages files, but if you select them in the Finder and choose File > Print, you'll get the desired result.
Ask Mac 911
We're always looking for problems to solve! Email us at mac911@macworld.com or tweet them at me (if brief) @glennf. Mac 911 can't provide direct email responses or answers for every question. For that, turn to AppleCare, an Apple Store Genius bar, or the Apple Support Communities.