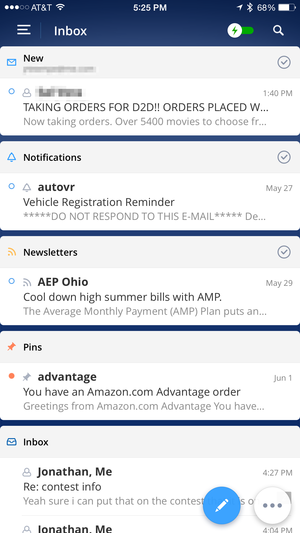 The battle for mobile email supremacy is heating up, with new third-party contestants appearing in the App Store on an increasingly regular basis. Unfortunately, almost all of them have the same fundamental flaw: Trying too hard to be different.
Readdle believes there's still hope for the traditional inbox, and rather than attempt to dumb down this venerable service into little more than a mobile messenger, the productivity software gurus have added a new layer of intelligence instead. The result is Spark, one of the best mobile email solutions around, but more work is required before they can take home the crown.
Work smarter
Spark works with all of your favorite Apple, Google, Microsoft, and Yahoo email accounts, along with plenty of others supporting IMAP. There's also built-in support for the most popular "read later" services, Evernote, OneNote, and cloud storage providers, which can be used to send file attachments or save them directly from messages.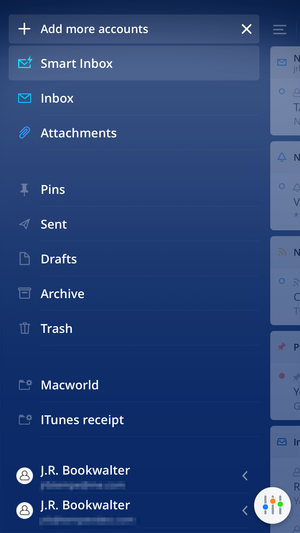 The app features a unified inbox which can be viewed in two ways: Traditional mode, where inbound messages are displayed in threaded conversations similar to Apple Mail; and what Readdle calls a Smart Inbox that automatically organizes email into personal, notification, and newsletter categories to help focus on what's important.
Users can toggle between modes from the inbox or sidebar, the latter of which includes sections for displaying attachments separately from messages, specific email accounts, and consolidated Sent, Drafts, Archive, and Trash views (much handier than Apple Mail). Spark offers a slick option for adding personalized views, which can include frequently accessed IMAP folders or so-called "smart folders" containing saved search results entered using natural language.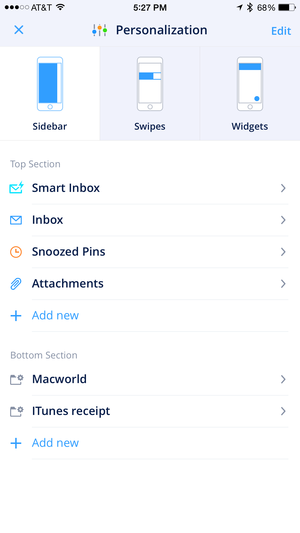 Important messages can also be pinned (Spark's version of flags) atop the inbox making them hard to ignore, and other "message cards" can be added as widgets hovering in the top or bottom corner of the inbox for easy access. (Readdle promises new cards are coming with even more useful content and service options for tracking flights, packages, or purchases made on iTunes and Amazon.)
Bordering on greatness
Spark is also one of the first third-party email apps to support Apple Watch, offering quick one-tap replies to confirm message receipt (also available from the main app), as well as the ability to dictate proper replies using your voice. Watch owners can view a condensed version of the inbox without having to take the iPhone out of their pocket.
For all that Spark manages to get right in this first version, the app has a number of nagging usability issues affecting two-factor authentication with supported cloud services like Evernote, Dropbox, or OneDrive. The app repeatedly cleared my login credentials after jumping over to Google Authenticator for a new code, while the built-in 1Password integration occasionally locked up, refusing to recognize Touch ID.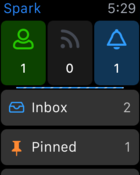 You'll want to get used to seeing Spark's splash screen, as it pops up nearly every time the app is launched—a real buzzkill when you just want to dive straight into new emails. The app also isn't particularly good about marking unviewed messages as read when deleted via Notification Center, or clearing notifications from the lock screen once opened with a swipe for that matter.
Despite these complaints, Spark is a well-made, very solid email client with a whole lot of potential. Aside from the aforementioned bugs, the biggest thing missing is native iPad support. I'd also love to see Readdle add spam and other categories to Smart Inbox mode, which would further help tame unruly inboxes.
Bottom line
Spark takes a smarter approach to streamlining mobile email that won't alienate longtime users, but suffers from a variety of version 1.0 gremlins.