The past several versions of QuarkXPress added features that were most requested in Quark's user surveys, and QuarkXPress 2015 continues this strategy. For example, they changed its version numbering scheme to indicate the year of release (otherwise this would be QuarkXPress 11), and the product is still offered with a traditional perpetual license rather than requiring an ongoing rental fee.
QuarkXPress 2015's big new features include fixed-layout eBooks, text variables that automatically populate content such as running headers, a new table feature with Excel integration, automatic footnotes and endnotes, and PDF/X-4 output.
ePub enhancements
A large portion of Quark's user base produces corporate communications, financial reports, books, and other publications. QuarkXPress 2015 enhances these kinds of workflows. (In many companies, QuarkXPress is just one part of a multi-stage automated system that produces electronic, printed, and web documents.)
The ePub format has two variants: Reflowable, commonly used for novels, textbooks, and other simple text-and-pictures publications; and the newer Fixed Layout ePub, the preferred format for publications whose layout is as important as its text and pictures—for example, children's books, travel guides and cookbooks.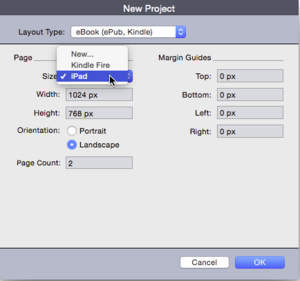 The eBook layout space in QuarkXPress 2015 supports both Fixed and Reflowable ePubs. (While you cannot export a Fixed Layout ePub from an existing Print layout, you can still build a Reflowable ePub from an existing Print layout.) There are benefits and drawbacks to this forked approach, and its value depends on your existing content and future plans. The main benefit to Quark's approach is that you can design one layout for your eBook and let QuarkXPress optimize its page size and special features for each output format.
Once inside your new eBook document, you can use all the rich layout tools in QuarkXPress, including sharing Style Sheets, Colors, Item Styles, Footnote Styles and other attributes across Print, App Studio and eBook layouts. This makes it much easier to keep an identity consistent across multiple layouts.
Four years ago, Quark's App Studio was the first user-friendly tool to convert publications into complex, interactive iOS apps. With the recent ratification of the EPUB 3 standard, Quark has now migrated their HTML5-based App Studio tools into all the QuarkXPress 2015 layout spaces (Print, eBook and App Studio). This means that you can now use the familiar App Studio interface to build interactivity into ePub files—including Audio, Video, Slideshows, Animations, 360-degree images and Buttons.
The existing Reflowable ePub features have also been dramatically enhanced. For example, you can now apply an unlimited number of Style Sheets; CSS styles are automatically generated from QuarkXPress Style Sheets; you can use the new HTML5 palette to add audio and video interactivity to items; you can include items on the Pasteboard in the reflow (for example, to use a different picture in the ePub than in the print document); you can use Callout Anchors to insert pictures into the text flow without needing to split the Story into multiple components; and you can tag and export to Reflowable ePub from App Studio layouts. A variety of tagging functions have also been streamlined to make converting to reflow a less tedious experience.
Content variables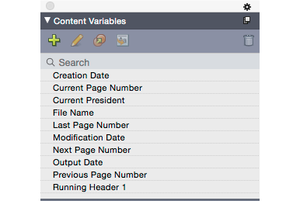 Previous versions of QuarkXPress let you repeat common text throughout multiple layouts, so that when you change one, they all change. Now you can also create Content Variables that grab information from one place and display it elsewhere. A common use is to generate a running header that displays a chapter or section title, which is pulled from document text formatted with a specific style sheet. Another is to refer to the location of an object elsewhere in the document, including its page number (even if that changes), and a hyperlink to it.
Footnotes and Endnotes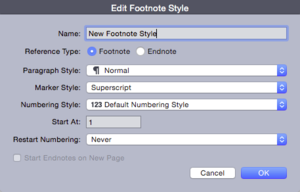 QuarkXPress 2015 can create both Footnotes and Endnotes, as well as import them from a Microsoft Word document. (Footnotes commonly appear at the bottom of a text box, column or page, while Endnotes appear at the end of a section or chapter.) This feature is smart enough to continue a long Footnote on the next column or page if it doesn't entirely fit on the current one.
Table enhancements
The table feature in QuarkXPress was long overdue for an overhaul. But rather than enhancing the existing table feature, Quark chose to create a new Inline Table feature. You can apply a Table Style to Inline Tables, which keeps multiple tables formatted similarly, and the table data can be linked to an external Excel spreadsheet.
These new tables must be placed as items inside the flow of a text box, which makes it easy to automatically export them into Reflowable ePub documents. The content of an Inline Table behaves much like the content of a picture box: you can change some qualities of its appearance in QuarkXPress, but the actual data can only changed by editing the file it's linked to. So, to change the text in an Inline Table, you must edit the Excel spreadsheet and then update the table using the Usage dialog in QuarkXPress.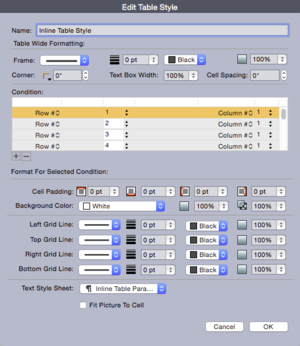 Verified PDF/X-4 output
Printing professionals have been clamoring for QuarkXPress to output to the PDF/X-4 standard for quite some time. This PDF standard supports native transparency and DeviceN as the output color model, which creates smaller PDF files that print faster and are essential to some workflows. Specifically, imported graphics in PDF, AI and PSD format maintain their native transparency when exported from QuarkXPress. This issue is so important that the default PDF Output style in QuarkXPress 2015 has been changed to export native transparency instead of flattening it.
Support for legacy documents
One important issue must be noted: QuarkXPress 2015 will only open documents last saved by QuarkXPress version 7 or higher. If you have older documents, be sure to download Quark's free QuarkXPress Document Converter application that opens legacy files from version 3–6 and saves them in a format that QuarkXPress 10 and 2015 can open.
In addition, Quark has dropped support for the bitmapped frames available in earlier versions of QuarkXPress. When you are open a legacy document that uses one of these frames, QuarkXPress 2015 alerts you that these frames are no longer supported. There is no easy workaround.
The small improvements
Every mature application benefits by refining the ways its daily users interact with it. Having completely overhauled the QuarkXPress interface several versions ago, Quark has now improved many of the rough spots identified by its users. The first change is that there is no installer—instead, you simply drag the application to your Applications folder. Another under-the-hood change will be enjoyed far longer: QuarkXPress 2015 is now a 64-bit application, so it can make better use your computer's RAM. This results in dramatically faster viewing of imported graphics and exporting of PDFs, and since the text engine is now multi-threaded, you can more fluidly work with complex text objects such as tables.
Pages can now be much larger: up to 224 by 224 inches instead of the previous limit of 48 by 48 inches, and you can now save named, custom size presets for new layouts. To accommodate these larger page sizes, you can now scale pictures up to 5000 percent.
Additional small improvements make creating your layouts much more fun. For example, a new Format Painter lets you copy attributes from text and apply them to other text. You'll find it in the Home and Character tabs of the Measurements palette, and it also has keyboard shortcuts. Speaking of which, you can now assign or change keyboard shortcuts for menu items or other actions, and save them as custom sets.
You can now filter the items in the Style Sheets, Colors, Hyperlinks, and Content Variables palettes by name, which is handy since these palettes can often be quite lengthy. Thankfully, WYSIWYG font menus can once again be disabled—QuarkXPress 10 had inexplicably removed that ability.
Other practical improvements include automatically viewing a PDF after exporting it, and collecting all the assets from all the layouts in a project using Collect For Output—previously, only the assets from the current layout could be collected. You can now use the Usage dialog to relink any imported picture to a different picture file, and the Usage dialog now displays file names without cropping long names to fit.
Bottom line
QuarkXPress 2015 is a valuable upgrade for QuarkXPress users who make ePub files, work with lots of tables or footnotes, or need running headers. By also providing the top 10 most-requested feature improvements, Quark has made this an upgrade every user will want.