At WWDC last week, Apple said that Photos will be updated in OS X 10.11 El Capitan with new features. Until then (and unless you upgrade), we're still using the sometimes manky version in Yosemite, which I'm still holding out hope Apple releases additional fixes for, rather than defer everything to El Capitan.
This week, more answers to what you can't do, what you can, and what's not working: deleting old files, getting an import to finish, copying and paste, and sharing to Facebook.
What can I delete?
It's clear that Photos' approach of using hard linking is confusing because people continue to ask questions about what they can delete. Steve Kramer's is a good example. "Besides Photos Library, I also have iPhoto Library and 'My Pictures.' Can I delete all but the new Photos Library?"
Jason Snell explained this in depth in April, but it's not the easiest concept to leap to mind. Instead of importing files from iPhoto when you upgrade a library to the same volume, Photos makes a new link to the same file. In the Finder, it looks just like another file. In order to delete the original file all links to it have to be deleted.
However, I myself am a little wary of throwing away my old iPhoto directory in case I find there was an import problem later. I'd rather have a little overlap—iPhoto has its own database format and thumbnails—than accidentally lose pictures Photos glitched on bringing in.
If the My Pictures file or folder isn't a special iPhoto or Photos library, it likely wasn't imported, and you'll need to follow our tips on merging, also found in Jason's column.
Can't finish importing
I have a pile of emails from readers with import problems, even weeks in and after the micro-update from Apple for Photos. Joe Dodd's is typical: "I can't get my iPhoto library to finish moving to photos. It freezes up the entire Mac at 11 to 15 percent completion. The Mac is older, but now I don't know what to do."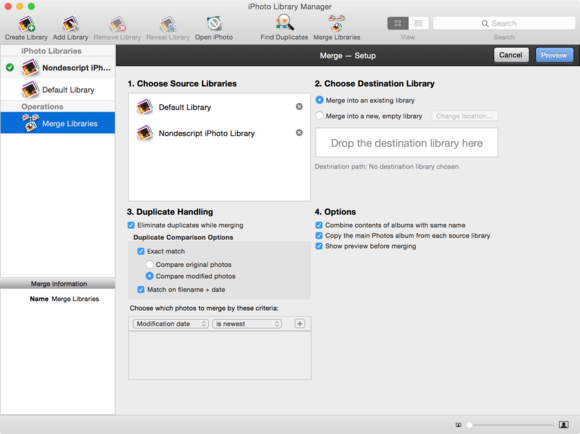 These sorts of problems are maddening because there's not enough information for you to know what to test or fix. I have a few strategies you can try:
Run Disk Utility, pick the volume on which the library resides, and click Repair Disk Permissions. This fixes a multitude of strange issues with OS X software, where files mysteriously don't have the right read/write access, and yet the software doesn't complain about it—it just stalls or fails. (You might also try Verify Disk, and see if errors show up. If so, you'll need to recover that volume.)

Try rebuilding the iPhoto library. Apple has advice in a support note.

Copy the iPhoto library to another disk drive, and try the import there to a Photos library you save on that same drive.

Get a copy of iPhoto Library Manager ($30), which can help rebuild or recover photos. You might wind up exporting a new iPhoto library and then try to import that.
Downsampling in copy
Ole Karstad liked to use copy and paste from iPhoto to other software. However, in Photos he only gets a small image this way. He wonders if there's a workaround.
Unfortunately, this appears to be the new default and unchangeable behavior in Photos. If you select a photo and the Edit > Copy menu is available (which is typically is), Photos automatically downsamples to 1024 pixels maximum in the longest dimension in my test.
To use a different resolution, you have to select the photo and choose File > Export > Export 1 Photo. Choose Export Unmodified if you want the original without any changes you might made through the editing options in Photos; that corresponds to exporting Original in iPhoto.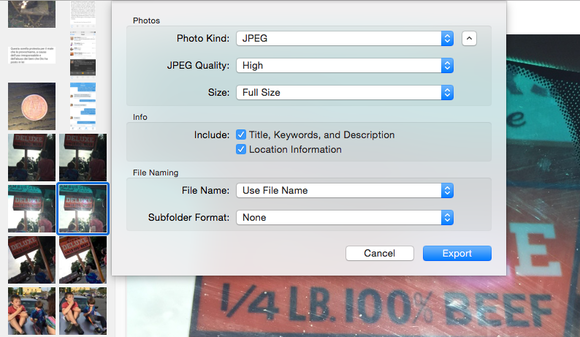 You can also drag the image or a set of images to the Finder, which keeps the full resolution, and converts everything but GIF, JPEG, and PNG files (such as RAW camera files) to a JPEG.
I do not Like this Facebook export
Lowell Nelson tried a number of ways to get Photos to play nicely with his workflow for posting images into Facebook. But Apple seems to have left out too much integration to make his life easy—the ability to select images from within Photos from other apps or the Finder just isn't there yet. (It probably will be in El Capitan.)
Lowell tried the Add Photos/Video picker in Safari and Firefox from his Facebook page. Nope. He tried dragging a photo from Photos into the Facebook app's page—but the browsers both interpret this as a link, not an image.
While Photos has a built in Share > Facebook option at the upper right, he notes, "This only works if you don't want to tag anybody or set the location of your post. When I try to set location I only get suggestions of locations that are near the location of my Mac, not access to all of Facebook locations, and no tags available."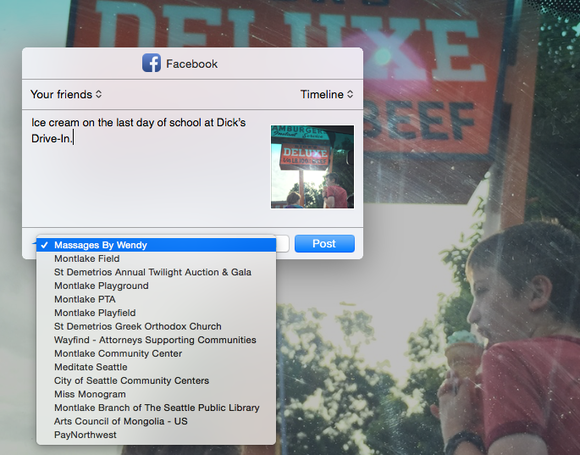 His workaround? He drags a photo to the desktop to make it a file he can manipulate. (Exporting would work, too, with more steps but more control about the image size.)
I still see iPhoto as an option in various apps, Apple's and others, and, as Lowell also found, Mail is one of the few programs updated to let you use a Photos media browser as well as an iPhotos one.
Ask Mac 911
We're always looking for problems to solve! Email us at mac911@macworld.com or tweet them at me (if brief) @glennf. Mac 911 can't provide direct email responses or answers for every question. For that, turn to AppleCare, an Apple Store Genius bar, or the Apple Support Communities.