In some ways, Instacast doomed itself. One of the first podcast clients on the iPhone, the pioneering player helped propel the medium from its humble roots into a global phenomenon spanning the gamut of genres and subjects. But with the podcast app's popularity came a catch–along with a hoard of new users, a slew of competing players popped up too, all vying to chip away at Instacast's sizable audience. Over the course of its lengthy version history, it from paid to free with in-app-purchases and even offered two levels of subscription memberships, but modern clients kept the pressure on until the company announced earlier this week that it had run out of money and was shutting down for good.
Consequently, Instacast leaves loads of good options in its wake. Like Twitter clients or weather apps, podcatchers all pretty much do the same thing–organize and play your favorite shows–so the user experience sets the tone. Instacast 5 was no slouch in that department, with a gorgeous, intuitive interface, offline playback, full-text search, and dynamic playlists, but even if you've been a fan since version 1, there are plenty of worthy replacements in the App Store. Here are five of the best:
Overcast
Overcast (free, with $5 in-app purchase) was built for the best possible reason: Its developer, Instapaper creator Marco Arment, couldn't find a client that fit his specific needs. Impeccably crafted and thoughtfully designed, Overcast's interface makes searching and listening to podcasts an absolute pleasure. It's not just the easy navigation and big, bold controls; Overcast has an attention to detail unlike any other podcast app.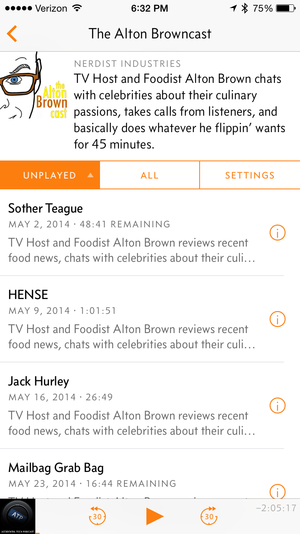 Poke around the settings and you'll find handy toggles for cellular syncing, seek acceleration, and rotation lock, as well as customizable forward and rewind buttons and advanced remote controls. Playing podcasts is smooth and seamless, with two awesome unlockable features: Smart Speed, which hastens the duration of podcasts not by speeding up the speech but by eliminating the spaces between words, and Voice Boost, which dynamically raises and lowers the volume of speech to homogenize the listening experience.
Additionally a free web component lets you pick up your listening on your Mac, and you can even import whatever subscriptions you have sitting in Instacast, but there is one major caveat: You can't stream. Podcasts have to be downloaded before they can be played, so you'll want to remember to stock up before you head out on the road. Also, there's no support for chapters, a longstanding feature in Instacast.
Pocket Casts
Martin Hering, founder of Instacast's parent company Vemedio, suggested Instacast's users navigate over to Pocket Casts ($4) since it "looks better (than Overcast) and has chapters," and it's hard to argue with his recommendation.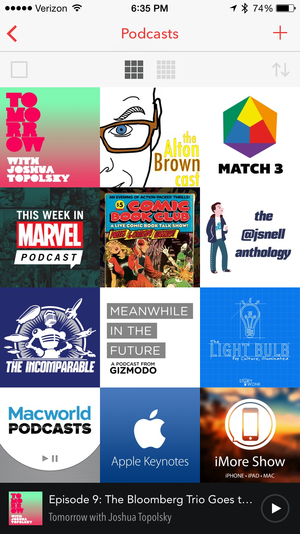 From a distance, in fact, Overcast and Pocket Casts sport kindred interfaces, with a similar use of fonts, menus and animations. While the subscription screens are quite different–Pocket Casts uses a rearrangeable mosaic of squares–the two apps share many of the same visual cues, but when it comes to the experience as a whole, plenty sets the two apart.
The main screen does a great job of showing what's been downloaded and played, and a set of customizable filters let you easily apply your own parameters. The Discovery section has a familiar App Store feel, which makes finding new podcasts a snap. It also mirrors Instacast's support for streaming and video podcasts, but while it does have a web component, it'll cost you an extra $9 to use it.
Pocket Casts doesn't offer any special playback features, though it will let you speed up the voice and quickly scrub through streams. And one annoyance is the lack of an easy way to continuously play a series of episodes other than creating a manual playlist.
Downcast
Compared to the other apps here, Downcast ($3) takes a decidedly utilitarian approach to podcatching. You won't find much glitz or gloss in the interface, but what it lacks in vibrancy it makes up for with features and playback.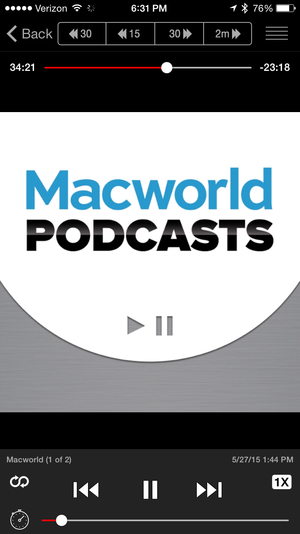 The app's main screen includes a simple list of any unplayed episodes, but don't be fooled by its sparseness—Downcast is easily the most advanced client in this list, so users who prefer power and personalization over prettiness would be well-served checking it out. The main settings include a wealth of options, from continuous play to scheduled feed refreshes. You can also dial down into little details like the startup view, sounds and notifications, and toggle settings for skipping, backups, and priority playback. It offers far more than most users will ever need–up to and including the ability to customize the name of a particularly unwieldy podcast in your playlist–but it's refreshing to see a podcast client focus so much of its attention on features.
The player, which supports video podcasts and streaming, is equally feature-laden (albeit a tad cluttered), offering separate buttons for skipping tracks or intervals, continuous playback, speed, timer, AirPlay, and casting. You can increase the speed all the way to 3X, which will get you through an hour-long episode ridiculously fast, but you might not understand much of what the hosts are saying.
Castro
Instacast users looking to break free from the traditional podcatcher need look no further than Castro ($4). With a playful, gesture-heavy interface that offers just enough features to be taken seriously, Castro might take some getting used to–certainly more so than the other options here–but it also might become your new favorite way to listen.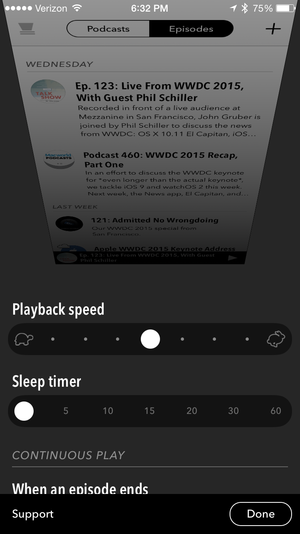 Castro's unique spin boils down podcasting to its two basic functions: playing and searching. It separates your subscriptions by title and episode, with large circular icons that help quickly navigate lengthy lists. Settings are hidden behind the main window (literally) and include a fairly customary set of options for speed, sleep timer, continuous play, sorting and sounds. Plus, the app has some nice data usage and storage preferences—particularly useful for habitual downloaders is the ability to limit the episode cache size.
Video podcasts are unfortunately not supported here, but the audio player is a wonderful expertise in minimalism, contained to the bottom bar and featuring one of the coolest scrubbers I've ever seen. Its weakest aspect is discovery–adding podcasts is entirely search-based, so you're unlikely to stumble across something you haven't heard before–and there's no iPad companion app or web component. But Castro is still a charming, elegant client that definitely stands out among its peers.
Podcasts
The best things about Apple's Podcasts app are that it's free and it's likely already on your iPhone. It might lack some of the polish and features of the other apps on this list, but if it's too soon to commit to a relationship with a new podcast client, it'll get you through the tough transition.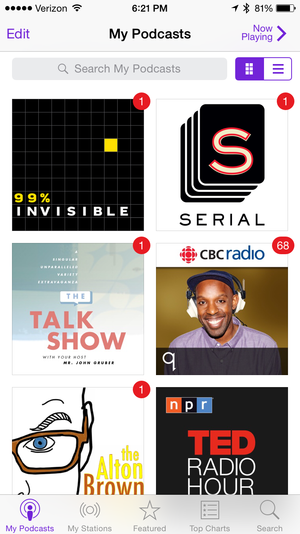 If you haven't used Podcasts since its skeuomorphic reel-to-reel days, you'll be pleasantly surprised by how much it's improved. Gone are the bugs and crashes, and overall it does an excellent job of sorting through your recent and unplayed episodes, though its interface is still somewhat scattered with a distinct lack of intuitiveness. For example, there are no global settings. Setting the play order, refresh rate, and episode limits are all done on a per-podcast basis, which can quickly get tedious.
Video podcasts and streaming are supported, and Apple does a great job curating its store, mimicking the top lists and featured sections found in the App Store (though any podcast you're looking for obviously needs to be available through iTunes). You can speed up audio and set a sleep timer as you'd expect, but Podcasts does have one main advantage: You can summon Siri to play the latest episode of any of your subscribed feeds.
Bottom line
This list is by no means definitive, and fans of Stitcher, PodWrangler and iCatcher will surely take umbrage with it. Truth be told, Instacast users really can't go wrong with any of options here (even Apple's Podcasts app will fit the bill for some). Overcast edges out the others, but only if you don't mind having to download every episode. If streaming's your thing, go for Pocket Casts. If you want to fiddle with a lot of features, try Downcast.