One tantalizing tidbit that came up during last week's WWDC keynote was that Apple Music's arrival on the Mac would be heralded by a new version of iTunes. It's more than likely that this simply means a modest update to the existing app to bring support for the new streaming service, but dare we dream larger?
I say that after years of extra features, additional capabilities, and revamp after revamp it's time to tear down iTunes and rebuild it from the ground up: make it better than it was before. Better…stronger…faster.
The syncing ship
First things, first: It's time to ditch iTunes as the manner for syncing our iOS devices with our Macs. Syncing made sense back in the day when you were loading all those music tracks onto an iPod, but with Apple about to go full throttle into the world of music streaming, loading music from our computers is starting to seem antiquated. More to the point, all that syncing functionality is contributing to the bloated mass that iTunes has become.
I'm not so radical as to say we should get rid of computer-based syncing completely; plenty of people still rely on loading content from their Macs (or PCs), even though iOS devices have had the capability to be self-sufficient for a few years now. But with iCloud, the iCloud Photo Library, iTunes Match, iTunes in the Cloud, and the upcoming Apple Music, the shift towards our media and data residing in the cloud rather than via syncing has become ever more pronounced.
So, let's split out syncing. Way back in the day, OS X used to have an app called iSync, responsible for copying data like contacts and calendar appointments onto pre-smartphone cell phones and PDAs. That seems like a pretty sensible approach, rather than overburdening an app like iTunes, which—hard as it may be to believe—sometimes does get used by folks who don't even have an iOS device.
What's in store
Much as I would like to see the iTunes Store get a clean breakup from iTunes the app, I'm not holding out hope. The fact that Apple Music integrates with your existing iTunes library seems to suggest the continuation of the same sort of tight bond forged with iTunes Match.
That said, I've grown increasingly frustrated with the iTunes Store's residency in iTunes on the Mac, especially in iTunes 12. Between the icons that let you switch between different types of media—music, video, podcasts, etc.—and the tab bar that then lets you decide whether you're looking at your media or the store listings, well, it seems I pretty much always end up frustrating when I'm trying to find something.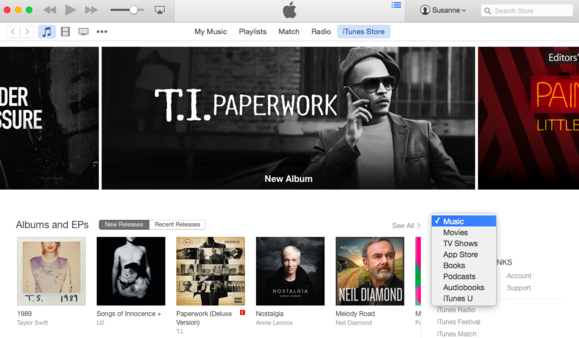 So while I think it's unlikely to happen, I'd actually love to see the iTunes Store merged with the App Store app. One single "store" app that manages all of your app, music, video, ebook, and audiobook purchases, as well as your podcast downloads. Then let iTunes and iBooks act as front ends for that media. Mixing media consumption with purchasing might do wonderful things for Apple's ability to sell you on that album you've been streaming or that book everybody's raving about, but all that commercialization just plain gets in the way when all I want to do is listen to my own music.
Album fixation
Speaking of music, I'd also like to see much less of a reliance on album art in iTunes. I don't think this is particularly likely to happen either, but it would go a long way to making my library look better. Every time I scroll through my collection, I see square after square of generic "music" icons, thanks to discs that I've ripped from my own collection or music I've added from other sources, for which iTunes seems unable to find an appropriate album image. (Bizarre, given how many of these tracks have been identified by iTunes Match as songs in iTunes's own library.)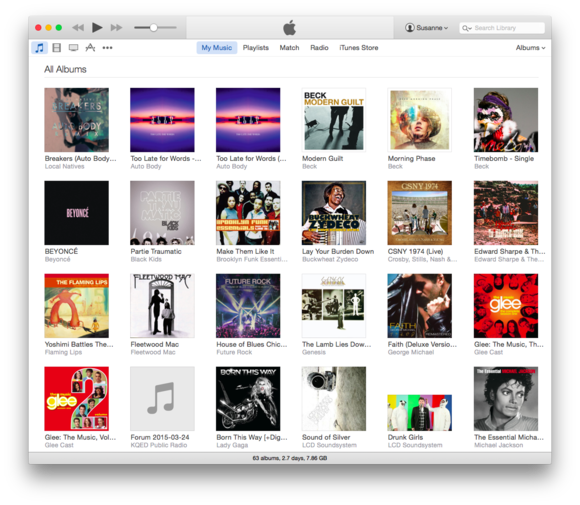 Apple's always emphasized its ties with music, and Steve Jobs in particular was a proponent of the album. At this point it's so ingrained in iTunes (and to a lesser extent on iOS), that it seems unlikely to simply go the way of the dodo. But if Apple could stop making me feel so ashamed for my lack of high-quality album art, that'd be great.
Mr. Federighi, tear down this app!
For better or worse, iTunes remains a cornerstone of Apple's software experience. But so much of what Apple cherishes is simplicity and elegance, and it would be hard to argue that iTunes, as it stands, is an exemplar of those principles. The push of Apple Music will be strong, and it deserves a venue not burdened down by all these extra features. Likewise, users who just want to deal with syncing their devices or managing their purchased content shouldn't have to wade through the rest of the iTunes morass.
Much as Apple is using OS X El Capitan as a chance to focus on the reliability and performance of the Mac platform, the run-up to Apple Music's launch presents a great opportunity for iTunes to get back down to its fighting weight, and shed some of that excess bulk.