On average, 70 million photos and videos get posted on Instagram every day. In this sea of filtered selfies, Instagram is now trying a new way to surface the most captivating photos with an upgraded discovery feature.
The Facebook-owned photo-sharing app announced on Tuesday that it has "reimagined" its Explore page to showcase events, places, and hashtags that are trending in real time, either nearby or across the globe.
"This is our North Star—what we've been shooting for all along," Instagram cofounder and CEO Kevin Systrom told Wired. "It's a real-time visual pulse for what is happening in the world."
The top of the Explore tab will also include a regularly updated carousel of photo collections curated from popular Instagram photos around a given theme, like "Extreme Athletes" or "Glimmering Islands."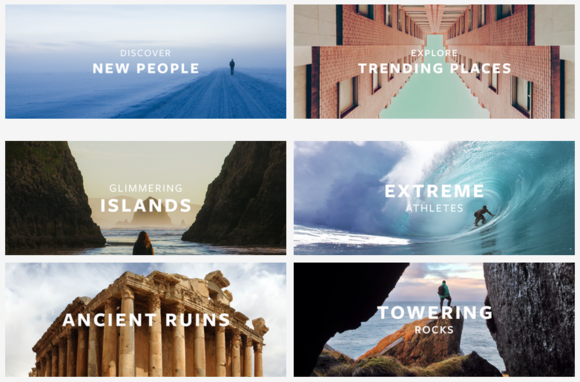 "To start, these updates to Explore will only be available in the United States. We'll work to bring it to the rest of the world after we fine tune the experience and set it up to work well in other countries," according to an Instagram blog post. You can access the Explore page by tapping on the magnifying glass on your Instagram home screen.
With this update, Instagram has also made its search feature more powerful. Previously, you could only search for users or tags. Now searching for "Yosemite" on Instagram, for example, will surface the official Yosemite Instagram account, photos tagged #Yosemite, as well as all photos geotagged to the famous national park—all in the same search results tab.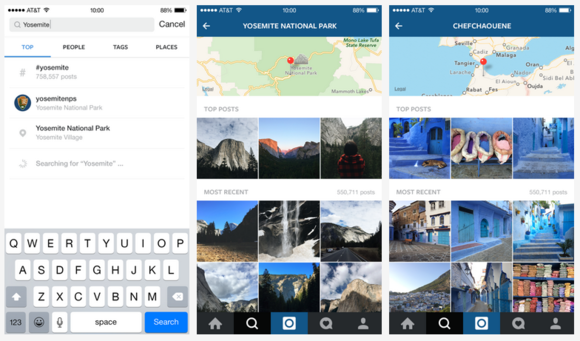 Last week, Twitter unveiled a similar discovery feature, the forthcoming Project Lightning, which will be a visual way of discovering cool content from big events. Meanwhile Snapchat has been curating special event-tagged photo and video collections since 2014.
The impact on you: Instagram has become so popular that it has spawned a variety of uses beyond glamor shots and selfies. Some people use it to find and buy products and clothing, which is now easier thanks to the recent introduction of a direct buy button. Some people use it to scout out cool destinations all over the world and add them to a travel bucket list. Instead of having to search and browse through photos using both a hashtag and the geo location, the all-new Explore rolls it all into one effortless search action.