Small business owners: Have you ever considered going mobile? That is, making an app for your business, whether it's a restaurant, store, or events company?
It's not a bad idea, right? After all, you know your customers are on their phones 24/7, so you might as well capitalize on that.
Good news: Going mobile isn't nearly as difficult or as expensive as you might think. In fact, you don't even need to hire an outside developer to create an app for your business. There are plenty of do-it-yourself app building services on the market, which offer intuitive app creation tools and app hosting for a low monthly fee.
I tried out several DIY services and found that Appy Pie, Como, and GoodBarber are all especially user-friendly for people who have never built so much as a website (let alone an app). Here's how they work.
Appy Pie
Appy Pie prides itself on being simple and easy to use—hence their tagline, "make an app, as easy as pie." Their code-free drag-and-drop app builder is easy to navigate (and supported with helpful pop-ups, video tutorials, and a live chat box), and even a complete tech newbie will be able to create a professional-looking app in a few hours. The main drawback of Appy Pie's service is that the app page layouts are fairly rigid, and so anyone not familiar with code will end up with a fairly cookie-cutter app. This isn't necessarily a bad thing, but if you're looking to create a work of art, Appy Pie's basic builder may be too simple for your project.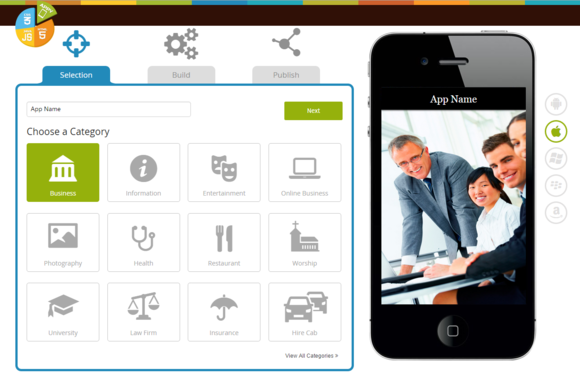 Getting started with Appy Pie is a snap—you don't even have to sign up for an account to start building your app for free. Appy Pie offers three tiers of paid services, as well as an extremely limited free account, which basically functions as a trial for the paid services. The three tiers are labeled "Basic," "Gold," and "Platinum," and, like most of the services in this round-up, the middle tier will get you the most functionality for your money. The Basic plan starts at $7 per month, only supports Android devices, and does not allow for monetization (ads). The Gold plan starts at $19 per month and supports both Android and iOS devices, and allows for monetization and unlimited push notifications. The Platinum plan starts at $33 per month, supports Android, iOS, Windows Phone, BlackBerry, and Kindle Fire, and also allows you to remove Appy Pie's branding—essentially creating a "white label" app.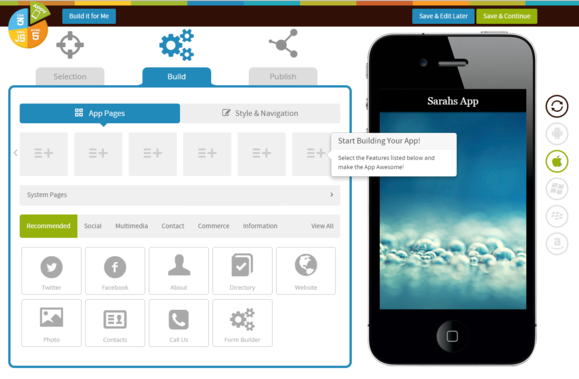 Building an app with Appy Pie is a three-step process: First, you name your app and choose a category; second, you build your app and add content; and third, you publish your app (though you'll still have to wait for it to be submitted and approved before it shows up in any app stores). Step one is fairly straightforward—your app's name can be no longer than 30 characters and cannot contain any special characters, including apostrophes. (If your business is called "Sarah's Diner," or something similar, you can change the display name that appears at the top of the app in step two.) Appy Pie then lets you categorize your app in one of 24 categories (this can be edited later), and has categories for businesses, law firms, restaurants, charities, as well as a broad "other" category.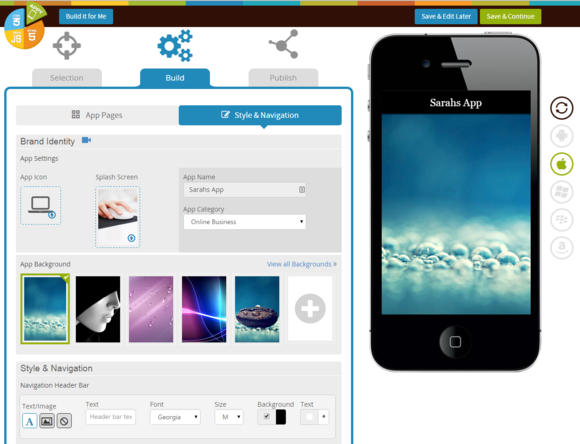 Step two is the longest step, and this is where you'll do all of the app creation. Appy Pie's app builder features what they call a "drag-and-drop" interface (but what is actually more of a "click-and-fill-out-a-form" interface) alongside a large live preview of what your finished app will look like. The builder has two main sections—"App Pages," which is where you will add and edit the different pages for your app; and "Style & Navigation," which is where you can edit how the app looks, including changing the background, icon, splash screen, colors, and navigation layout.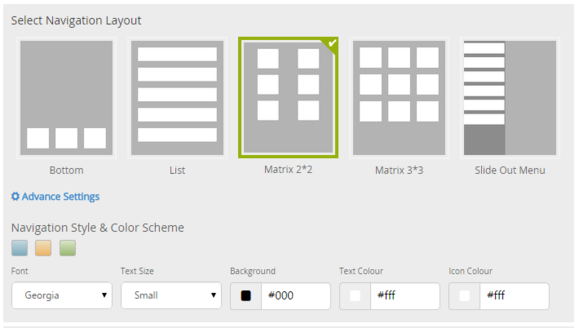 Adding pages and content to your app is "as easy as pie." In the App Pages tab, you'll see several boxes along the top of the screen, each of which represents a different page in your app. To add a new page, simply click one of the boxes that doesn't currently have a page, and then choose a page layout to add it to the mix. Depending on what type of business you have, Appy Pie offers a variety of pre-made layouts, including information pages (about your company, contact, customer testimonials), social media pages (Facebook, Twitter, Google+, LinkedIn), multimedia pages (RSS feed, photo, video, blog), and mobile commerce pages (commerce, coupons, loyalty cards). Each layout has its own specific customization options, but you'll always be able to change the page's name (how it appears in your app's navigation) and icon.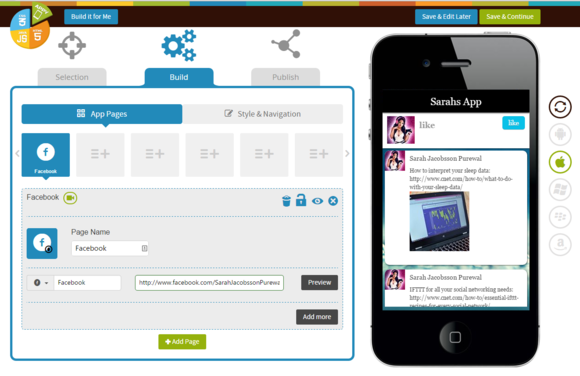 Some of Appy Pie's page layouts let you build your own content—there's a form builder for creating fillable forms, a quiz option, and straight text and code pages if you really want to build from scratch.
Once you've added pages to your app, you can start editing the aesthetics in the Style & Navigation tab. Here, you can change your app's icon, upload a new splash screen, change your app's category, and edit the title that appears at the top of the app screen (you can change it, upload a banner, or choose to have no title displayed at all). You can also upload a new background image—only one for the entire app, though, not per page. Appy Pie lets you pick from five different navigation layouts, including the classic five icons along the bottom of the screen, a list, two different matrices, and a menu that slides out when you tap a button in the upper left corner.
If you spend a few hours with Appy Pie's builder, you can make a polished, professional-looking app with ease. While it won't necessarily be in the running to win any design awards, it should suit most small businesses, restaurants, and events looking to get their info out there and integrate social media and mobile commerce. The nicest thing about Appy Pie is that it's clearly designed with beginners in mind, and each page layout comes with its own video tutorial just in case you get lost.
Como
If you've already got a robust Facebook page or website, Como makes app-making even easier than Appy Pie does. Como is very similar to Appy Pie, but with one major (possibly game-changing) difference—in the second step of Como's app-building process, they ask you to input your Facebook page or website URL, and then they pull your existing content and info to create a template for your app. This feature is especially nice because it helps give you an idea of what pages you might want to add to your app (Appy Pie recommends pages based on your app category, but Como chooses a category for you).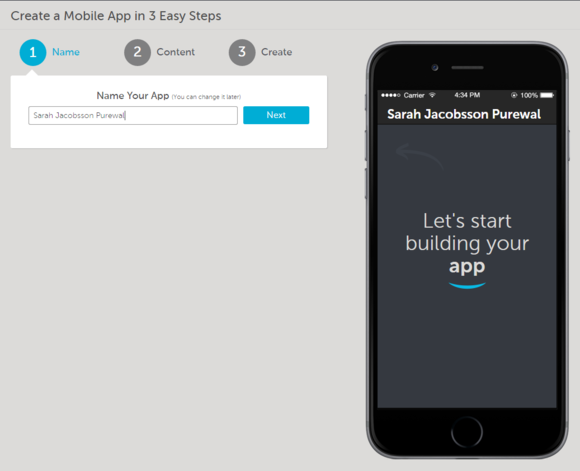 Of course, if you don't have a Facebook page or a website, you can still use Como's app builder; you'll just have to upload your own content.
Como's app building process also involves three steps: First, you name your app (apostrophes are not banned); second, you input your Facebook page name or website URL (or skip this step, if you don't have a Facebook page or website); and third, you edit your pre-built page and/or build your page in Como's app builder. Como's builder looks a lot like Appy Pie's, except it's a bit cleaner and more polished-looking. Like Appy Pie's builder, there are two sections: "App Features," which is where you'll add pages and content; and "Style & Navigation," which is where you'll edit how your app looks. There's also a large live preview of what your final app will look like to the right of the interface.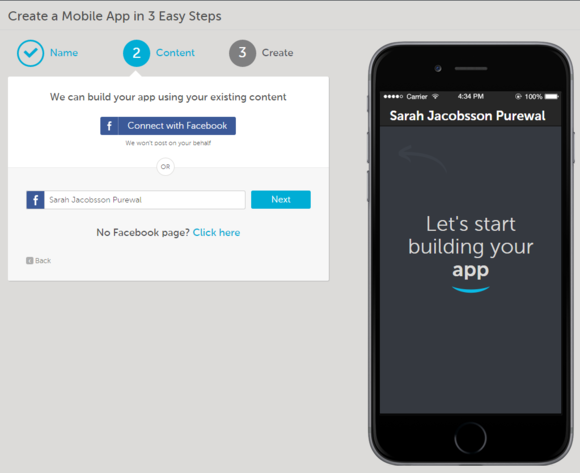 If you used step two, your app will already have some pages. To add a new page, click the "Add Feature" button and pick a page layout from the menu. Como offers plenty of page layout options, including information pages (about your company, email/call/contact us, and map), social media pages (Facebook, Twitter, Instagram, RSS feed), and monetization pages (food delivery, mobile commerce, loyalty cards, and coupons). For mobile commerce, you can add a Shopify store, integrate Yelp or OpenTable reviews, and create catalogs of items. Each page has its own specific customization options, but most pages let you edit the page name, icon, and background image.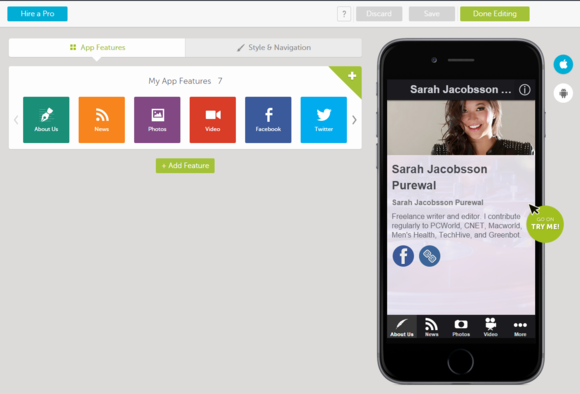 In Style & Navigation, Como offers themes (background image, color scheme, navigation style) based on your app's category. For example, if you classify your app as a musician's app, you'll see themes like "DJ," "Jazz," and "Sound Waves." You don't have to use a theme, of course, but they offer a nice way to see how your page looks in different layouts and color schemes before you make additional tweaks. Here, you can change your app header, icon, splash screen, background image, and colors. You can also pick one of six different navigation layouts, including the classic five icons at the bottom of the screen, two different matrices, two different lists, and a slide-out menu.
Unlike the other services in our round-up, Como doesn't offer tiered pricing plans. Instead, there are only two options: The free plan, which limits you to five app downloads and 50 mobile visitors per month (basically a trial plan), or the paid plan, which starts at $29 per month and gets you full functionality, including unlimited users and downloads, unlimited push notifications, and advanced analytics.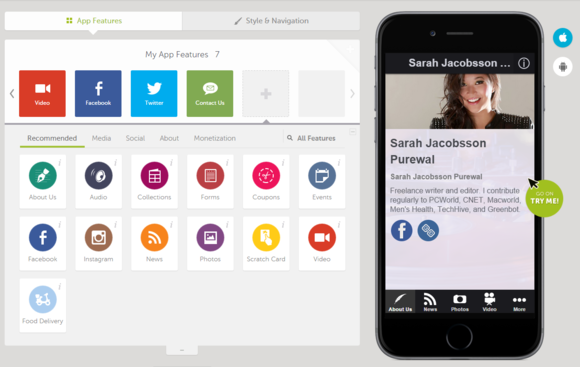 Como's app builder is more intuitive than Appy Pie's, and everything is slightly more streamlined for businesses who need a solid, professional-looking app without having to spend hours uploading and adjusting content. It's also more expensive, though, since that $29 per month price is only what you get if you sign up for the two-year plan (it's $33 per month billed annually, while Appy Pie is $19 per month billed annually).
GoodBarber
Both Appy Pie and Como are good choices if you're looking to build a straightforward, no-nonsense app for your business or restaurant. But what if you're looking for something a little more whimsical and, well, sexy?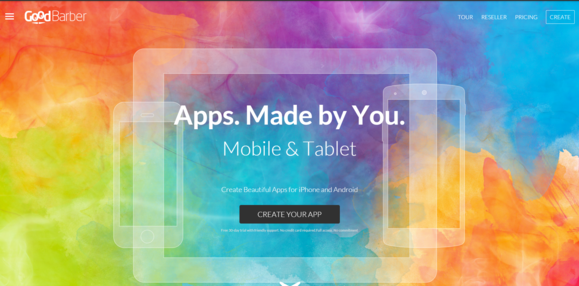 GoodBarber is all about sexy mobile apps—heck, even their splash page is a minimalist rainbow blend of watercolors and text. While Appy Pie offers up a few generic stock photos, and Como gives you four or five basic themes, GoodBarber has an entire theme library, complete with custom fonts and high-resolution stock photos from Unsplash (a free stock photo library). If you want to make a pretty app, and you don't have the time to find or create content yourself, GoodBarber can definitely help you with aesthetics.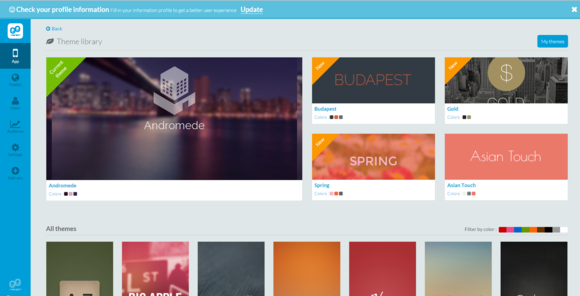 First, GoodBarber asks you to name and categorize your app. You can't use any special characters—not even spaces—in the name. Next, you'll be asked to create an account (just an email address and a password), before GoodBarber takes you to its app builder.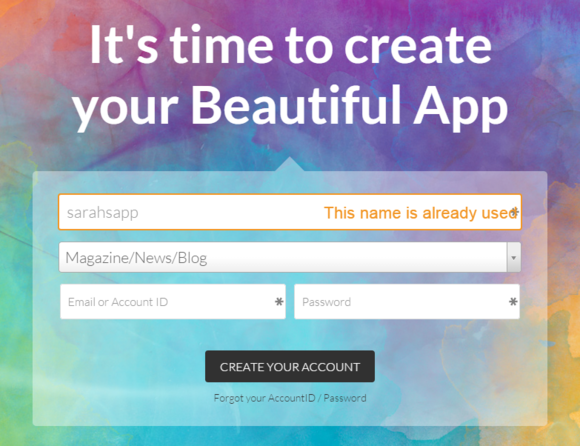 GoodBarber's app builder is a bit more design-y than Appy Pie's or Como's, and it doesn't try to lock you out of things like audience stats or general settings before you've created your app. The builder features a large live preview of what your final app will look like, along with seven "steps" for designing your app, which are located in a menu on the right side of the screen.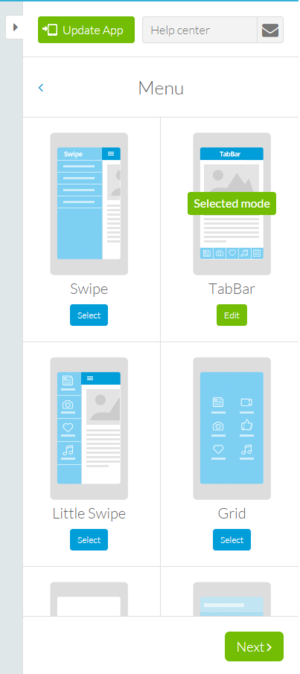 Step one is theme: GoodBarber has a collection of about 50 themes, all of which have their own font, background, icons, and colors. The themes look polished and unique, and you can preview your app in a theme before you decide to change it. Step two is navigation layout—GoodBarber lets you pick from eight different layouts, including a cool, colorful type-face menu, a center-text menu, and two different types of slide-out menus. In each menu, you can change the colors of both the text and the icons, as well as the texture of the icons. If you'd prefer to create your navigation layout from scratch, there's also an option to just enter code. Step three lets you edit the header (swap it out for a picture, or add some fancy effects—iOS only) and body of your app (background, separators, and margins).
After you're done picking out a theme and fixing up the navigation, header, and overall aesthetic of your app, you can start adding content. GoodBarber offers a few different page layouts, including information (about the company, contact us, calendar, map), social media (Facebook, Twitter, Instagram), and e-commerce integrated with Amazon, Shopify, and Etsy. You can also add an "Article" page, which lets you display blog posts from WordPress, Blogger, TypePad, or an RSS feed, or even upload content through GoodBarber's CMS. In other words, this app could be your blog.
I'm a big fan of its last real step, which lets you design your sections. Each page has a few different layouts you can choose from, so you're not stuck with a generic Twitter feed or a list of articles. In Appy Pie and Como, the page layouts are fairly rigid, which means that some pages will inevitably end up looking very cookie-cutter. The last two steps after section design in GoodBarber just involve editing your splash screen and app icon.
You can try out GoodBarber's service for free for 30 days before you're required to upgrade to a paid plan. GoodBarber offers three tiers: Standard, Full, and Advanced. The Standard plan, which starts at $16 per month, is extremely limited—this plan doesn't let you add any original content, which means you can't have an about page, contact forms, or basically anything that you've created. What you can have is an RSS feed, a website, and social media accounts—so your app will essentially be a hub for users to find your content elsewhere on the web.
The Full plan, which starts at $32 per month, gets you everything you need, including original content. You have access to all of GoodBarber's functionality: Android and iOS support, unlimited push notifications, advanced analytics, and the ability to add internal or third-party ad networks to your app. The Advanced plan, which starts at $48 per month, gets you just a few extras on top of the Full plan—namely, tablet support (adaptive design) and API access. You can purchase API access on the Standard and Full plans for an extra $4 per month.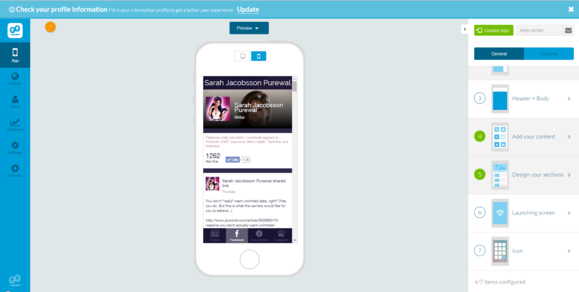 If you're willing to pay a little more per month, GoodBarber's apps can really step up your game. You will spend more time creating your app with this service, but you'll also have more tools—including a robust library of fonts and stock photos, as well as a built-in CMS—at your fingertips with which to do so.
Go forth, and be mobile
If you're still on the fence about which service to try, you can try all of them—and more. Most DIY app building services offer a free trial or a limited free account. While you won't be able to submit your app to the App Store for free (though you should still be able to test it out on your own device), you will be able to get an idea of what your app will look like before you commit to a monthly hosting fee.
Oh, and one other note—these monthly fees do not include the cost of an Apple Developer account, which will set you back $99 per year. While AppyPie, Como, and GoodBarber will submit your apps to both the App Store and Google Play for "free," they'll only do so if you provide them with your developer information (a Google Play developer account is $25, one-time).