Cupertino is cheering after Taylor Swift's very public change of heart, but other artists have not been as easy to court in favor of Apple's new streaming service.
Apple Music, which launched Tuesday morning, now boasts an exclusive on Swift's bestseller, 1989, after the artist refused to allow her newest album to be on any streaming services. Apple Music also has another surprising new partner: Thom Yorke. Like Swift, the Radiohead frontman has been a vocal opponent of streaming services, pulling songs from his solo albums and his side project off Spotify. Apple Music, however, counts with Thom Yorke's The Eraser and Tomorrow's Modern Boxes; Amok by Yorke's side project Atoms for Peace; and even Radiohead's In Rainbows, all notably absent from Spotify.
Other artists who were once slow or hesitant to jump on streaming services are all onboard with Apple Music at launch, including Led Zeppelin, Metallica, Pink Floyd, Black Sabbath, Bob Dylan, Jason Aldean, and AC/DC, which just brought its entire catalog to every major streaming service this week.
Prince's artist page is just blank space
However, a few artists are still not ready to commit to Apple Music. The Beatles are a big—but expected—holdout. It took Apple years to bring The Beatles to the iTunes Store and when it finally did in 2010, the company did an entire ad campaign about it. If Apple Music included The Beatles' catalog, we would have heard about it weeks ago.
Another notable holdout is Prince, who has an artist page on Apple Music—but it's completely blank. It's possible that Apple and Prince are still sorting out negotiations, but as of launch day, Apple Music subscribers won't be able to work out to "When Doves Cry."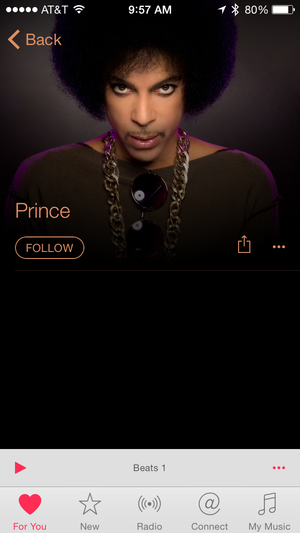 Prince has had a love/hate relationship with the Internet since the Napster days, so his hesitation to jump in bed with Apple Music shouldn't be that big of a surprise. It's interesting to note, however, that Prince's music, including his latest album, is currently available to stream on Spotify. [Update: Prince has pulled all his music from Spotify, Rdio and Deezer, but remains available on Tidal and on Google Play Music All Access.]
Just like other streaming services, Apple Music has other catalog gaps here and there. Music by Garth Brooks, Joanna Newsom, Tool, and Bob Seger has never been available on any streaming service, and the launch of Apple Music didn't seem to change that.
Meanwhile some artists are following the Taylor strategy and holding out on offering their latest albums to Apple Music. The Black Keys' two latest albums, El Camino and Turn Blue, show up on Apple Music, but most tracks are unplayable. Only a handful of singles from each album are available to stream for promotional purposes, same as in Spotify.
Rare albums are also hard to come by. Fleetwood Mac's Future Games and Justice's Planisphere are also missing from Apple Music and unavailable on Spotify as well.
In order to fill in these gaps, Apple Music lets you upload music from your own iTunes library and seamlessly incorporate those tracks into Apple Music's catalog. The Purple Rain soundtrack is $9.99 on iTunes, the same price as an Apple Music monthly subscription.