OK, you tried Apple Music. It's only been a day, but you already don't think it's for you. But it's completely taken over your Music app and you want to go back.
Sorry, Jack. There is literally no way to back to the version of the Music app you had in iOS 8.3, but you can scrub a lot of the Apple Music stuff out of your Music app by…simply turning off Apple Music.
The day the Music died
Just head to Settings, scroll down to Music, and tap that for the Music app's, uh, settings. You'll see a "Show Apple Music" slider. Turn it off.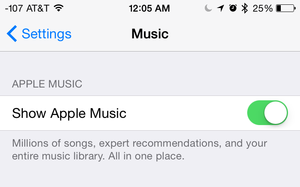 This doesn't delete your Apple Music account or nuke your Apple Music collection or saved playlists or anything. Apple Music will stay visible on any other device you have it enabled on. If your trial is already over and you're now paying monthly, you'll still be charged monthly. (To turn off the subscription itself, see here.) You just won't see Apple Music in that Music app anymore.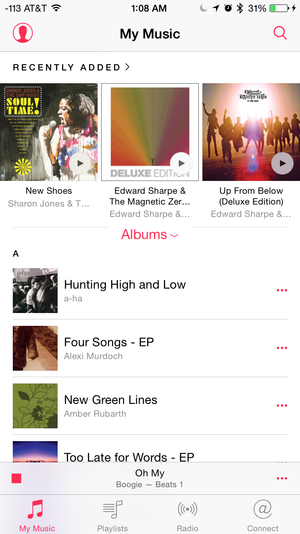 Instead, you'll see another refreshed Music app, with the same cool icon with its cool gradient of neon color. Inside, the For You and Now tabs are gone, and with them the bulk of Apple Music. The tabs along the bottom include My Music, Playlists, Radio, and Connect. (If you turn off Connect in Settings > General > Restrictions, you lose the Connect tab, but nothing replaces it.)
The My Music tab shows your iTunes purchases and songs you already synced to your library. It defaults to Album view, with a side-scrolling Recently Added list on top. Tap the word Albums to switch the view to Artists, Songs, Music Videos, Genres, Composers, or Compilations instead. A switch here labeled "Show music available offline" removes any iTunes in the Cloud purchases and only shows music stored locally on your device.
Over in the Playlist tab, you'll find your playlists as well as any Apple Music playlists you already saved to your collection (since you didn't really quit Apple Music, you just banished it). The Radio tab has some Apple Music goodness too, namely Beats 1 radio, along with a list of other stations. Sadly, you can't save these as favorites like you could before.
If you miss Apple Music, it's no problem to just head back to Settings > Music to turn it back on. You can toggle Apple Music on and off in iTunes too, in iTunes > Preferences > General.