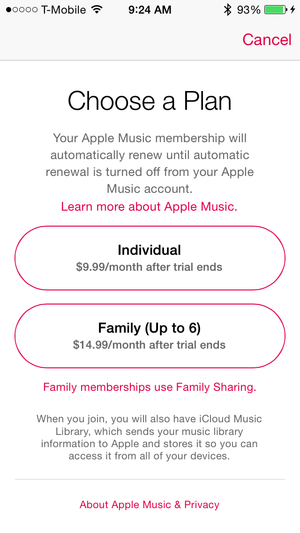 Now that Apple Music is out, you can give it a try for three month before you have to start paying for it. If you have a family, you can save some money on membership fees by signing up for a Family Membership. It's $15 per month for up to six family members. A single user membership costs $10 per month, so you can save a lot of dough.
What you get
This first version of Apple Music doesn't really offer any features that iCloud Family Sharing members can take advantage of. If you create a playlist, the only way to share it is through the Share menu, which lets you send link via an email, Messages, Twitter, or Facebook. There's no way to share the playlist with direct song access within the iOS Music app or iTunes 12.2 on the Mac to other family members.
On the Mac, iCloud Family Sharing lets you see songs purchased by other members in Family Purchases (click on your name in top bar of iTunes and you'll see Family Purchases in the pop-up menu). In Apple Music, songs that you've added to your My Music collection do not appear in Family Purchases. Your Family Sharing members pretty much have unlimited access to Apple Music songs, so making songs you've added to My Music available doesn't seem necessary. (In fact, it seems like a good way to avoid your kid's dubstep habit from bleeding into your own Apple Music experience.)
On a Mac, parents control access to explicit content through iTunes's Parental Control preferences (iTunes > Preferences > Parental). You'll need to unlock the lock icon and enter an administrator password to make changes. In iOS, tap on the Settings app, then General > Restrictions. If you need to enable restrictions, you'll be asked to create a passcode, and then you scroll down to the Allowed Content section and tap Music & Podcasts to switch explicit content on or off.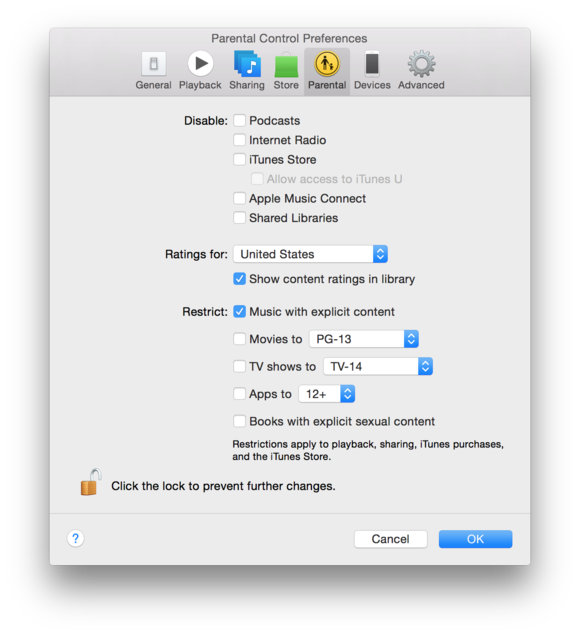 Essentially, iCloud Family Sharing provides a discount for families. That's about it, though the discount can be significant if you have more than two people. It's always possible that as Apple Music matures, new features for iCloud Family Sharing are introduced.
There doesn't seem to be a way to isolate your iCloud Family Sharing account so that it only accesses Apple Music, or only iBooks, etc. You can hide purchases from other members. Photos on your iOS devices have to be placed in an iCloud Family Sharing album, so if you don't want to share a photo, don't put it there.
With all that under consideration, have you decided to sign up for Apple Music with iCloud Family Sharing? The rest of this article details the steps you need to take.
Apple IDs and iCloud Family Sharing
Before you can sign up for an Apple Music Family Membership, you need to set up iCloud Family Sharing. And before you set up iCloud Family Sharing, you need to set everyone up with an Apple ID. Fortunately, there are guides to walk you though the procedures.
How to create an Apple ID (Apple IDs for children can be made during the iCloud Family Sharing setup, so if you have kids you don't need to do this particular step.)
iCloud Family Sharing gives your family members access to iTunes, iBooks, and App Store purchases. Your iCloud Family Sharing account will be able to access purchased media, regardless of whether you're using a Mac or iOS device.
Sign up for Apple Music
When you sign up for Apple Music, you choose a membership plan. Tap the Family button. From there, Apple Music takes you though the steps of setting up your profile, and then you're ready to go.
If you decide to leave Apple Music later, you have to turn off auto renewal.