Our iPhones have made it so we're never more than a few seconds away from a weather forecast. Whether we're querying Siri or glancing at a widget, there are myriad ways to quickly check the temperature and conditions around us.
But it's different on OS X. Numerous apps that can turn our desktops into veritable weather stations, but the quickness of iOS is often lost under a mountain of features and statistics.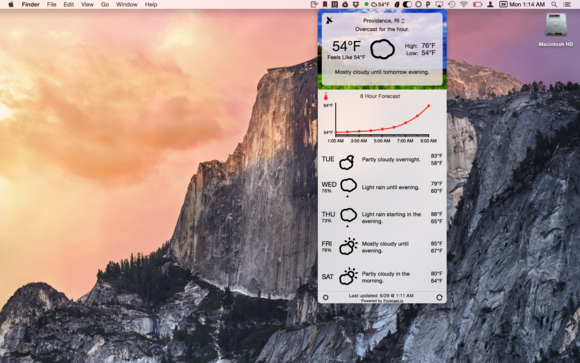 For the times when I just want to quickly see if I need an umbrella without wading through barometric readings and dew point charts, Forecast Bar ( Mac App Store link) is perfect for those instances. A fully customizable menu bar utility with a minimal, clean interface, it places a premium on simplicity to deliver an excellent snapshot of the world outside your window.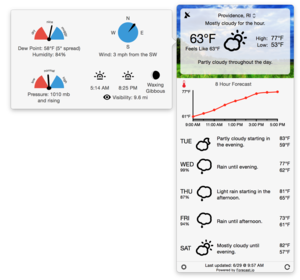 Forecast Bar doesn't want you to have to linger with it any longer than you would a weather app on your iPhone. Beyond the temperature and precipitation, the app doesn't show you a whole lot of information about your day. Details like humidity, wind speed, and visibility are all included, but its strength is in presenting a simple, uncluttered view. I experienced the occasional visual hiccup, but the elegant UI was generally a pleasure to behold, with a nice set of options for things like transparency and icon style.
Each of the forecasted days display highs, lows and animated icons to reflect the upcoming weather, and a tidy set of graphs plots any precipitation and temperature fluctuations.
Forecast Bar's best feature is its menu bar icon that can be customized with the temperature and a climate icon, and since it draws its information from Dark Sky's Forecast.io, it's about as hyperlocal and accurate as you're going to get.
However, Forecast Bar only updates every hour. If you want it to pull data faster it'll cost you. I generally don't mind in-app purchases, but Forecast Bar's seemed excessively expensive, costing as much as $30 for 10-minute refreshes.