Apple Music's Connect is designed to foster connections between artists and fans, but there's not much to love yet on either front. For listeners, Connect is pretty bare-bones and hasn't offered much in the way of new content. Musician and iOS app designer Dave Wiskus says it's not great for artists yet, either.
In a Friday blog post, Wiskus detailed his near-disastrous attempt at uploading a new song to share on Connect.
Embedding a song to share on the platform is riddled with difficulties, a far cry from the ease of uploading to SoundCloud. Artists have to make the clip they want to post available in My Music, which requires importing the track to iTunes (which can be its own special kind of hell). Posting the track can be glitchy—the form artists have to fill out wouldn't allow Wiskus to publish his song until he found a bizarre fix.
"I had to edit the artist name, add a space, and then remove the space," Wiskus wrote. "Then I could post the song. Of course."
You can't edit a live post, and deleting one isn't as easy as it could be.
But the biggest problem Wiskus found is that there are few tools to help artists beyond the publishing aspect. Musicians can't see how many followers they have. They can't reach out to potential fans. Wiskus said Apple needs to listen to independent artists to find out what they need from a platform like Connect.
Connect's potential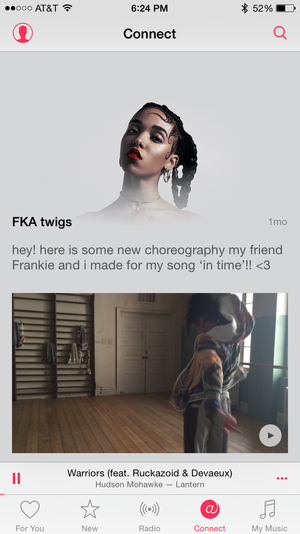 Nine Inch Nails frontman Trent Reznor, who joined Apple after the Beats Music acquisition, has been building out Connect and reportedly reached out to Wiskus on Friday. Wiskus said Reznor told him that Apple "is aware of the growing pains and is working to address them."
Reznor has lofty goals for the service, which he envisions as a place where artists can share anything they want with fans.
"We just wanted to make a place where if you're an artist and you want to share something that's more promotional—you're not necessarily looking to get paid on it but you want people to hear it and have as wide a reach as possible—put it up here and it's not locked into anything," Reznor told Pitchfork last week. "You can embed it wherever. It's not meant to just be over here behind this paywall."
Even exclusives shared via Connect will be available for everyone to hear, unlike Tidal, which requires a paid subscription.
Apple Music's social platform offers little-known artists the chance to get instant widespread exposure, because the app features new material uploaded to Connect in the New tab—and now musicians can upload material to Connect straight from GarageBand. People can comment on Connect posts and give feedback on new material, and the discourse is overall more positive on Music than on Twitter.
Connect has potential to be a cool space for both artists and fans, and it sounds like Apple is open to feedback to avoid failing a second time at a music-based social network. But if you're done with Apple's social experiments, you can always turn off Connect altogether with this guide.