Apple turned its back on optical media years ago. But many Mac owners still rely on those once ubiquitous shiny round CDs or DVDs for backups, transferring larger files, or sharing home videos with friends and family not yet hip to web streaming.
Although Apple and others offer the external hardware necessary to read and write discs, good software capable of more than basic burning capabilities remains elusive. (Forget the Mac App Store, it's mostly a wasteland of multiple apps with the same clunky user interface sold under different names.) Roxio hasn't abandoned OS X yet, although recent versions have become something of a Frankenstein's monster stitched together from various pieces and parts.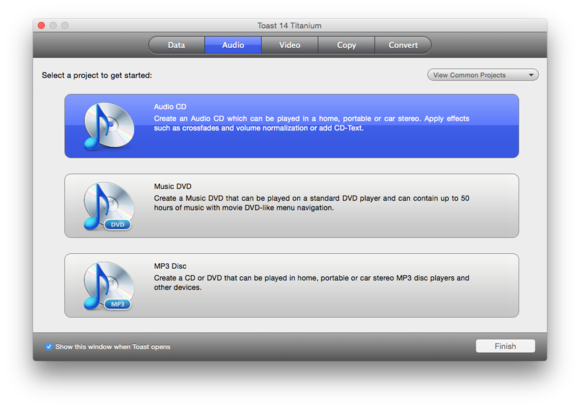 Titanium heart
At the heart of version 14 is Toast Titanium, which remains largely unchanged from last year's version 12 release. (That's not a typo: Roxio actually skipped an entire version number this time around.) The core $100 package tackles just about every conceivable way you might want to burn or copy CDs and DVDs, while the Pro version adds Blu-ray and a suite of photo and audio products for $50 more.
The only improvement this time around is the ability to convert video files to a wider range of devices, with built-in presets for the latest iPhone 6 and Samsung Galaxy S6 models. The list now includes nearly 60 video game systems, Apple hardware, mobile devices, streaming and file formats, as well as the ability to create custom settings.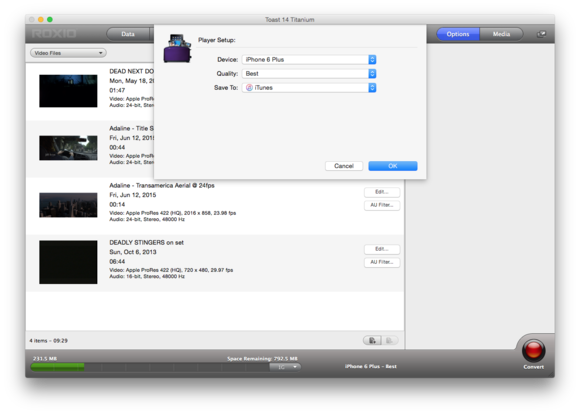 Toast 14 Titanium also feels a lot more stable in general—the previous version would occasionally crash for no good reason. Otherwise, the user interface and features are identical, right down to support for legacy formats and options like faster video encoding with Elgato's now-discontinued Turbo.264 accelerator.
But while Titanium's feature list has plateaued in recent years, Roxio continues to sweeten the deal by throwing in everything but the kitchen sink. While much of this software is unrelated to the core task of burning discs, this year's release offers a compelling reason to upgrade.
My media, MyDVD
Toast has long been equipped to author basic DVDs complete with motion menus, titles, and chapter stops. While that's likely enough for the average home user, there have been few customization options, such as the ability to add music to menus or use existing photos as the background image.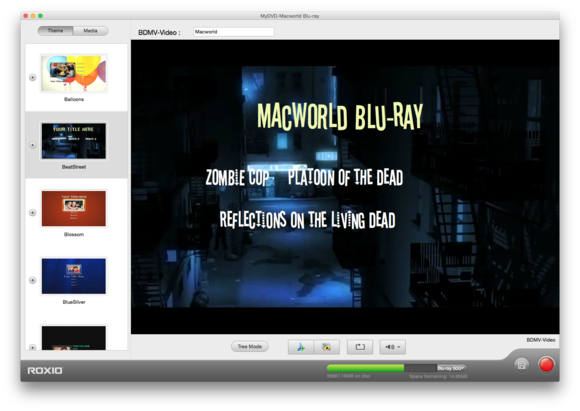 That's exactly what Toast MyDVD does. An entirely separate application bundled with both Titanium and Pro versions, MyDVD is more like a stripped-down version of the late, great DVD Studio Pro or Adobe Encore. Users choose from a variety of slick-looking themes, dropping media onto a flowchart that provides an overview of how everything is linked together.
Adding multiple titles or menus is a snap, and switching to Edit Menu allows fine-grained control over individual buttons and text. There's also a play button to preview each looping menu complete with audio, but sadly no way to do the same for the entire project prior to saving a disc image or actually burning a copy.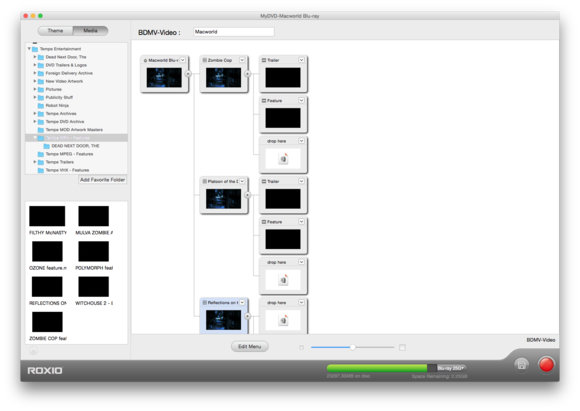 MyDVD appears targeted at prosumers and novice filmmakers, but one glaring omission keeps it from being truly useful: Support for professional QuickTime file formats like ProRes, which can be used in the main Titanium app. On the plus side, MyDVD can also be used to create AVCHD discs, and Pro users have the option to author and burn custom Blu-rays that trump most inexpensive options currently available.
Software galore
Toast 14 also includes Toast Audio Assistant, a convenient but somewhat buggy way to capture, edit, and enhance audio. Plug in a turntable, cassette player, or microphone, and you'll be able to import it to digital format—at least in theory. Toast Audio Assistant worked erratically with the Blackmagic hardware attached to my Retina MacBook Pro, and even when I could get it working, the incoming audio level display was wildly inaccurate.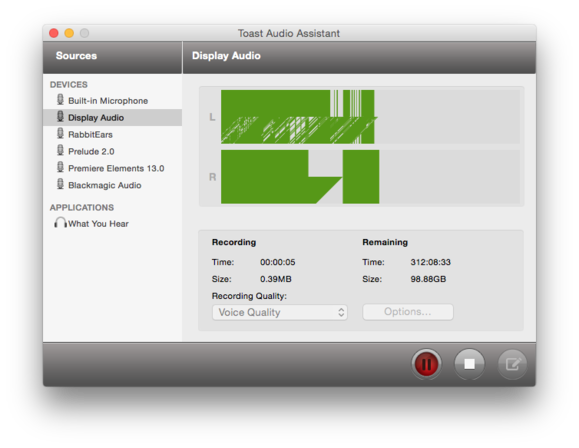 Buyers of the Pro edition also receive a suite of additional software carried over from the previous version, including Live Screen Capture, iZotope Music & Speech Cleaner for enhancing audio files, and FaceFilter 3 for retouching photos. Many of these feel out of place in the Toast roster, but are otherwise worthwhile for those on a budget.
Roxio also made two welcomed additions to the Pro lineup: Corel AfterShot 2, a very capable and user-friendly Aperture alternative from Roxio's parent company; and the latest RE (Roxio Edition) version of Boinx FotoMagico, the awesome slideshow creation software that does a more impressive job than Titanium's built-in Photo Disc option.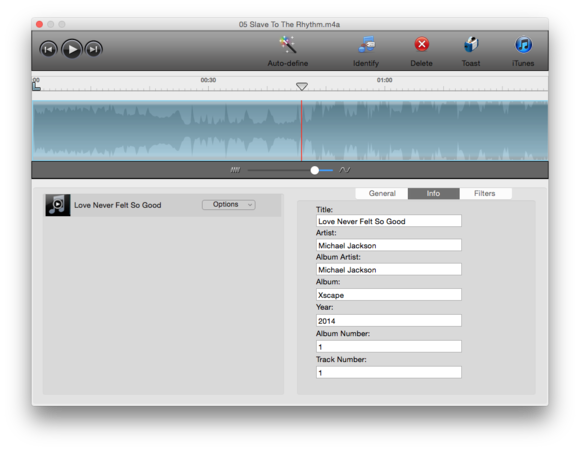 Bottom line
Despite its limitations, MyDVD makes Toast 14 Pro a worthwhile upgrade for Mac users who want to make custom DVDs or Blu-rays. If you don't already own them, the included Corel AfterShot 2 or FotoMagico applications add to the value of the Pro version.