We're a little over a week into the free three-month trial of Apple Music, and the Macworld staff is more or less dancing in the street. We don't love everything about Apple's new streaming service, but even though most of us were already subscribed to a competing service that we pay our own hard-earned dollars for, Apple Music and its Beats 1 siren song are tempting us to switch, and it sounds like our current services are about to lose a few customers.
Music is personal, and your mileage may vary. If you tend to do most listening on the desktop rather than on your iPhone, for example, Apple Music requires iTunes 12.2, but some users have suffered corrupted libraries or other headaches. Other services like Rdio, Spotify, and Pandora offer web players—you could find yourself avoiding iTunes for weeks at a time. And of course if you need cross-platform support, Apple Music may not be your best choice right now. It's coming to Android this fall, but the other services are already there, plus they support platforms Apple Music probably never will, like the Roku set-top box, the Chromecast, and Android Auto.
Read on for our personal opinions on streaming, and then let us know what you plan to do. Are you switching to Apple Music from another service, staying with your current service, jumping into streaming for the first time? We'd love to hear your thoughts in the comments—we'll even take the earbuds out of our ears for a few minutes.
Oscar: Switching from Google Play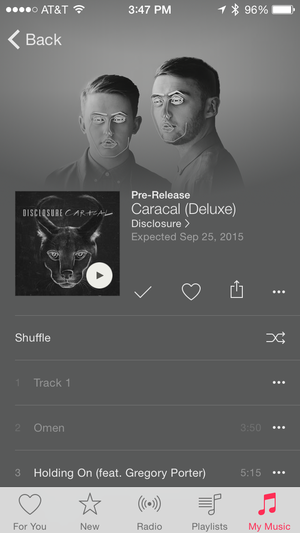 My main requirement for paying $10 a month to stream music is the ability to upload, access and incorporate my old MP3 library via the cloud. Before Apple Music, only Google Play Music offered that kind of locker service (sorry Spotify).
Plus, Apple Music has too many perks for me as an iPhone user not to switch, including Siri and Apple Watch integrations, setting any song as an alarm, etc.
Sometimes if a new album shows up in the iTunes Store as a pre-release, you can add it to My Music even if tracks are still grayed out. After the release date, the full tracklist shows up automatically. It's a good way to stay on top of new releases without having to keep track of drop dates. —Oscar Raymundo
Leah: Switching from Rdio
I'm a Rdio subscriber, and there¹s a lot that I love about Rdio. I love its intuitive, consolidated menu. I love its web client, and that the web client and iOS app talk to each other in a very Handoff-esque way. I love seeing what albums, songs, or artists are trending among my Rdio friends, and I love collaborating on playlists with friends, too.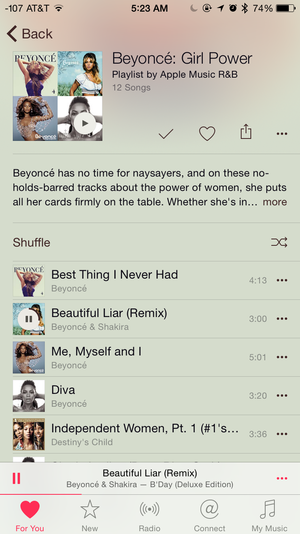 That said, I'm 90-percent sure I'll be dumping Rdio for Apple Music, and that's because Apple Music's For You section is, quite frankly, freaking awesome. I've only been using Apple Music for a week, and I feel like it has absolutely nailed my musical likes and interests–I've been using Rdio for almost two years, and it doesn't serve up nearly as tailored or specially curated options as Apple Music does. As cheesy as it is, Apple Music gets me.
Plus, the playlists are anything but boring: "Songs for a rainy day" (for your most melancholy moods), "An indie rock adrenaline boost" (for working out or just getting pumped up), "Beyonce: Girl Power" (for literally every moment of every day), "Synthesizers and silverware," (duh, for your next dinner party). My For You section is filled with new artists for me to discover, neatly packaged into playlists full of a wide variety of the artist's catalogue instead of just the hits. I've stumbled upon old albums that I love but haven't listened to in ages, and playlists serving up a mixture of my favorite songs and brand new jams for me to enjoy. It also finds new ways for me to enjoy some of my favorite artists: An entire playlist of Robyn remixes? Yes, please!
There's a good chance that you cringed at the thought of at least one ofthose playlists I mentioned—tastes are subjective, after all. That's why it's important to take the time to curate your For You section, as Apple Music¹s recommendations are only as personal as you let them be. If you don't take the time to properly tap your favorite artist and genre bubbles, if you don't "heart" songs, if you skip through a lot of songs, and if you don't sync up with your iTunes Library, these recommendations might not be as specific, and it might recommend things you find completely off-putting. But if given the chance, Apple Music can be a fabulous new source of music inspiration.—Leah Yamshon
Caitlin: Probably switching from Spotify
I'm a long-time Spotify premium subscriber who loves that service's revamped app for iOS. The new Running feature and the addition of podcasts and videos are big selling points for Spotify, and I'm pretty hooked. But Apple Music's curated playlists, Beats 1 radio station, and Siri integration are making a strong play for my business—and they just might win me over.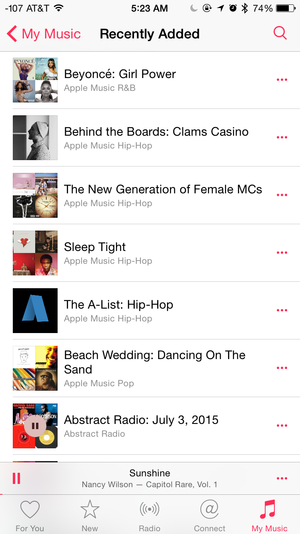 Spotify has playlists, too, but they're generated by algorithms. That means they're lengthier, which some people prefer, but I enjoy short, perfectly curated playlists that feel like the mix CDs my friends and I made for each other when we were young. I compared a few Apple Music playlist picks to Spotify's to see what they came up with for specific activities like beach trips and cardio workouts. Spotify's playlist for a day by the ocean was packed with obvious picks like Beach Boys and Jack Johnson, while Apple's editors dug deeper, combining a few new hits from this summer with less obvious cuts that have beachy vibes. I'm discovering tons of new songs this way.
Beats 1 is also opening my ears to jams I've never heard before. I love radio because it's like playing musical Russian roulette: Is the next song going to be the best I've ever heard or completely awful? I don't always love the selections from Zane Lowe, Julie Adenuga, or Ebro Darden, but sometimes they're perfectly on point. And I'm surprised by how much I've enjoyed the artist-hosted shows, particularly St. Vincent's Mixtape Delivery Service. I'm hoping Dr. Dre's show lives up to its hype.
Apple Music's Siri integration is another favorite feature of mine, because I can't use it with any other streaming service. Being able to tell Siri what I want to listen to, either as specific as a song title or as general as a genre, is nothing short of amazing. And I don't even need to open the Music app for Siri to be my personal DJ.
I can also sync my workout playlist to my Apple Watch to listen to on a run without my iPhone nearby, which means my dream of running completely unencumbered is so close to coming true (if only my neighborhood coffee shop accepted Apple Pay).
I'm planning to put my Spotify subscription on hold and ride out the rest of my free Apple Music trial before making a final decision, but I've discovered more great music during this week with Apple Music than I have in the last few months put together.—Caitlin McGarry
Susie: Probably switching from Rdio
Like Leah, I've been a happy Rdio subscriber for years. I like a lot of the same things she does. I vastly prefer the web player and Mac client to having to launch iTunes and watch it gobble up my Mac's resources. I love how the iOS app and the Mac app can control each other—you're not allowed to be logged in and listening to different things in more than one location, so if I'm listening to tunes on my Mac, the Rdio app for iPhone can act as a remote, letting me skip tracks or queue up new ones. Or if I'm in the library with Rdio streaming to my headphones via my iPhone, I can still hit play or pause on my Mac.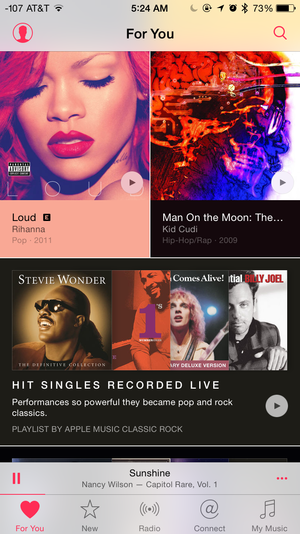 I've discovered lots of new music in Rdio from seeing what's trending with my friends, or subscribing to their playlists. And I love how I get a notification when something new is added to the service by an artist that's already in my collection.
Still, Apple Music makes discovery even easier and better. Since it's so focused on personalizing its recommendations, showing me what my friends are listening to might actually detract—I wouldn't want it cluttering up the For You tab, but I wouldn't be opposed to a "trending with your network" section in the New tab. I started as a Beats 1 hater (go ahead, say "worldwide" again, I dare you), but over the last week even that has grown on me. I love that old shows appear as playlists, and lord help me if I didn't enjoy Jaden Smith's radio show almost as much as the one by Q-Tip the Abstract, founder of A Tribe Called Quest, who's been a hip-hop hero of mine since high school.
@sfsooz Well you have great musical taste, and you're our girlfriend, so….

— Rdio (@Rdio) November 26, 2014
Apple Music has a few holes, but it's also correctly suggested to me classic Led Zeppelin albums and Taylor Swift's 1989, which isn't on Rdio (to be fair, Zeppelin was just added there). My affection for Rdio is so great—more than once, on Twitter, I've referred to the service as my boyfriend—that it pains me to admit I'm considering switching, but I really am. If Apple Music's clunkier navigation or reliance on iTunes starts to get under my skin, though, I might switch back.—Susie Ochs