Apple hasn't yet released numbers to prove how popular Apple Music is, but now we know that people are rushing to upgrade to iOS 8.4. Just eight days after Apple pushed out the upgrade with Apple Music as its core feature, more than 40 percent of all iOS devices are running the newest version of iOS.
The data comes from third-party analytics firm Mixpanel—Apple doesn't break out point release adoption from larger release adoption. iOS 8 is currently running on 84 percent of iOS devices.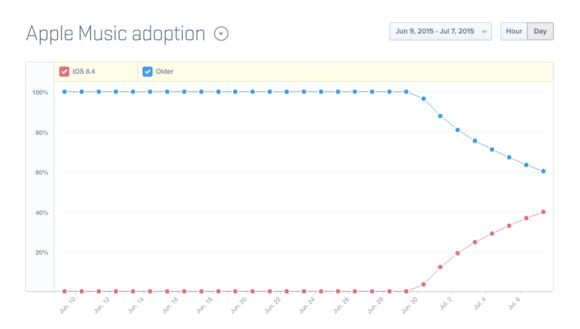 Apple Music is clearly the biggest factor driving the push, and 9to5Mac notes that the adoption rate might be higher but for developers and early adopters who are already running iOS 9 on their devices. That iOS 9 number might leap when the public beta opens soon.
iOS 8 saw sluggish adoption in its early days, because the size of the OS was too large for those of us with little storage left on our devices. Apple has been working on this problem, but the real fix won't come until iOS 9, when the OS will temporarily delete some of your apps to free up space for the upgrade, then reinstall them when it's done. iOS 9 will also be much smaller than iOS 8, at 1.3GB compared to 4.58GB.
Why this matters: Apple has been heavily promoting Apple Music with an ad campaign, celebrity endorsements, and that conveniently timed Taylor Swift 1989 announcement, so it's not surprising that the iOS version required to use the service has been adopted so quickly. Now we have to wait for Apple to release its own numbers—which it probably won't, unless they're incredibly impressive.