Scientists have found that humans may not be as good at multitasking as we once thought we were, but that was all before Apple gave the iPad split-screen capabilities in iOS 9.
iOS introduces introduced a handful of special multitasking features exclusively for the latest iPad models. These capabilities include a Slide Over app sidebar, a side-by-side Split View, and Picture in Picture with videos floating on top of another app.
Even though iOS 9 will run on the iPad 2 and any subsequent iPad model, you'll need an iPad Air, iPad Air 2, iPad Pro, iPad mini 2, iPad mini 3, or iPad mini 4 for Slide Over and Picture-in-Picture, and an iPad Air 2 or iPad Pro for Split View.
Here's how all of iOS 9's new multitasking features look on the iPad Air 2.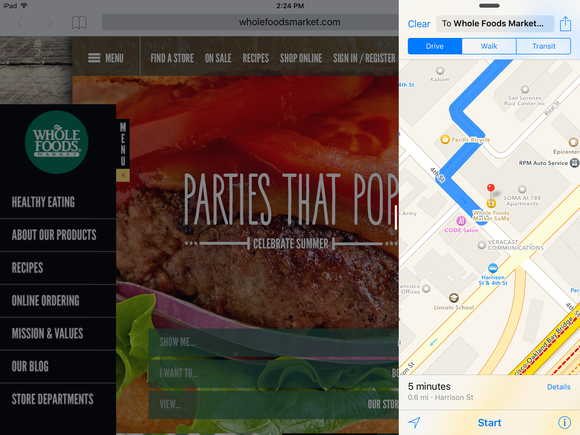 Slide Over
When you have an app open—either one of Apple's built-in stock apps or a third-party app—you can now "slide over" a second app into view as a sidebar that takes up about one-third of the screen. Simply swipe from right to left on the righthand side of your iPad, and ta-da! You can select and switch to a different app to slide over by swiping from the top down. And Slide Over works whether your iPad is positioned in landscape or portrait orientation. Because Slide Over freezes the app you originally had open in the background, this feature is less about multitasking and more about quickly replying to a message or peeking at your Facebook News Feed.
If you tried out Apple's iOS 9 public beta over the summer, you probably noticed that you could only use Slide Over with Apple's built-in apps, including Mail, Safari, Notes, Maps, and Messages (the notable exception is Apple Music). Apple expects more third-party developers to support this capability now that iOS 9 has launched.
Split View
When you have a second app open as a Slide Over, you can press and hold on to the divider in between the two apps, and drag it all the way to the center of the screen. This will automatically activate a split-screen feature called Split View, which is iOS 9's most significant multitasking feature—but it only works on the iPad Air 2 and upcoming iPad Pro, unfortunately. In Split View, you can simultaneously use two apps to their full potential: Browse travel guides in Safari while you make a bucket-list in Notes, for example.
Split View certainly adds an exciting element to the iPad. Having two fully functioning apps open at the same time will satisfy any urge you may have to be efficient. Even just seeing two apps on the same screen makes you feel like you're already being productive. Gone are the days when switching between apps required double pressing the Home button and flipping through your apps.
Even though Split View allows you to work on two apps at once, interaction between the two apps is limited. Sure, you can copy a chunk of text from one app and paste it onto the other. And if Safari is open, clicking on a link in another app will open it in Safari. But it'd be a true multitasking feat if you could drag URLs, photos, and text back and forth between apps.
Picture in Picture
Apple knows that multitasking can sometimes involve watching a baseball game while doing other things. That's where Picture in Picture comes into play. The video feature is similar to how YouTube and Tumblr let you minimize a floating video player to continue browsing around the screen. Facebook is testing a similar feature. Picture in Picture in iOS 9 is not app-specific, however.
While watching a video in fullscreen, click on the Home button (or a new button on a lower right corner of the video) to scale down the video seamlessly without pausing or skipping. The floating video continues to play as an overlay and you can open and navigate other apps. You can even move the floating video screen to different corners of the iPad or move it slightly offscreen if you only want to listen to the audio.
Picture in Picture works with videos stored in the Videos app, FaceTime conversations, and movies or TV shows you downloaded from iTunes. Third-party partners are expected to support this feature, too. (During WWDC, Picture in Picture was demoed using the ESPN app. In the first public beta, however, Netflix shows and YouTube videos couldn't be popped out in this fashion.)
QuickType
Another notable update iOS 9 brings to the iPad is improvements to QuickType. Basic functions such as copy/paste, adding an attachment, and formatting text now appear on top of the QuickType keyboard in the all-new Shortcut Bar. According to Apple, the Shortcut Bar will have different tools customized by third-party apps.
Perhaps the biggest update is how the iPad's touchscreen can now be turned into a trackpad. By placing two fingers down at the same time anywhere on the screen, even the keyboard, you can activate and control the cursor, making it easier to select large chunks of text and edit or format the selection.