If you've got a decently long history with the Mac, you'll remember AppleWorks and ClarisWorks. When Microsoft Office was a high-priced suite, AppleWorks and ClarisWorks were inexpensive (and sometimes thrown in). Apple stopped selling the last version in 2007, but files linger. In this week's column, Mac 911 helps a reader open ancient 'Works files. I also help with sorting, EPUB formatting, and a systemwide text replacement sync issue.
From A to Z
James Riley writes in with a question about Pages. He has a 47-page document that has columns for occupation, first name, and last name. He'd like to sort alphabetically by first name, and then print the document.
This is possible within Pages '09 (version 4) and the latest Pages (version 5), although in different places. You don't have to do a round-trip through Numbers to make this work.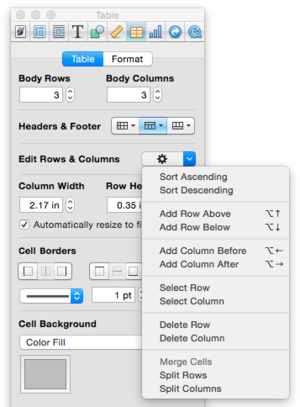 To prep for sorting, first make sure that your headers are actually set as a heading row. This prevents them from being sorted, and they remain at top. Oddly, I can't find any way to turn an existing row into a header row. Instead, you need to add a header row and then copy and paste your column headers into it (Format > Table > Header Rows, pick 1 or more).
In Pages '09:
Click the header cell for the column you want to sort.
In the Inspector (View > Show Inspector), click the gear in Editor Rows & Columns.
Select Sort Ascending, which will alphabetize the results.

In Pages 5:
Hover over the header cell for the column you want to sort. A downward-pointing arrow appears.
Click the arrow, then click Sort Ascending, which alphabetizes the results.
A blast from the past
Frederick Ayer writes in with a relevant historical question:
As a Mac user since '87, I have created text files with the various OSes, since ClarisWorks and Classic. Many of those still kicking around I can no longer read; for example, AWks5 and earlier. Do you know of an app that would allow me to translate old AppleWorks & ClarisWorks files?
It's strange how waiting longer sometimes makes things easier. Ted Landau wrote an excellent article about older AppleWorks and related formats for Macworld in 2012, but it wasn't possible to open the oldest files intact.
However, hope springs eternal. In 2013, an update to LibreOffice, a free (hence "libre") office suite for many platforms, added support for ancient Word, AppleWorks, and ClarisWorks documents thanks to the intrepid work of a determined programmer.
After opening old files in LibreOffice, you can save them as Microsoft Word or other formats. Word files can be opened directly in Pages '09 and Pages 5, which converts them to the native Pages format, which can then be saved.
Linking inside ebooks
Roger Hart uses Pages to write ebooks that he publishes on Smashwords and Amazon:
I use Pages '09 to add bookmarks for each chapter name, then hyperlink to each bookmark, to create a linked table of contents. When I went to Yosemite, these two functions were missing—gone from the new version. Have these features been added to subsequent upgrades?
Pages 5 remains in a bit of rut, and those features are still missing. The ability to create an EPUB from Pages '09 and 5 is very useful, whether for sale, informal use among friends, or within an organization to distribute documents and manuals.
Thus, it's disappointing that while Apple has improved EPUB generally in Pages 5 over the previous release—Serenity Caldwell explained some major updates a year ago in version 5.2—it's still missing these much requested internal bookmarking features.
For anyone trying to restore Pages '09 to use for this or other purposes, see a May 2015 Mac 911 that explains the process.
Another option is to start in Pages 5, export and EPUB, and use the free Calibre software to spiff it up.
Text replacement displacement
Brad Stipp writes in with a more general Yosemite problem that can afflict us in Pages—or anywhere in which we're using OS X's autocorrection and autocompletion feature. Brad is using the option to set short bits of text that can be replaced with something you select, a la TextExpander and the like. (It's found in Keyboard system preferences > Text.)
I have at least a dozen times removed the word "call" (under the Replace column) with "Call me when you have a minute." (under the With column). After a short period of time (a day or two) they are added back. The same thing happens with "ok"/"okay".
The answer appears to be tied to iCloud Drive, and it might be a problem even if you don't have iCloud Drive enabled, but are using iCloud for other purposes.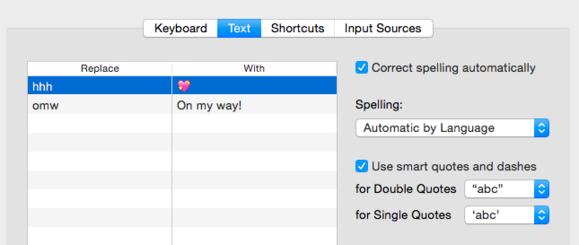 In 10.9 Mavericks, text replacements were synced only if you had iCloud enabled and Documents & Data checked. In Yosemite, if iCloud Drive is checked, these items sync by default, and there's no way to disable it without getting into Terminal (and even then, that might cause a problem).
Some people have reported seeing issues in which all their Mavericks replacements disappeared in Yosemite until they enabled iCloud Drive. Other folks saw inconsistent behavior, including replacements disappearing and reappearing. Try enabling iCloud Drive, setting a replacement, and then seeing if it sticks.
If it doesn't, there's likely a corrupt database related to iCloud that's causing this recurring problem, and you'll need to get Apple's help to ferret out what to delete and rebuild.
Ask Mac 911
We're always looking for problems to solve! Email us at mac911@macworld.com or tweet them at me (if brief) @glennf. Mac 911 can't provide direct email responses or answers for every question. For that, turn to AppleCare, an Apple Store Genius bar, or the Apple Support Communities.