Apple Music has exploded out of the gate. Thanks to a generous three-month trial period, music lovers all around the world rushed to take the newest streaming service for a spin, and there isn't much not to like. Tens of millions of songs, hand-picked playlists, offline listening, and easy integration with your existing music library put it at least on par with its big-name rivals, if not slightly ahead.
But the real gem of Apple Music is something that isn't all that modern: a censored radio station. Streaming services have turned music listening into a very individualized experience, so it was somewhat surprising when Apple announced Beats 1 as one of the main features of its new service. But what's truly surprising is how great it is.
I'll admit that I wasn't all that interested in the prospect of an Apple-helmed Internet radio station, but Beats 1 does a fantastic job of capturing everything that was once revolutionary about radio. Gathering around a boom box with your friends to hear the latest Taylor Swift single may be a romantic, old-fashioned notion, but Apple has hit on something truly special with the communal nature of Beats 1. Ever since it launched I've been reading tweets about how people around the world are discovering new music, and as a longtime satellite radio subscriber, I've actually begun to consider the prospect of switching full-time, a feeling my turns with Spotify or Pandora never elicited. And I don't think I'm alone.
Playlist culture
While the idea of listening to any song we want, whenever and wherever, is still pretty mind-blowing, there are a lot of times when we just don't know what we're in the mood for. Apple Music is built for those moments; while it gives you access to millions of on-demand songs, its main draw is the hand-curated playlists and radio shows that pay particular attention to the organization and grouping of songs, far more so than a computer-created Pandora or iTunes Radio station.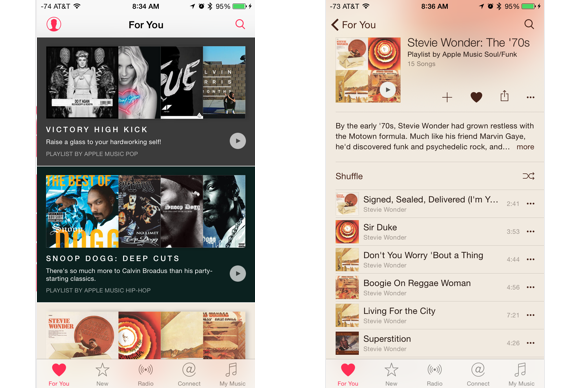 The best program directors are able to walk the line between what people want to hear and what they should be hearing, and based on its first impressions, Apple has done just that with Beats 1. It's impossible for an algorithm to understand the peaks and valleys of a great playlist; mechanically assembling a stream of songs tersely related by genre will rarely elicit an appropriate emotional response, but the ones Apple has curated take you on a journey with natural highs and lows and seamless transitions.
But Beats 1 takes it to another level. The beauty of traditional radio has always been the sense of discovery and the element of surprise, an aspect Apple has embraced since the iPod's shuffle feature. But even more than that, there's an specific type of excitement that comes from hearing something unexpected. At any given moment on Beats 1 you can hear a hip-hop or EDM track that you're unlikely to hear on any other format–including satellite radio. SiriusXM puts such an emphasis on compartmentalizing its stations, a lot of them end up being extremely predictable.
Beats 1 is anything but. The usual genre stations are still available in Apple Music's Radio tab, of course, but Beats 1 offers something that you won't find on any of the SiriusXM channels. In its first week we heard genre-defying selections picked by Elton John, Run the Jewels, Dr. Dre, and St. Vincent, and it's been a fascinating reinvention of what radio can be.
Pay to play
Beats 1 is certainly good enough to be included as a perk for Apple Music subscribers, but Apple made it free, essentially acting as an advertisement for the paid service. But as Apple Music evolves, I expect Beats 1 to expand into a whole radio network.
I'm willing to bet that Beats 1 will always be free, but Beats 2 might not be. Apple has put so much energy and effort into its radio station I find it hard to believe that there isn't a plan in the works to expand the lineup. There may never be quite as many channels as SiriusXM offers–and quite frankly, that's probably a good thing–but I could see a dozen or so different stations eventually being offered, with at least a few of them only available to subscribers.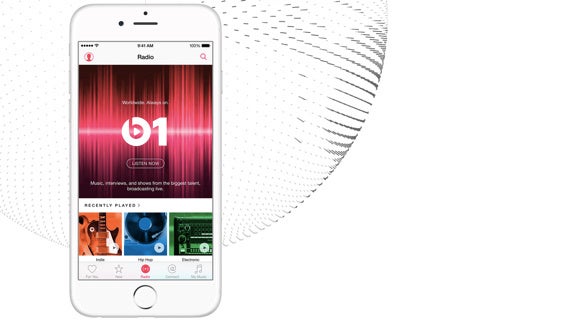 There's an inherent value in exclusivity, and Apple has already partnered with the likes of Pharrell Williams and Eminem to generate buzz. Similarly, SiriusXM routinely adds special channels devoted to the music of certain artists (most recently a James Taylor channel popped up to promote his new album), and it seems like a logical direction for Apple, too.
Don't forget live concerts and events. As part of the Taylor channel, for example, Sirius simulcast an exclusive show from the Apollo Theater. Apple already holds in-store performances and records iTunes Originals, and I have to assume this year's iTunes Festival will stream live on Apple Music. The Eminem interview was a good start, but if Beats could regularly stream live shows and performances, there's no telling how popular it could be.
There's a huge potential here, and with the influence Apple wields in the music industry—-which has only gotten stronger by bringing Jimmy Iovine, Dr. Dre, and Trent Reznor into its camp—-Beats radio could be a place for both major and undiscovered artist to promote, experiment and, most importantly, reach their fans. Where SiriusXM largely follows the transitional radio format without ad breaks (at least for music channels), Apple is forging a different path with Beats 1, offering an eclectic mix of programming that doesn't try to fit a specific musical taste.
Supply and demand
The smartest move the satellite radio providers made was to partner with automobile makers. Not only is there an easy way to stream SiriusXM built into just about every new car that rolls off a lot, it also comes with a generous trial period that gets customers hooked on the product. Apple is already making inroads with car manufacturers, and it's only a matter of time before an Apple Music app is front and center on the CarPlay dashboard. That alone would begin to chip away at satellite radio's in-car dominance.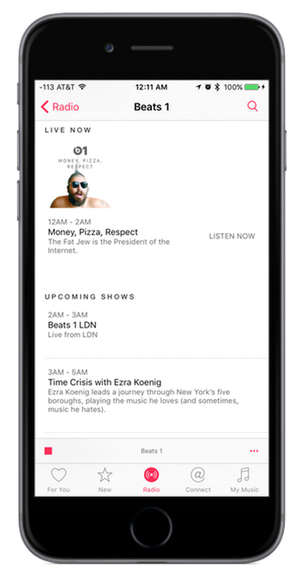 Apple describes Beats 1 as a "24/7 radio station broadcast worldwide from Los Angeles, New York, and London," but in actuality it only offers 12 hours of live programming. From noon to midnight eastern time you'll hear live shows and original first-run programs, and then it replays the whole day's schedule again.
So, if you're listening outside of the United States, there's a good chance you're not hearing a live show. That's not an issue with satellite radio—-with so many channels there's always something live—-but over time a true 24-hour radio station would make Beats a much more viable satellite radio competitor.
And while there's a certain appeal to the we're-all-listening-together model, sometimes I just want to listen on my own terms. It's one of the best feature of SiriusXM's Internet streaming package, and while Apple does offer complete playlists of the songs that were played during shows, it's just not the same experience without the DJ banter. It would be great to be able to stream or download Beats 1 shows on demand, and as the service picks up more listeners, I assume Apple will collect its shows for on-demand listening.
Booey bomb
But above all, Apple Music needs a face. Zane Lowe, Ebro Darden, and Julie Adenuga are all excellent at their jobs, but radio is about personalities, people like Glenn Beck, Rush Limbaugh, and Gregg "Opie" Hughes who create content, not just play great music. And the brightest one in the radio galaxy just so happens to be in a contract year.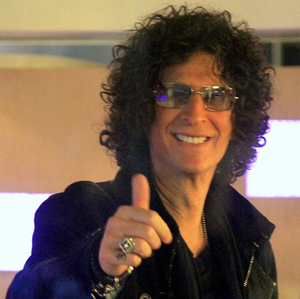 Howard Stern has grown from a shock jock to the self-proclaimed king of all media to one of the best interviewers of all time. When he left terrestrial radio for the FCC freedom of satellite radio, it wasn't just an excuse to get raunchier; over the decade that he's been at SiriusXM, Stern has transformed his radio show from a romper room of strippers into a delectable stew of social commentary, celebrity conversations, unique in-studio performances and, of course, world-class comedy. It's not just the greatest radio show, it's one of the best things you can listen to on any platform.
He might have to tone down the language a bit for Apple's self-imposed censors, but Howard has proven that he can be just as funny and interesting without all the cuss words. He's already announced that he's leaving America's Got Talent after this season to focus more on his radio show, but he's been characteristically coy about where that show will be aired.
And if there's one thing Howard loves more than his iPhone and MacBook Air, it's being a pioneer. His SiriusXM show attracts more than 10 million listeners and would be an instant draw for Beats' credibility. Moving to a relatively unestablished medium would be a challenge, but he's done it before, nearly single-handedly building Sirius's subscriber base from 600,000 to nearly 30 million. Detractors might scoff at the idea, but Howard Stern is the kind of personality that give Apple Music the kind of visibility Apple needs, marketing it not just to streamers but to radio fans everywhere. And taking SiriusXM's biggest draw wouldn't be so bad either.
The satellite radio suits might not have paid too much attention to Beats 1 when Apple announced it as part of Apple Music, but after just a week on the air, they might want to give it a listen. After all, we know what happened to Nokia and BlackBerry when they underestimated the iPhone.