It's the all-star break: The approximate midway point of the Major League Baseball season when regular games stop for a few days and most people (players included) pay little attention to Tuesday's All-Star Game. If you want to see your favorite team in action right now, you'll have to make it happen yourself—by firing up one of the official MLB games in the App Store.
There are all sorts of options, including card-based games and in-depth management simulators—but if you want to swing the bat and toss the ball using real-life rosters, you have a few key options this season. They're all pretty different in style and execution, and if you're looking to pick one licensed baseball game to invest your time and money into, there's a clear winner. Here's a look at the season's baseball options, along with our top pick.
MLB Perfect Inning 15
Gamevil's free-to-play simulation series debuted last year, and the publisher followed it up with this 2015 edition this spring. MLB Perfect Inning 15 (free) has the full array of licensed content: Teams, players, and stadiums, offering a pretty complete take on the pro sport. The batting and pitching mechanics are solid, and the former offers options for different levels of skill (or interest): You can aim your bat when swinging, or have the game automate the process for easier contact.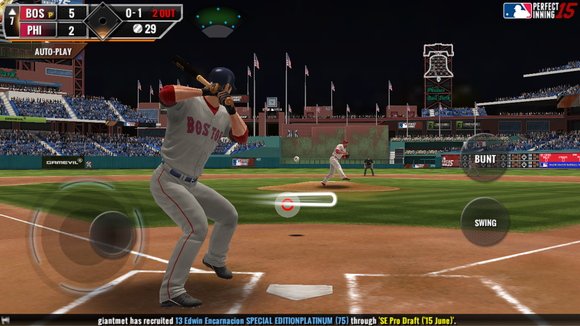 At a glance, Perfect Inning has the visual gloss of a console game, but the players are sometimes oddly built, and the animations are often janky. But that's not the crucial issue here—it's that the game is filled to the brim with freemium elements that not only disrupt the competitive balance, but also prove confusing. Individual players have stamina and condition meters, plus you have to pay tickets to simulate games. More pressingly, you can pay money to draft better players, as well as buy stars to spend on items and perks. Knowing that your team is at a disadvantage from the start zaps a fair bit of the fun, but it's still a decent sim for occasional at-bats.
R.B.I. Baseball 15
Last year also saw the re-launch of R.B.I. Baseball 15 ($5), the old-school series that hadn't produced a new entry in nearly two decades—only the revival wasn't so great. The controls were inconsistent, the gameplay turned monotonous pretty quickly, and the inability to save a game and return to it later made for a rough mobile experience. Luckily, the second go-round is much improved, delivering a game that's fun, easy to understand and enjoy, and solidly polished.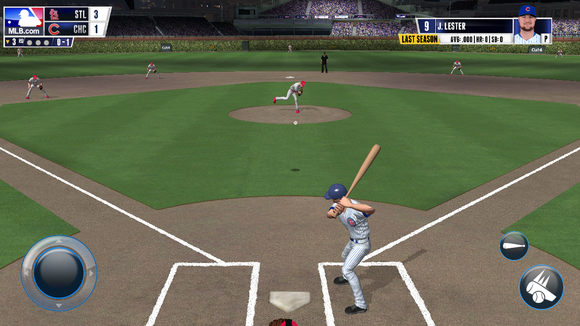 Granted, R.B.I. Baseball 15 does still commit errors on occasion with its streamlined simulation, but by and large, the game works well on mobile. And now there's a bit more personality than last year, as park features are fleshed out and players look more like their real-life counterparts. Crucially, too, you can save and exit a game at any point and then pick back up the next time you play. It's a one-time $5 purchase, too, with no in-app prompts to spend further money. That's hugely important with a sports game. The lack of multiplayer in a premium game is a disappointing, though.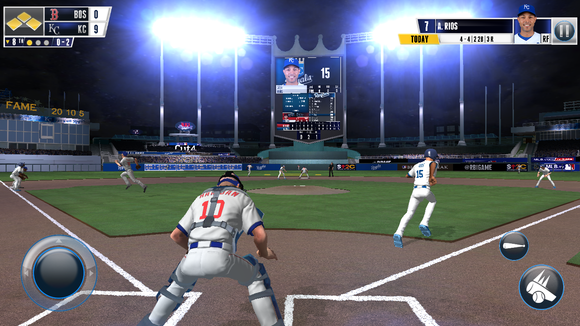 Tap Sports Baseball 15
Glu's Tap Sports Baseball 15 (free) varies from the above games in a couple of key ways. First off, it doesn't have the full MLB license, just the one from the Players Association—so it has the pro athletes, but not their teams (weird, but not the first time this has happened). More importantly, it doesn't let you pitch or play defense, so you're simply swinging the bat and occasionally tapping buttons to make strategic decisions.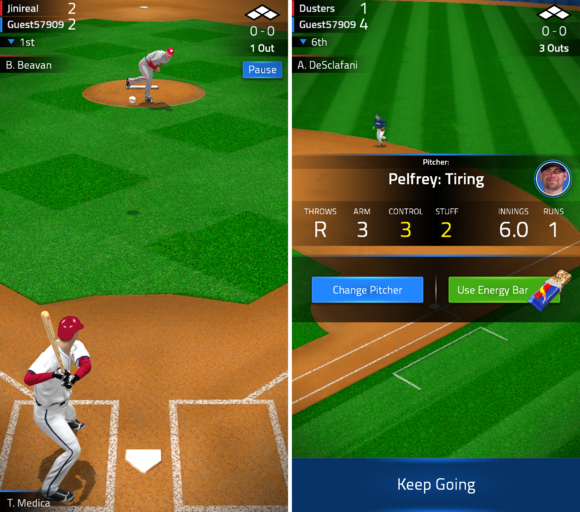 As such, it's not a full simulation, but Tap Sports is decent for what it is. The asynchronous multiplayer approach lets you swap innings with an online foe, but you're still just hitting against an A.I. team based on your opponent's roster. The free-to-play design is much like that of Perfect Inning: You'll have to grind or spend money to unlock better draft picks, which net you improved players for your squad. Simplistic design makes Tap Sports Baseball 2015 an ideal game for casual players, but it's not a very rich or in-depth experience.
9 Innings: 2015 Pro Baseball Plus
Like Tap Sports, 9 Innings: 2015 Pro Baseball Plus ($3) has licensed players, but not their teams. However, since it's a complete simulation that lets you bat, pitch, and play the field, not having real-life teams, stadiums, or uniforms ends up being a very odd experience—especially since the fictional team logos don't even try to mimic the real-life ones. Even more jarring are the terrible graphics and generic presentation, which make 9 Innings seem very old, and there's a real disconnect between the MLB player faces and the look and feel of the rest of the game.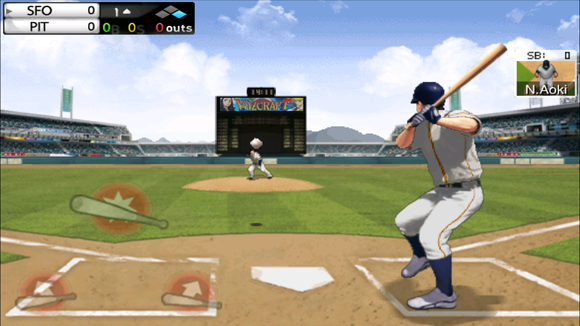 You'll tap to swing and position a cursor to pitch—super basic stuff—and the game gets into a solid flow once underway, despite the ancient aesthetic. But everything around it is kind of a mess. The fuzzy, low-res menus constantly bombard you with ads and opportunities to spend money on in-app purchases, even in this paid app (there's a free version too). And the freemium design pushes you to spend big to improve your team, which isn't very fun. It's just not worth it for a game this limp.
The verdict
If you're eager for a baseball simulation to keep you entertained for the rest of the season, go with R.B.I. Baseball 15: It's the only one on this list that is fundamentally sound, solidly polished, and isn't balanced in a way that encourages spending on in-app purchases. In fact, it doesn't even have any in-app purchases. Score.
Last year's series revival was a letdown in a lot of ways, but R.B.I. Baseball 15 makes enough enhancements—from presentation to control responsiveness and the ability to save and exit games—to deliver a better experience this time around. It's worth the $5 if you expect to play a fair bit before the 2016 season starts up, otherwise MLB Perfect Inning 15 is an OK option for freebie dabbling.