Apple's Notes is reportedly one of the most popular apps on the Mac. Makes sense, since it comes with every Mac and it syncs between your Macs and iOS devices. It's a lightweight app good for jotting things down.
I stopped using Notes a long time ago in favor of Evernote. I don't think I'm going to drop Evernote anytime soon; I have too many notes saved in Evernote to completely abandon it. But I am interested in the new features in Notes 4 to see how it can fit into my workflow.
Jason Snell took a look at Notes 4 in his first look of the El Capitan public beta. Here, I'll take a closer look at the changes and new features using the El Capitan golden master.
Growing up
Just in case you don't know or forgot, here's what version 3 of Notes on the Mac looks like. (Of course, you can always fire it up yourself. Notes 3 in Yosemite is located in the Applications folder.)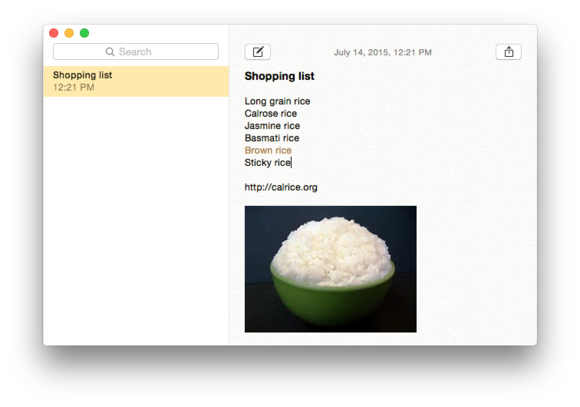 Notes 3 doesn't do a whole lot. Your note entries appear on the left and the contents of each note appears on the right (you can also double-click a note to open it in its own window). The formatting tools are basic. You can add images, but PDFs and other non-image files like audio or video files appear as "inactive" attachments.
Notes 4 allows you to do more. Its user interface is reminiscent of another Apple app, Mail. Notes 4 features three panes, with the left pane of folders, a middle pane showing the notes in the the selected folder, and a viewer on the right. There's a button to hide or show the folders pane, so you can switch between two and three pane views.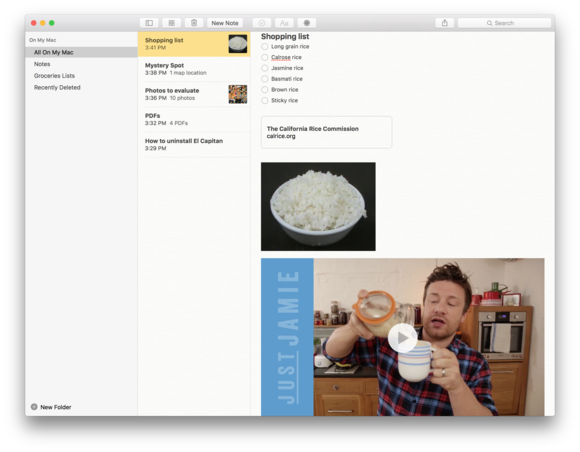 The most important change to Notes is that a notes file is more robust. Instead of treating files like videos, audio, and PDFs as if they were attachments, they are "active" in a note. Videos and audio appear in an embedded player and can be played within a note instead of launching an external player. When you drag a PDF into a note, the pages of the PDF appear in the Notes file.
Attachments Browser
Apps like Evernote, Yojimbo, and OneNote are used for notes, but they're often used as a repository for your random bits of data—web links, images, files that you want to use later, but don't really have a place to put them right now.
The new Attachment Browser helps Notes 4 move towards being that repository. Click on the Attachment Browser button, and a window with six tabs opens. Here, the file attachments for all of your notes are viewable; click on each tab to see its respective file type. The Browser makes it a lot easier to spot a file if you don't remember its name, which prevents you from finding it in search.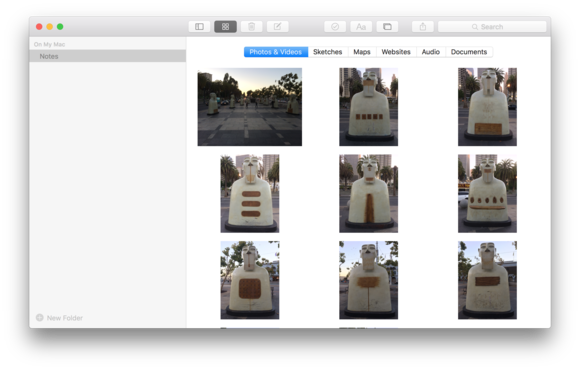 Other changes
You can instantly make a checklist by selecting the items in your note and then clicking on the "Make a checklist" button. Next to that button is a new formatting button. There's also a Photos button that pops up a window so you can access pictures in the Photos app.
The Share button throughout El Capitan now lists Notes, so you can send items into the Notes app. For example, I looked up locations in Maps and sent them to Notes via the Share button. I can quickly access those locations in the Maps section of Notes' Attachment Browser.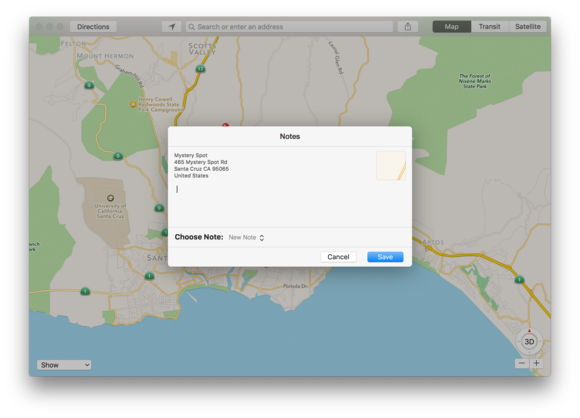 Editor's note: This story originally posted during the release of the El Capitan beta. It has been checked and updated using the El Capitan released version.