The Notes app for iOS has always existed as a utilitarian way to quickly jot down whatever comes to mind. It's completely devoid of fuss, which is perfect for times when you just need to make a quick list, but the lack of features opened the door to other, better note-taking apps like Evernote, Awesome Note, and and OneNote.
But in iOS 9, Apple's native note-taking app catches up to those feature-filled rivals from third parties—and if you don't need a cross-platform solution, Notes might just become your go-to organizer. Here are some of the biggest changes:
Formatting
Cheesy as it may sound, iOS 9 brings your notes to life. The most obvious change when you start to add text is formatting. You can finally adjust font size by selecting title, heading, or body—you don't have a range of font point sizes to choose from, but those three sizes are enough to get started. Bold, italicize, underline: all new options. You can make lists useful with bulletpoints, dashes, and number formatting, plus you can turn a task into an item to be checked off with just a tap. (Consider your mind blown.) Entire notes can be turned into checklists, or you can make specific sections of your text into to-dos to be checked off.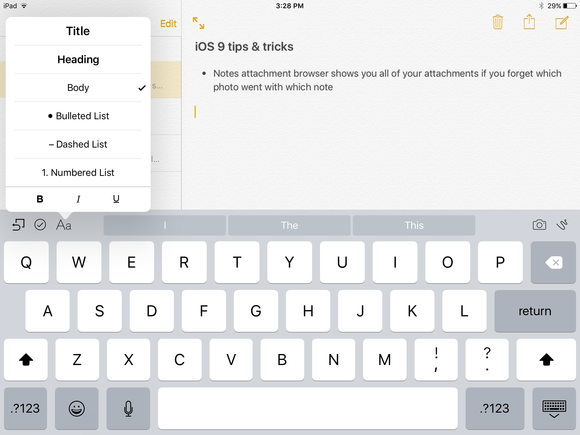 Sketches and photos
Notes supported photos before, but not like this. iOS 9 lets you shoot images and videos from within the Notes app in addition to choosing an image from your Camera Roll.
You can also add sketches to notes, which is perfect for artists or people who use a stylus with their iPads. Just tap the squiggle that marks the sketch function on the bottom right side of a note, then pick between the pen, marker, or pencil and choose which of the eight colors you want to use. There's even a ruler you can tap to lay on the blank sketch pad for more precise drawing (precise down to the degree of its angle).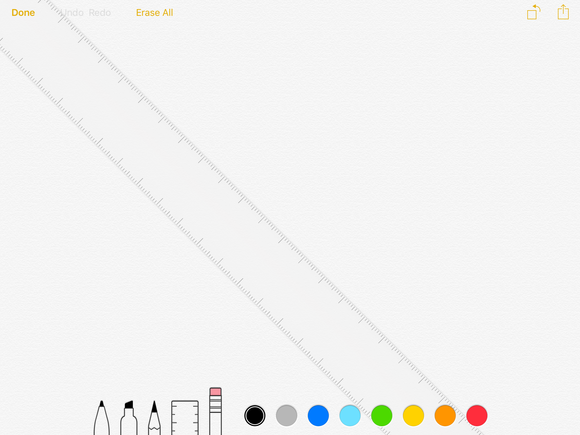 Share sheet
But it's the share sheet I've been using more than any other Notes tool. Now, when you use certain built-in apps, like Safari, Maps, and Pages, you can tap to embed a URL, map, or page in a specific note. It's as simple as picking which note you want to add the card to. I'm expecting a slew of apps to integrate the Notes share sheet, which will make note creation even easier.
And if you forget which note you've added an attachment to, iOS 9's attachment browser displays which items are attached to which notes.
The ability to combine several different types of content and media in one note is a game-changer if you've been relying on Notes, and a no-brainer if you've been using third-party note-taking apps that already have this functionality. I confess to creating a to-do list with photos, website cards, and maps just because I could, but the capabilities really do come in handy for all types of serious planning.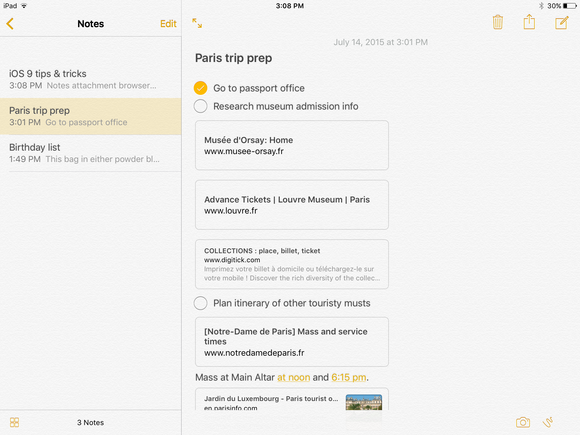 iCloud sync
Using iCloud to sync your notes across your devices isn't new, but now that you can add rich media to notes, the ability to resume a note on the go that you started on your Mac is even more convenient. You can shoot iPhone photos or videos and add them to notes you created on a desktop, and that information will be synced across all of your Apple gadgets. If you were comfortable with the bare-bones Notes of yesteryear, you'll be delighted with these new tools. If you already found a feature-packed note-taking alternative, give Notes a second look in iOS 9—it might finally meet your expectations.