Third-party developers continue tripping over themselves trying to come up with The Next Great Mobile Email Client, but all most iPhone, iPod touch, and iPad users (including yours truly) really want is a faster way to send emails using the the built-in app Apple has already provided.
It turns out there's no need to reinvent the wheel after all: A new app called Bee ( App Store link) streamlines the process of composing new emails with the client you already know and love, using an approach that feels so elegant and intuitive, it's a wonder engineers in Cupertino didn't think of it first.
Compose yourself
Bee offers an alternative front end to Apple Mail where users can add favorite contacts, create one-tap groups, and easily attach photos or videos to new emails, all in a single step. Mail is then only used for typing out a subject and body text (if required), and the missive is sent on its merry way.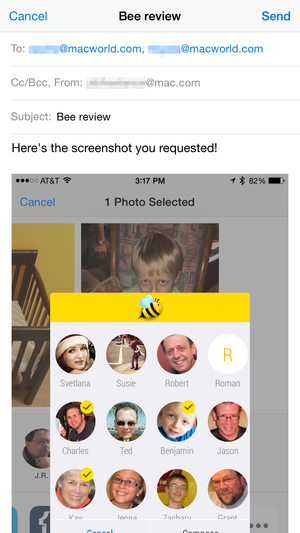 Contacts appear in an attractive grid of circular icons using photos from your address book; adding two or more contacts automatically creates a group, which appears as a cascading stack of icons and can be assigned custom names. On iPhone 6 devices, Bee displays 20 icons at once (12 on smaller iPhones), with the first reserved for adding new contacts.
Instead of combing through a long list of names, simply tap one or more icons (each press is accompanied by a pleasing sound effect), followed by the Compose button, which opens Mail with the selected email addresses entered as recipients. If you want to attach photos or videos at the same time, a grid along the bottom displays the six most recent; tap the camera icon to shoot a new one, or the row of three dots to make a selection from your existing photo library.
Best of all, you don't even have to open the app to use it—Bee includes a handy Compose New Email widget from the Today view of Notification Center, as well as an iOS extension that makes it deliriously simple to compose emails using content from other apps as well.
Sting like a bee
Although I love the speed, good looks, and simplicity of Bee, there are a few issues holding it back from being the perfect composition companion to Apple Mail.
While the app is technically free, you'll only be able to add a single contact—and zero groups—without first ponying up $2 via in-app purchase for unlimited connections. It's a small price to pay and I'm perfectly fine with the developer charging to unlock the app's full potential, but in this case it completely hobbles the free version. Raising the limit to five contacts and one group, for example, would offer potential customers a better taste of what Bee has to offer.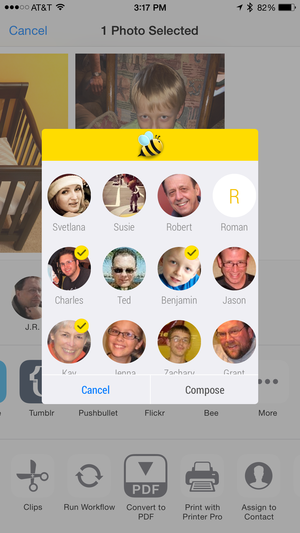 A compatibility issue with iCloud Photo Library is an equally significant limitation. The app's built-in media browser only displays photos and videos that have actually been downloaded to the device, making it useless for selecting content from much larger cloud-based libraries like mine.
Last but not least, there's currently no way to organize or sort contact icons once entered. Tapping and holding an icon only brings up the option to delete it or add more contacts to a group, so Bee users will want to plan accordingly and enter favorites first to get around this limitation.
Bottom line
Bee makes composing new email faster and smarter using the built-in client you're already used to, but free users are limited to a single contact, which handicaps an otherwise exceptionally useful app.