Apple has no plans to kill the iPod, despite three years without a major upgrade. On Tuesday the company refreshed the iPod touch, nano, and shuffle, though only the touch got a big overhaul.
All three iPods will now come in gold, dark blue, and pink, but the iPod touch is the only model to get new features under the hood. The touch will come with iOS 8.4 and access to Apple Music, which isn't surprising, but the new version also adds a 128GB model to the lineup for the first time for $399. A 16GB touch will run you $199, a 32GB for $249, and a 64GB for $299. All models are available in-store today, with Apple throwing in two-day shipping for free if you'd rather buy online.
UPDATE 2:26 p.m.: If you want to buy one in-store, you might want to call ahead first. The flagship Apple Store in downtown San Francisco doesn't have any and doesn't plan to get them on launch day. They advised us to order online.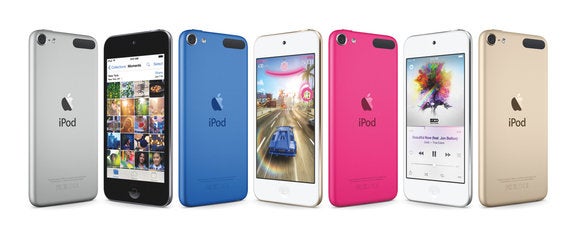 The iPod touch's camera catches up with the iPhone 6 and iPad Air 2, going from 5 megapixels in the last generation to 8 in the new version. Apple baked in the iPhone M8 motion coprocessor for better activity-tracking and a new 64-bit A8 chip for powerful mobile gaming. That chip's faster GPU and CPU power Apple's Metal technology, and combined with the new Retina display's 1136×640 resolution, console-style iOS games will look like they're designed to on the new iPod touch.
Apple hasn't forgotten about its original musical revolutionary, but now that the company has embraced streaming, the iPod has to become so much more than a media storage device. Fitness, gaming, streaming, photography—the iPod touch has pretty much every great feature that an iPhone does without being an iPhone. As Macworld contributor Michael Simon noted last week, the iPod is an iPhone gateway. It's perfect for kids and teens who want in on the $14.99 Apple Music family plan but aren't allowed to own smartphones yet. Just look at the company's new iPod touch marketing materials, which emphasize the improved FaceTime HD camera (perfect for taking selfies to share on social networks or with friends over iMessage!). Expect the new iPod touch to be a big hit over the holidays.