If you're using email on your iOS devices it's likely you've encountered the following scenario: You're going through your inbox, try to delete an email when the following message appears, "Unable to Move Message -> The message could not be moved to the mailbox Trash."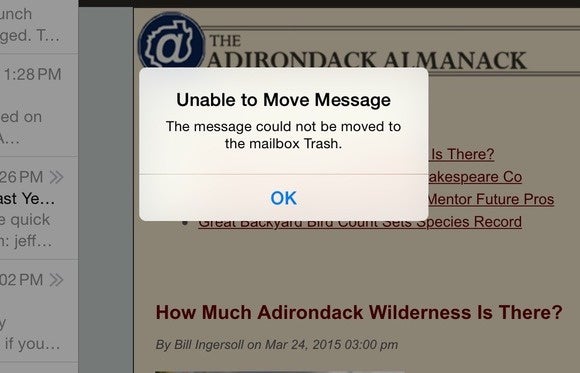 Moving to your Mac, you discover you can delete the message without a hitch and that the message you delete from your Mac also disappears from your iOS device. But none of your iOS devices will let you delete the file.
You also note that any draft messages you create on an iOS device can only be found on the device they were created on. Not on any other iOS devices and not on your Macs.
Finally, you can't locate any of the messages you've sent from your iOS devices when you look for them on your Mac.
Why?
You're using iOS Mail's default settings, which use local storage on your iOS device instead of your mail server for storing drafts, sent, deleted, and archived mail. But, never fear, we can fix this in a flash.
Where's the Mail Stored?
When you use IMAP mail on your Mac (and, trust me, you should be using IMAP) the default location for storing drafts, deleted messages, sent mail, and archives is on your mail server. You can see where your Mac stores these files by clicking the Mailboxes link in Mail's toolbar. When you do, you should see something similar to what's in this screenshot: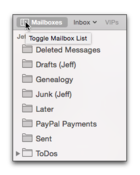 While it's not obvious from this screenshot or from looking at these folders on your Mac, everything here is a mirror image of the same folders on your mail server and they're synchronized with the same folders and on any other Macs you have that use the same mail account. Delete a message on one device and it's immediately deleted on all your other devices. Create a draft on your Mac and that draft will show up on all your other devices too. (And that, my friends, is the beauty of IMAP.)
Here's the important point: whatever you do on your Mac will be reflected on your iOS devices too. Here's how to fix mail on your iOS device so that it works like mail on your Mac.
Open the Settings app on your iOS device.
Tap the account you want to make changes to.(It's likely that you have more than one email account on your iOS device. If you do you'll need to follow these instructions for each of your IMAP accounts.)
Tap the email address for the account.
When the Account settings window appears, scroll to the bottom of the window and tap the Advanced button.
Take note of the four mailboxes listed under the section titled Mailbox Behaviors: Drafts Mailbox, Sent Mailbox, Deleted Mailbox, Archive Mailbox.
Tap the Drafts Mailbox and you should see two sections: On My iPad and On The Server.(If you've been seeing the "Unable to Move" message, there should be a check next to Drafts in the section labeled On My iPad.

Click to enlarge.

Tap the Advanced button at the top of this window.
You will need to repeat this process for each of the Sent, Deleted, and Archived mailboxes on all of your iOS devices. You will also need to run through this process for all of your email accounts. But once you do, all of your devices will share the same mailboxes for all your mail.