Even if you've never heard of or used Flipagram, you've seen products of the social app scattered around your social networks. That flipbook of vacation photos that your old high school best friend posted on Instagram? That's Flipagram's work. Stitched-together video clips from camp that your kid shared to Facebook? Flipagram. But now the 1.5-year-old app wants people to see those video moments on its own turf, so it's adding a new feature to lure you in: music.
Flipagram just inked deals with the major record labels and publishers to let its 30 million monthly active users add soundtracks to their videos. Universal, Sony, Warner, and coalitions like Merlin and The Orchard have all opened up their catalogs to Flipagram, so users can search for the latest and great song clips to attach to their 'grams.
There's a catch: Those songs are only available within the Flipagram app, so videos with soundtracks you share to other social networks are stripped of their attached tunes (though you can embed a 'gram with soundtrack on the web).
How it works
Now when you create a Flipagram, you can add a song clip when you preview the end result. You can either pick from a top chart, a genre, or search by song title or artist. Soon you'll be able to start with a song and then attach clips to it.
"The whole industry has never allowed clips like this before," Flipagram founder and CEO Farhad Mohit told Macworld. "If you want to create one Flipagram-type video, like one with a Britney Spears song, you would have to call Britney's management and tell them what you wanted to do with your video, then they'd have to send you a contract, etc."
That process just got a whole lot more simple.
Your life's soundtrack
Unlike other music deals, Flipagram's is uncontroversial. Musicians love it because their fans can use song clips to create video tributes to their work—then when those clips go viral on the app, everyone who sees them also sees a link to stream the song on Spotify or buy it in iTunes. It's a promotional win for artists as well as a creative tool for Flipagram users.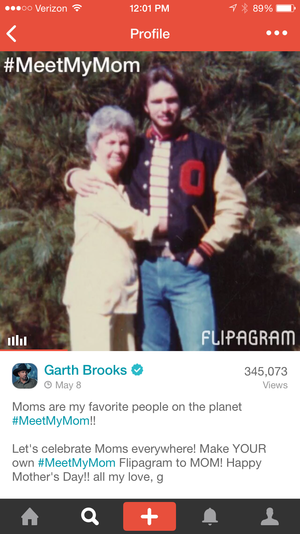 "Artists are coming to Flipagram in droves, and we're telling them to bring their fans," Mohit said.
Even country superstar Garth Brooks, who isn't exactly known for his social media prowess (or for being a streaming music fan), will lend some of his tunes to the app on a case-by-case basis.
Flipagram started testing soundtracks with a limited number of clips earlier this year. Mohit watched Flipagrams from the Baltimore protests pour in, some scored by Rage Against the Machine, others by Marvin Gaye tracks. People were using music to tell those very different stories, Mohit said.
Flipagram was the No. 8 free app in the App Store last year, and now sees more than 14 million videos created every month. With the addition of music, Mohit hopes people will start turning to Flipagram as their network of choice.