If you want to quickly assemble a sleek website without too many bells and whistles, RapidWeaver provides an excellent option. If you want to do even more with your site, Rapidweaver can help you there, too—but it'll cost you a good deal extra.
Not bad for the basics
A freshly installed copy of RapidWeaver 6 feels like a more sophisticated version of Karelia's friendly, super-simple Sandvox. Both programs allow you to quickly build up the structure of your site in a left-hand navigation menu, selecting from a variety of different page types including contact forms, blogs, and photo galleries. Both build in FTP capabilities, so that you can create and upload your site without switching to another program. And both offer a wide selection of premade themes to apply to your content.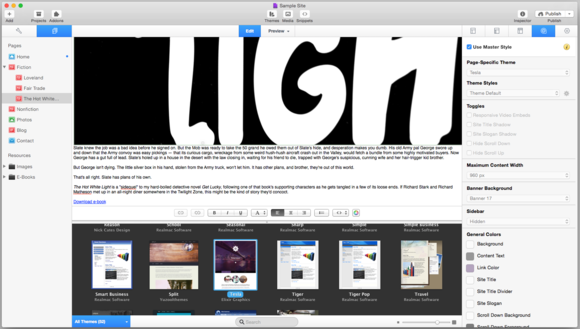 Most of RapidWeaver 6's themes, like Sandvox's, feel dated—one theme's name clearly betrays its 2007 origins. But the new version does include five attractive, modern themes that support responsive design. Cleverly, the themes come preset with versions for multiple devices and screen sizes, ensuring that your site will look equally good on an iPhone, iPad, or Mac.
That's one of the smartest, least headache-inducing solutions for responsive design I've seen among the web design programs I've tested thus far. But it also exemplifies one of RapidWeaver 6's biggest tradeoffs: You can present your content within an appealing template, as long as you're OK with surrendering most of your control over how your site will look.
To its credit, RapidWeaver's Master Styles settings let you tweak each design's colors and font sizes, and sometimes cycle between different preset header images. But you can't easily replace those stock images with one of your own. In some themes, you can't change fonts, while others only offer a handful of different options. And beyond adding or removing sidebars, you have very little control over the layout of individual pages.
Split personality
RapidWeaver makes the odd decision to keep its edit and preview modes separate. You make changes in the former, then click the adjacent tab to see the results in the latter. This works better for some page types, such as blogs and contact forms, than for others like basic styled text. And while taking away the styling does allow you to concentrate on the substance of your site, I quickly tired of having to flip between modes to get even a rough idea of how my changes would actually look.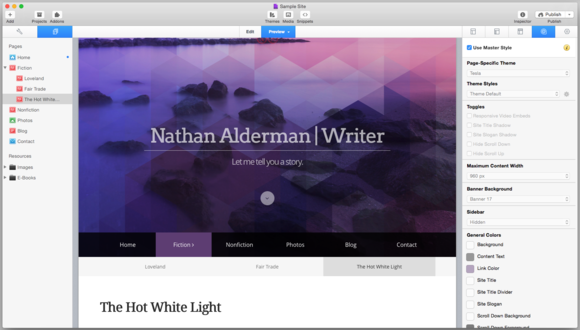 RapidWeaver gets points for augmenting its basic text styling abilities with bullet-pointed and numbered lists—a surprisingly rare feature in modern Web editors—and the ability to determine whether any images you drag and drop into your layout will align left or right. But that's about the limit of your ability to customize the text or how it appears.
Once you give up any hope of making your site look like anything other than what your chosen theme's designer intended, RapidWeaver gets a lot easier to work with. I ultimately pieced together a small but appealing site in roughly an hour.
Mostly hits, with a few misses
RapidWeaver 6's blog and contact form pages impressed me with their balance between rich features and simplicity. You can add new blog entries or contact form elements in an iTunes-like list view, then edit each of those items individually. RapidWeaver's blog features include thoughtful, thorough support for podcasts, with spots to upload audio files and add episode descriptions. And its contact forms will work automatically as long as you upload them to a server running PHP.
I wasn't so wild about its photo gallery page, though. Adding photos and captions gave me no trouble, but in two of the themes I tested, images displayed in bizarre and unappealing ways, either cut off in a self-playing slideshow or overlapping each other's captions in a grid view.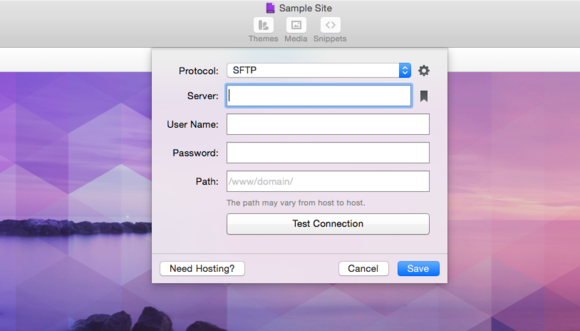 RapidWeaver's FTP support also required some trial and error. Even after the "test connection" button gave me the all clear, my site would still fail to upload. I was mere moments away from sending Realmac a help email—after following the excellent directions on their comprehensive online support site—when a lucky glance through the Console logs they'd asked me to send helped me figure out that I'd slipped in a "/" to the directory path that shouldn't be there. Even then, my upload failed the first time because of "missing files," though a subsequent attempt worked just fine.
Keep your wallet handy
If you want to exercise more of your own creativity with RapidWeaver, prepare to pay more than the basic program's $80ish price tag. Realmac Software maintains a deep, robust, and thriving repository of add-ons created and reviewed by enthusiastic RapidWeaver users. The offerings range from beautiful, responsive-ready themes to powerful new page types that dramatically expand what RapidWeaver can do.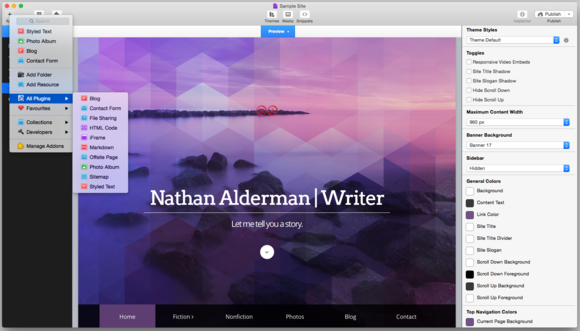 The popular Stacks plugin adds drag-and-drop multi-column layouts, and can itself be customized with additional page elements from other users. Other plugins provide basic content management systems, online stores and payment processing, and more. I don't begrudge a well-earned payday to the hard-working folks who made these tools. But at $25 or more a pop for many themes and plugins, the cost could quickly prove prohibitive to users on a budget.
Realmac also makes money by charging subscriptions for advanced video tutorials on its support site, including guides to Stacks and other plugins. Fortunately, Realmac offers a good series of basic overviews for free, along with the aforementioned helpful text guides.
Bottom line
If you don't mind pouring your content into someone else's slick design, RapidWeaver's a great choice for building smart sites in a snap. Same goes if you want to easily build a more personalized and powerful site, and don't mind burning cash to do so. But if you want to indulge your creative side and create a more personalized site for a one-time price tag, rival offerings like Blocs and Sparkle might prove more your speed.