With the untimely demise of iPhoto earlier this year, Apple appears to have finally abandoned the last vestiges of the iLife concept introduced in 2002, leaving iMovie and GarageBand as the sole remnants of a once-great legacy of whimsical creative applications for average folks.
Many third-party developers are keeping this storied tradition alive in an unofficial capacity with spiritual successors to iLife, treading new ground with inspired Mac software that retains the familiar, user-friendly look and feel of Cupertino's classic consumer software.
Creative cornucopia
Picture Collage Maker 3 borrows heavily from the iLife-iWork user interface playbook, but that's not necessarily a bad thing. Anyone who's used an Apple-made creative app over the last decade or so will feel instantly at home here, and more than 140 included templates (and 130+ others that can be downloaded after installation) make it easy to produce great results with minimal effort.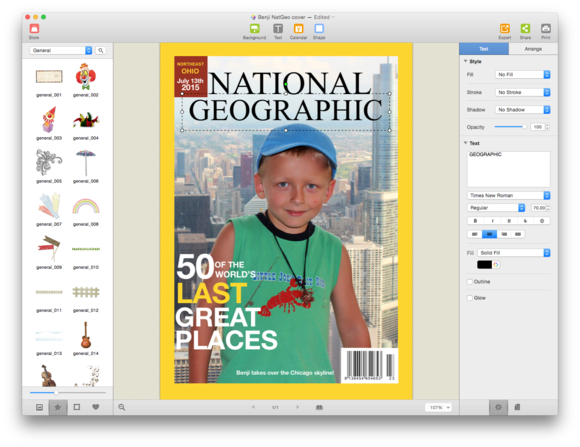 As the name implies, the templates cover a wide range of themes, including calendars, greeting cards, scrapbook pages, posters, and key holidays. Select one (or start from scratch), drag and drop photos, clip art, frames, or masks from the resource inspector at left onto the layout at center, and within minutes you've created a slick, high-quality design ready to be exported, printed, or shared with others.
Graphic elements can be cropped, rotated, or resized right from the layout view, with a few basic shortcuts like cut, copy, and paste tucked away in a contextual menu. Depending upon the element selected, the right-hand inspector changes accordingly with full control over arrangement, text, image, or page size.
It's important to note this isn't a full-blown page layout program like Adobe InDesign. Most key text formatting options such as fill, stroke, shadow, and opacity are on hand, but don't expect granular control over kerning or line spacing, for example. There's also no way to preview text styles before applying them, which is inconvenient for users with hundreds of available fonts.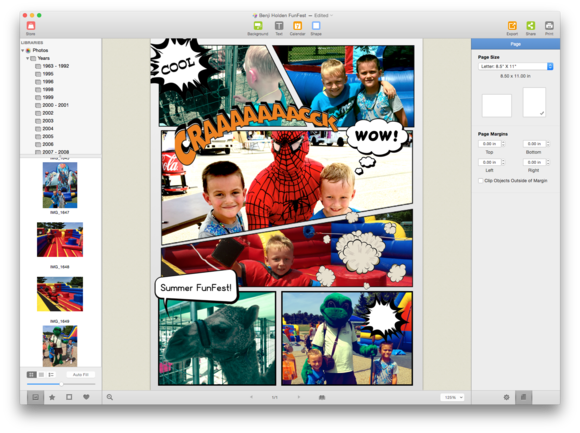 Simplicity by design
With the latest version, images stored in Photos for OS X now appear in the resource inspector at left, where they can be added to any layout. Although there are a few handy options for previewing images — including list and detail views — there's no option to preview or Quick Look photos at full size before inserting them.
That option would come in particularly handy when using the built-in internet search tool, which uses keywords to find new images to add to a collage in a few clicks. Even at the largest preview size, it's often hard to discern whether an image will be high-quality enough for use without having to first import, undo, and repeat.
PCM3 does have a leg or two up on competing apps: The ability to add multiple pages to any layout, as well as save templates from any custom designs you create or tweak and might want to reuse later on. Although the software includes a variety of built-in page dimensions (including popular mobile devices and Facebook covers), the default template is A4, which causes formatting issues when switching to the more commonly-used US Letter size.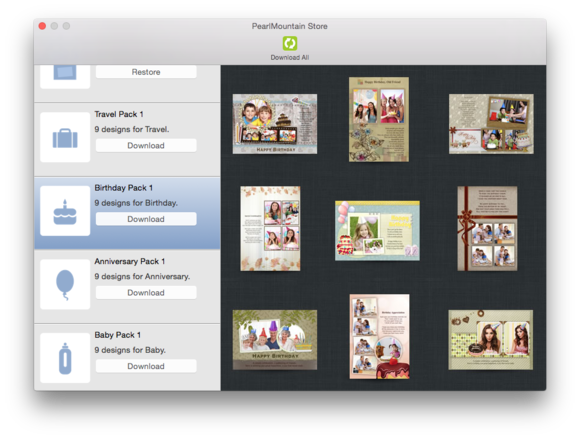 Pro tip: Purchase from the Mac App Store, where the exact same application can be found for nearly half off the website version. Developer PearlMountain Technology also offers a far more limited iPhone version of Picture Collage Maker, but that app hasn't been updated in a couple of years and offers no cross-compatibility with the Mac version.
Picture Collage Maker 3 keeps the iLife spirit alive in a fun, easy-to-use software package that turns everyday photos into share-friendly collages for any occasion.