With the release of El Capitan's public beta, those with the desire to engage in a bit of risk have gotten a glimpse of Photos 1.1, a release that isn't just an extension of the original version, but also seems to fix bugs. We still don't know if 1.1 will be made available for Yosemite—it seems unlikely. But it's also extremely likely most Yosemite users will migrate to El Capitan, rendering it moot for most, since Photos is exclusive to Yosemite anyhow.
In this week's Mac 911, I revisit iCloud Photo Library's new way of thinking about where photos reside, solve a problem for syncing RAW images from an iPad to Mac without using Photos, and examine some issues with organizing albums and photos.
Old photos never die, they just fade away
Elizabeth Sulzby writes in about deleting photos:
With iPhoto, you were asked if you wanted to delete photos from the iPhone. Why does Photos not use that practice? This is really important to me. I want to use my iPhone on a vacation and take lots of photos each day. I want to download them to my MacBook Air and then delete them from my phone. Is there a way I am missing on Photos?
This is possibly one of the most confusing things about Photos and its connection to iCloud Photo Library. If you have the iCloud feature enabled, you don't need to delete or sync photos from any of your connected devices. They automatically synchronize in the right network conditions. When there's not enough room to store everything, any device—mobile or computer—that isn't set to keep full-resolution versions of every photo starts dumping its copies of whatever it deems the least-important ones.

If you disable iPhoto Cloud Library in Photos for OS X, then you can plug in an iOS device and you'll have the option to delete images after importing, just as you did with iPhoto. (This option appears when using an SD card, for instance.) Use iPhoto Cloud Library, and you never import, delete, or sync images at all to get them from one place to another.
It takes some getting used to, especially the fact that deleting an image on any connected device deletes that image from iCloud and all other connected devices. (You can find images for 30 days in the Recently Deleted album: File > Show Recently Deleted if it's not in your sidebar.)
Gary Ward has a related question:
All options are correctly done for optimizing storage on my iPad Air, but it still is using up 5.2GB of storage. The same library of photos on my iPad 2, set the same way, is less than 600MB with the same number of photos and videos on each.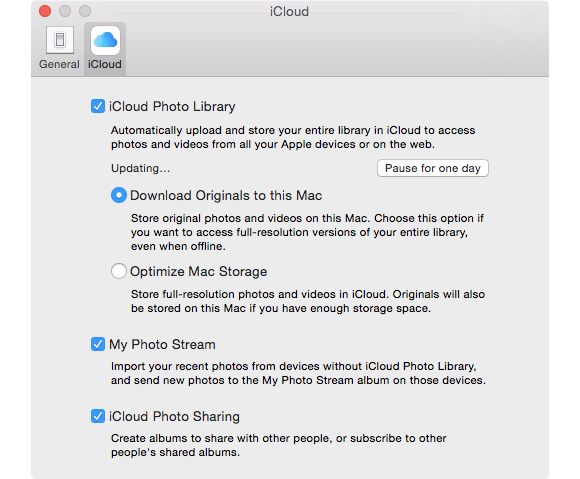 Optimization is in the eye of the beholder—er, beholder's device's eye, that is. If you loaded images on your MacBook Air before enabling iCloud Photo Library, it doesn't optimize those images until it needs to free up storage. There's no way to force optimization, unless you disable iCloud Photo Library on the device in question, then delete all photos, and re-enable the library setting.
Importing from an iPad to a specific location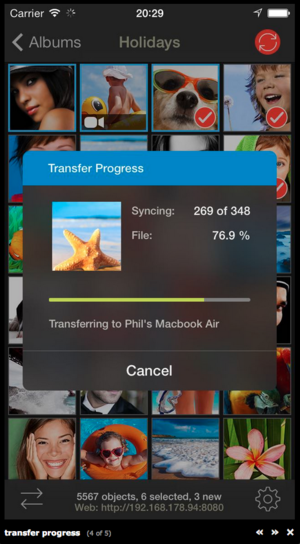 Sterling Levie wrote in with a poser, and after some back and forth we found a solution. His workflow during a recent scuba diving trip was to shoot RAW images on his Canon camera and move them from an SD card to his iPad each night. He marked his best shots on the iPad by favoriting them, but wanted to transfer the unmodified originals from his iPad to Lightroom.
But using iCloud Photo Library, he was able to get images to sync so he could select just the favorites, but exporting only gave him JPEGs, not RAW files. And the whole thing was a clumsy mess. But there was a way out: the $3 PhotoSync app for iOS lets a photographer move images from iOS to all sorts of destinations, including a Mac and in RAW format. Sterling counts himself happy with the process.
An adventure in space and time
Rick Oshlo asks a question that parallels ones that many of you have:
I recently imported my Aperture Library into the new Mac Photos app. One result is that I now have about 35-40 monthly Photo Stream albums commingled (in a nonsensical alphabetical order) with my albums and folders in the sidebar rather than being collected at the bottom of the sidebar as in Aperture.

Is there a way in the Photos sidebar to collect up all the Photo Streams in one place or folder AND place them in logical monthly chronological order without having to manually drag and sort them one at a time—and then having to clean that up every month in the future?
You'd think this would be a feature in high demand, and you'd also think that perhaps Apple would incorporate this into Photos 1.1, which will be part of El Capitan, and is now available as part of the public beta release of that OS X update.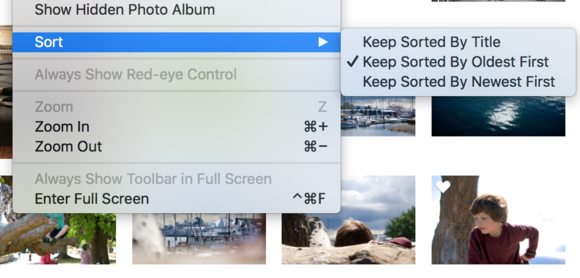 And, sadly, we'd think wrong. Albums can be moved quite easily, but I've checked in the current Photos 1.1, and there's no method for better organization in the sidebar. I have many dozens of iPhoto Events turned into albums, which remain in the chronological order they were created. But Apple seems committed to its Moments orientation, in which those groupings are the key organization metaphor.
You'll all be happy to know, I believe, that at least there are more sorting options within albums in version 1.1: you can now opt to keep sorted by title, oldest first, or newest first.
At the tone, the time will be…
Richard Middleton wonders about time:
Pictures that were organized into events in iPhoto are now scattered seemingly because of the dates of the pictures which I can no longer adjust even with the day, date, year feature. The year is the important piece for my organizing. Am I forced at this point to purchase an app like Exif Editor to adjust the data to then be able organize the Pictures?
iPhoto Events weren't lost! When you import an iPhoto library, all the Events are dumped into a photo album folder called, appropriately, iPhoto Events. You can drag these out into the main sidebar or leave them there.
If you want to adjust the date and time of images, select them and choose Image > Adjust Date and Time. This option is available when you're viewing Moments and the contents of albums. If this is failing, as you indicate, I wonder if the images are referenced in your library instead of directly imported. You can tell if that's the case if there's an icon overlaying the image of a "referenced" image: a rectangle with an arrow inside it.

(Related: David Buckley asks, "What is the small toolbox on this photo?" It indicates that an image has been edited. You can see the full list of overlay icons by choosing Help > Photos Help, clicking Show Topics, choosing "View and add information about photos" and then clicking "Display titles, other metadata, and badges.")
You an also use Smart Albums to organize by date. Select File > New Smart Album, and you can set a date range (by having one condition be greater than or equal to a certain date and another less than or equal to a later date) or other parameters.
Ask Mac 911
We're always looking for problems to solve! Email us at mac911@macworld.com or tweet them at me (if brief) @glennf. Mac 911 can't provide direct email responses or answers for every question. For that, turn to AppleCare, an Apple Store Genius bar, or the Apple Support Communities.