If you own a car in America, you need a place to put it, overnight and intermittently. If you're lucky while at home, that's at a curb, in a driveaway, or in a spot in a garage or lot that's yours all the time. For every other combination in commercial or business parts of cities, particularly downtowns, you'll almost always need to pay for it.
As Uber, Lyft, Sidecar, and others have tried to fix the problem of getting a car for hire on demand and paying with a tap, so too are dozens of companies working on a complementary problem: parking. Each has a particular niche.
Luxe, for instance, offers parking in several city centers, and acts as an on-demand valet, picking up your car at a point you ask them to, and delivering it again anywhere in its service area. PayByPhone focus on meters, and lets you avoid fumbling with coins or a credit card to park on the street and be warned when your time is nearly up—with an option in some cases to extend without penalty.
In this roundup, I've broken down parking apps into several categories for clarity, because few of the apps overlap the kinds of parking for which they assist. Many apps are exclusive to iOS or iOS and Android, but some work via multiple platforms, web apps, and even SMS.
Pickup/dropoff "valet" parking apps
This relatively new category of app has been accelerating since mid-2014, as startups have raised more cash and expanded into new markets. These apps offer the experience of valet parking without having to go to a particular location. Rather, they work within relatively large service areas, typically in downtown or other dense retail and business districts. Zirx and Luxe are the two major companies in this space with service in multiple cities.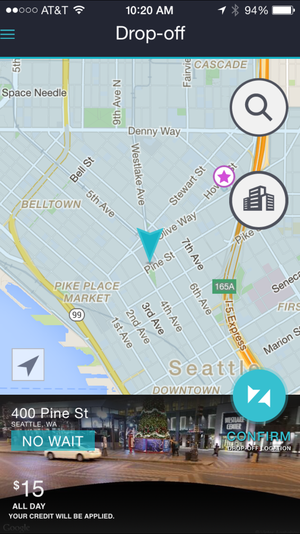 The idea is this: when you're about to leave or en route to a location in a service area, you tap—Uber like!—for a pickup. The service does its back-end logistics magic and tells you approximately when someone will arrive at the point you picked. As you get closer, it pairs an agent with you, and tells you the valet's name, shows his or her picture, and lets you directly text or call.
When you arrive, you hand off your keys and away you go. Zirx uses a four-digit PIN displayed in your app and the agent's app; Luxe relies on the agent's picture. (Zirx and Luxe have their valets wear yellow and blue branded shirts, respectively, too.) I've used both Zirx and Luxe in downtown Seattle and downtown San Francisco, and using both apps has been both cheaper in every case and vastly simpler than finding parking.
The apps also tell you the cost, which can vary: Luxe may charge a peak price during busy times, though rarely; Zirx charges based on the remaining time in a day and special events, such as a ballgame in the area you're parking. The cost in most cities except New York is around $12 to $20 (including tax) for a few hours up to an entire day during its service hours and $10 to $15 additional for overnight parking. Some services allow cash tipping or through the app.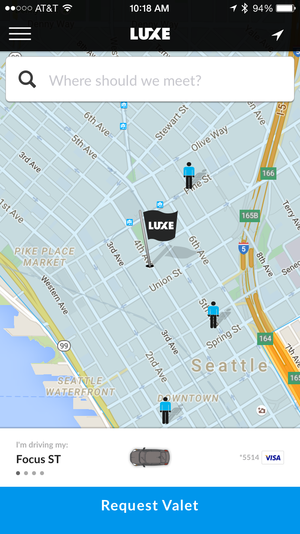 New York is an outlier, like always: one service, Valet Anywhere, charges $11 per hour to a maximum of $42 per day with a $15 SUV surcharge. There are also unlimited usage monthly options, useful for workers or residents in areas served, which cost about $300 a month in most served areas.
The services have insurance policies to cover accidents when the car is out of your hands. They're parked in spaces the firms have leased in parking lots and garages. While they have the car, the companies can fill up the tank, wash it, and perform other tasks, which are slated to expand over time—imagine having them drop off dry cleaning and pick up takeout food en route to return your car. You can schedule a return or tap whenever you want it, again within the same service area.
Luxe even offers "Drive Home," where you drop your car off, and when ready for pickup, the agent drives you home in your car (within 50 miles of its service area) for $25 plus $3 per mile. It's currently available just in San Francisco on Thursdays through Sundays.
Here's a list of other providers. (It's not a typo: there's both Carbon (which has an app out) and Caarbon (which is pre-app, but coming).)
Reserve and pay for a parking lot or garage space
Unless you frequently pay to park in a lot or garage in an area of town you're visiting, you probably have little or no idea how much it's going to cost and what lots to try. I've wasted seemingly hundreds of hours of my life circling blocks and trying to find the best deal or even an available spot during a peak time.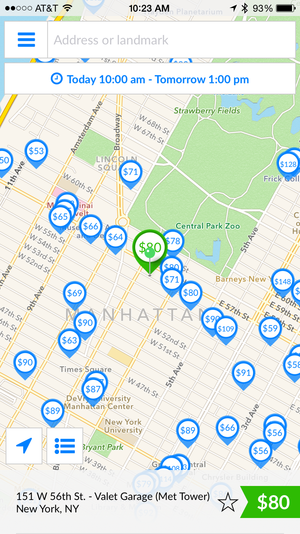 Parking reservation services try to take the unpredictability of cost and availability out of finding a spot, as well as offer you convenience you can't get as a drive-up customer. Companies that offer this service have contracted with parking-lot outfits to sell unused spaces, often at a high discount.
But because you're using an app, you not only pay upfront and electronically—no fumbling with cash or having to find an ATM nearby—but you can set the duration of when you need the spot, and, in some locations, scan a 2D QR Code to exit. In limited cases, you even get in-and-out privileges during the reservation.
SpotHero offers comprehensive coverage in 12 cities, and it only lists spaces that they can let you prepay a set rate for the time during a day or across multiple days that you need. (Some lots charge an extra fee for SUVs or other oversize vehicles that have to be paid on site at the time of exit.) Likewise, Parking Panda offers reservations and payment in more cities—40 in all—but isn't uniformly extensive across its covered markets. It's easy to install both apps, of course.
ParkWhiz provides reservations in what it counts as over 150 cities, but in my testing, it is thicker in many places than others: San Francisco and Chicago scored many matches, while Seattle hardly any and Los Angeles very few. ParkNow lets you pay for any spot you find, but only in San Francisco.
Other services offer a combination of rate discovery—what it would cost based on their own and customer reports of pricing—with more limited options for reserving and paying in advance. They include BestParking and ParkMe. The oldest of these, Parkopedia, has an extensive database of what the company says is 38 million parking spaces across 52 countries (ParkMe links to other sites, such as ParkWhiz, to handle booking a spot when that's available.)
Pay for meters and other on-the-spot spots
An on-street spot is often convenient. Running out of time and paying a fine is not. Several firms take the pain out of meter-based parking by letting you pay through your app, receive messages as time runs out, and even extend your remaining time with a tap wherever you are. Some of these apps also or instead let you pay on site through your phone for spaces in a self-serve lot or garage.
These apps partner with parking authorities and parking-space operators, and typically—but not always—charge a fee above the cost of paying with coins, bills, or a credit card. Given the cost of a parking ticket or the hassle of a boot attached to your wheel, that extra fee doesn't feel like much.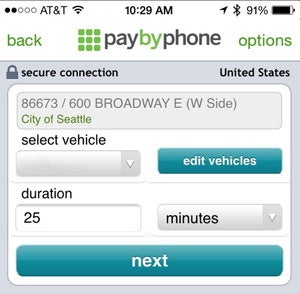 Because you're paying in the app, you have to set up an account with the license plate numer of your car, a credit card, and other details. Some are integrated with Apple Pay, as Apple allows real-world transactions of this kind without its 30 percent cut. It can take a few minutes to get everything in order, so don't leave it till you arrive unless you give yourself extra time. You also need a live internet connection, which might not be available inside an underground garage.
The license plate is used by parking-enforcement officers or parking-lot staff to check that you've paid, since you don't have to interact with a kiosk or stick a receipt in your window. This is particularly useful for motorcyclists, who are used to having their sticker receipts stolen by greedy motorists.
Every lot operator or municipal entity partners with an individual app provider, so you may wind up with several of these installed for use in a city or for travel. Besides the four below, you'll find city-specific apps that are "white label," versions of the same app customized by the developer for a specific client. This includes ParkChicago and ParkBoston, made by PassportParking.
Earn and redeem validation credit
Validation is very old school: you park in a lot associated with a merchant or other business, and get a stamp or ticket that you can use on leaving the garage to offset some or all of its cost. Parkt is trying to take that into the smartphone world by working with businesses to tie purchase amounts directly to validation offsets.
With the Parkt app, a driver can find participating lots and connected businesses. So far, it's available just in downtown Seattle. At the lot, a user scans a 2D code on the lot's ticket, and finds available offers. At each business, a user scans a merchant's validation code. These accumulate until used.
Because the system ties all this together, when it's time to exit the lot, the ticket is already associated with a driver's account, and all or part of the balance is deducted and the user pays the remainder. Parkt also allows withdrawal of dollars in the form of Bitcoin.
Use valet stands
While Zirx and the like simulate a valet, there are also plenty of valet stands associated with restaurants, hotels, convention centers, and other businesses. CurbStand works with over 400 locations right now in Austin, Boston, Dallas, Denver, Ft. Lauderdale, Houston, L.A., and Miami.
The valet slip handed to a driver has a 2D code and information about the app, if someone hasn't already installed it. When a customer is preparing to leave, rather than go to the valet stand and request his or her car, the slip's code can be scanned, and the parking fee can be paid directly in the app, while also notifying an employee to bring one's car around.
Curbstand recently acquired Curby, which is the white-label backend for many independent valet apps. You can find many of these in the app store, either powered by Curby or many other app developers, and all are highly specific, such as DFW Airport Valet for a service at Dallas-Fort Worth's airport or Skypark, which serves San Francisco International.
Note: We updated this to include a couple of parking apps not mentioned in the original version: Parkopedia and Parking Panda. The section on SpotHero and Parking Panda was updated to more closely reflect how well they serve the markets they are in, as well.