Apple Music has garnered some decidedly mixed reviews, but one thing every critic can agree on: The streaming service's daily recommendations of human-curated playlists are undeniably awesome.
But not so fast, says Spotify. The top streaming service is now using algorithms to serve up a personalized playlist, Discover Weekly, to prove it knows you at least as well as Apple Music—and maybe better.
I put my Spotify membership on hold to give Apple Music's free three-month trial a shot, but I still haven't decided which service deserves my allegiance. I love Apple Music's playlists, especially the constantly changing ones it recommends to me in the app's For You tab. Spotify understands that it's not enough to offer the same streaming library every other service has, and it continues to prove it's a serious contender for the streaming service to beat with new features like podcasts, original videos, and playlist recommendations pegged to time of day and activity. Discover Weekly is another win.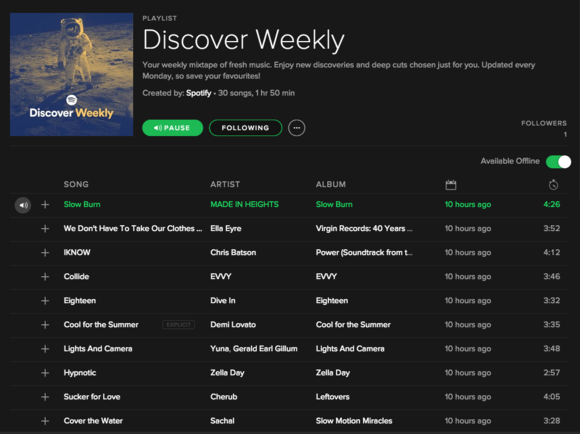 Taking Discover Weekly for a spin
I've been a Spotify Premium subscriber for years, so the service has a wealth of data on what kinds of music I like. Its algorithms know that I love everything from Beyoncé to Le Tigre to Van Morrison's Astral Weeks. I was curious what kind of playlist Spotify would come up with based on that data.
To my surprise, my introductory Discover Weekly playlist was packed full of songs and artists I'd never heard before. There were a couple Top 40 cuts, because my love of cheesy pop knows no bounds, but there was also a mix of hip-hop, indie selections, and dreamy dance music. I was expecting a heavier emphasis on songs I had listened to before, but there were only a few. Spotify is clearly taking the "discover" part seriously.
Every new song you stream or playlist you build will give Spotify more data to curate your Discovery Weekly soundtrack. Apple Music uses the songs, artists, albums, and playlists you heart to populate For You with human-curated playlists that sounds like they're made for your ears alone, but they're not. One criticism levied on Apple Music's playlists, good as they are, is that they're short—around 12 to 15 songs. Spotify's Discover Weekly is a lengthy 30 songs, around two hours of music. And the fact that no other Spotify user will hear a playlist just like yours is really, really cool.
Discover Weekly is rolling out now—it appears at the top of your Playlist tab across all of your devices. New Spotify users won't see a customized playlist for about a month (which is how long it takes the company to learn your favorites). The playlist refreshes every Monday, so if you like what you hear, you'll have seven days to save jams to your library.