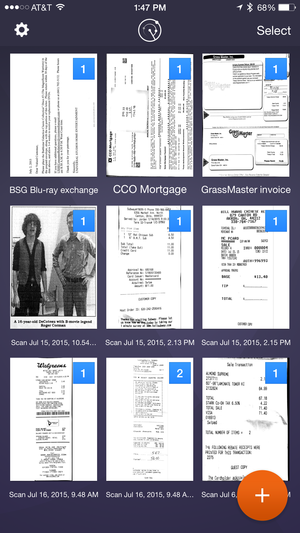 Using an iOS device as a portable document scanner isn't the novelty it was just a few years ago, as app developers continue improving the experience by adding little conveniences to make it faster and more fun than using a dedicated hardware scanner on the desktop.
Spearheading this mobile imaging revolution is Readdle, the Ukrainian geniuses behind popular productivity apps like Documents, Calendars 5, and Scanner Pro. The latter recently hit version 6.0 and the company has once again found a few clever ways to make it even better.
Radar love
One of the inconveniences of scanning documents on a mobile device is having to first find and launch the app in question multiple times per day, which is often buried in a folder. Scanner Pro 6 eliminates this admittedly first world problem by introducing a new feature called Scan Radar.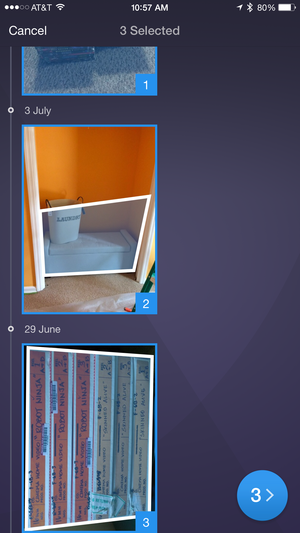 Now, iOS users can swipe up from the lock screen and quickly snap a picture of that lunch receipt using the built-in Camera app. Later, when it's more convenient, open Scanner Pro and tap the Radar icon at top to view documents the app has automatically recognized as such from your Photo Library. Select one or more, then edit, save, or share them in a few taps.
Scan Radar is spectacularly convenient, but a couple steps short of perfection. Although the app does a good job of recognizing documents, it occasionally misidentified certain objects—particularly those with text in them. Thankfully, you can force Radar to forget such images: With no images selected, tap the icon in the bottom right corner, then tap-and-long-hold on each faux document you want to dismiss.
The other thorny issue with Scan Radar is the mess it leaves behind in the Camera Roll. Now that third-party developers have direct access to delete files with iOS 8, I'd love to see an option to do just that on original documents once they've been recognized and processed by Scanner Pro.
Playing favorites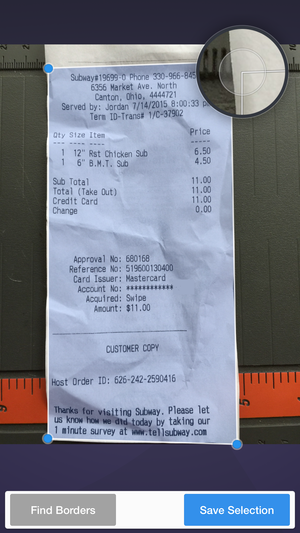 Although Scan Radar is the headline new feature, it's certainly not the only one. The entire user interface has been overhauled from top to bottom with a fresh new design. Scanner Pro has always had good looks in abundance, but this is my favorite UI thus far—it's more intuitive, and faster than ever to perform most tasks.
This is due in no small part by the addition of Favorites, which allow users to set up one-tap destinations to any folder in your favorite cloud services, therefore cutting down on the number of steps required to save new scans. Microsoft OneDrive (and OneNote) now joins previously available services iCloud, Dropbox, Evernote, Google Drive, and WebDAV—great news for folks on a budget taking advantage of an Office 365 subscription for cheap, unlimited cloud storage.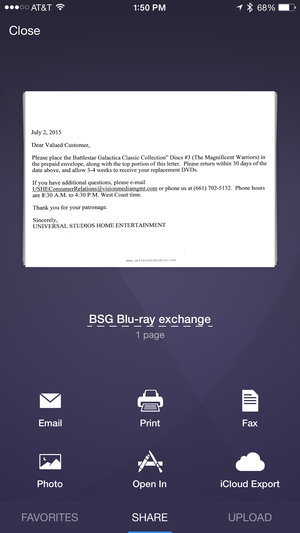 Last but certainly not least, Scanner Pro 6 now has the ability to re-edit scans, even after they've been saved. Change your mind about the cropping on a document? No worries. Want to switch a color receipt to black-and-white or vice-versa? You're the boss, dude.
Naturally, this update—absolutely free for previous customers, by the way!—loses none of the power of earlier versions, including the ability to sort files into folders, save in PDF format, open in other apps, or optionally send documents via an archaic fax (requires in-app purchase). Scanner Pro even includes an extension for applying its powerful crop and image enhancement skills to images right from the built-in Photos app.
Bottom line
Readdle teaches the proverbial old dog new tricks with Scanner Pro 6, making it easier and faster to scan documents on the go and save them to even more destinations.