When Apple Pay launched last fall, some retailers blocked NFC recognition to keep Apple's mobile payment service from gaining traction. The reason: CurrentC, a competing service developed by a coalition of merchants like Best Buy, Target, and Wal-Mart that has been rumored for years but hasn't yet rolled out. CurrentC will finally see the light of day next month, Bloomberg reports.
The service will hit stores in a limited trial run, sources told the news organization, then see a wider rollout later this year. But the Merchant Customer Exchange, the group building the app with backing from retailers, hasn't inked agreements with credit card companies. That means shoppers won't be able to use cards issued by their banks. Instead, they'll have two options: Link their checking account information in the CurrentC app, or use store-branded cards like the Target Red card.
The story behind the story: CurrentC garnered tons of press after CVS and Rite Aid prevented customers from using Apple Pay in their stores, but the service has taken months to perfect—and it still isn't quite ready for the big time, according to Bloomberg.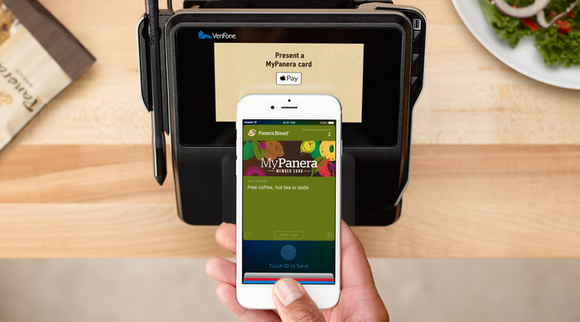 How it works
CurrentC isn't exactly an Apple Pay clone. The app generates paycodes similar to QR codes for each transaction, instead of relying on Near Field Communication. Each paycode represents your financial information, which is encrypted and stored in the cloud. MCX has said it will implement NFC down the line, but hasn't done so yet. This means the transaction process is also not as seamless as Apple Pay. To pay, you have to open the CurrentC app, enter a passcode, press pay, scan the paycode or show it to the cashier to scan, select which account you want to use to pay, and then tap Pay Now. The app also collections your transaction details and shows them to you in an Activity view.
There are two reasons retailers are backing CurrentC even though there are now easier alternatives like Apple Pay. First, CurrentC has been in development for years, and its creation was funded by merchants like Best Buy, so they want to see it through. Retailers also had to sign a three-year agreement to exclusively use CurrentC—but that agreement expires next month, and Best Buy has already announced plans to support Apple Pay when it does.
With Apple Pay already capturing the bulk of mobile payment transactions in stores, and Google and Samsung readying their own NFC payment services, it's unclear how CurrentC expects to compete—especially without support from credit card companies. We'll give the service a shot when it rolls out in trial mode next month, but at this point, CurrentC has a lot of catching up to do.