Editors note: This review has been superseded by a review that compares the state of the art in media streamers as of July 24, 2015. It's presented here as it was originally published in order to preserve the record of our first take on the product. You'll find our current opinion of this product here.
The new-model of Apple TV looks and acts exactly like the previous model. I've spent the last week with the new, 1080p-compatible version of the Apple TV, and I'm here to report that it's exactly like its predecessor in all but one way.
That difference is its support for native 1080p video, as streamed from iTunes, over the Internet, or via AirPlay from a third-generation iPad. Not all HD video is of the 1080p variety. In the various Apple TV menus, the trick is to look for the HD symbol on a TV episode or movie and then see if it says "1080p" next to it. If it does, it's in 1080p—and if it doesn't, it's only 720p.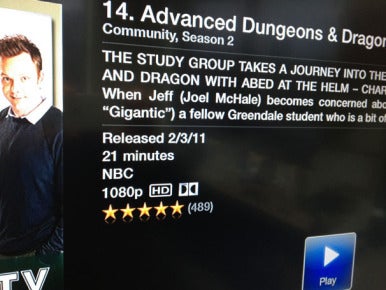 A few of my purchased movies and TV shows were in 1080p, but a lot of them weren't—I assume Apple continues to upgrade its content library and make deals with content providers, so the number of 1080p videos should increase over time. If you're on a slow Internet connection, you can downgrade the quality of the video you rent or stream from iTunes. In the iTunes Store section of the Apple TV's Settings app, there's a Video Resolution item that lets you toggle between 1080p, 720p, and standard definition.
Our office Internet had no problem streaming a 1080p episode of Community, but it hesitated at streaming an episode of The Walking Dead. Perhaps the Apple TV was just squeamish, but it's worth knowing that 1080p videos are large and you need a fast connection to stream them. (Apple says you'll want at least an 8 Mbps connection.) The Community episode looked great, though I'm not sure I could have noticed the difference between the 1080p version and a 720p version.
Beyond support for 1080p, there's not a lot to say about this new Apple TV. It's basically the second-generation 720p model, but with a faster processor to support playback of higher-resolution videos. The star of the show is Apple TV Software 5.0, which is also available as a free update for the 720p model. (Senior editor Dan Frakes took an in-depth look at the new Apple TV software on a second-generation Apple TV.) It's an overall improvement, and I like to see Apple continuing to experiment with what makes the best television-set user interface. Creating a complex device that can be controlled with just a little infrared clicker is hard! But every update of the Apple TV interface does show that someone at Apple is learning the hard lessons of the previous version.
If I have any complaints about the Apple TV, it's the lack of a more robust community of third-party content providers. Apple's got this App Store thing down. Why not provide a third-party developer kit and an app store for other purveyors of Internet content? It would only broaden the device's appeal, and would make a dent in one of the major advantages of Roku's line of video players.
But our Christopher Breen wrote recently, it's best to view the Apple TV as a portal. It connects your HDTV to iOS devices, to computers on your local network, to iTunes in the cloud, and to a limited collection of third-party content sources selected by Apple.
Macworld's buying advice
At $99, the third-generation Apple TV continues to be as excellent a value as the previous model—and now it supports higher-quality video too. That's a good thing. For those with the previous generation, however, the decision to upgrade comes down to whether the difference in quality between two high-definition formats is important (and noticeable) enough to you.
Rating: 4.0
[Jason Snell is Macworld's editorial director.]