Apple's native Maps app currently sits in a folder called Junk on the second page of my home screen, where I banished it as soon as it launched close to three years ago. At the time, I lived in San Francisco, but things haven't changed now that I live in New York, for one huge reason: Maps lacked public transit directions. That's how I get around the city, and while Maps points you to third-party apps like Embark and Google Maps for subway information, I need an all-in-one solution. Google Maps tells me how to get where I'm going by foot, in a car, or on the train, so it's my go-to whenever I leave my apartment.
But iOS 9 makes Apple Maps a strong contender with the addition of mass transit directions that, so far, are just as accurate as Google's. Plus, it has a bevvy of other improvements, like better communication with your Mac and some nice discovery features. From my experience, things are looking promising, and Maps just might make it out of my Junk folder.
Mass transit
I mapped my way to several familiar destinations to gauge whether the trains and routes Maps suggested were the quickest and most efficient ways to end up at my destination, and they were. Bonus time-saving feature: Apple Maps shows you where subway entrances are in flyover mode, which is incredibly useful. Grand Central Terminal has several entrances, but if you don't know where the closest one is, you could end up walking several blocks out of the way. Now entrances are helpfully marked "Entrances" (so simple, so necessary) in Maps.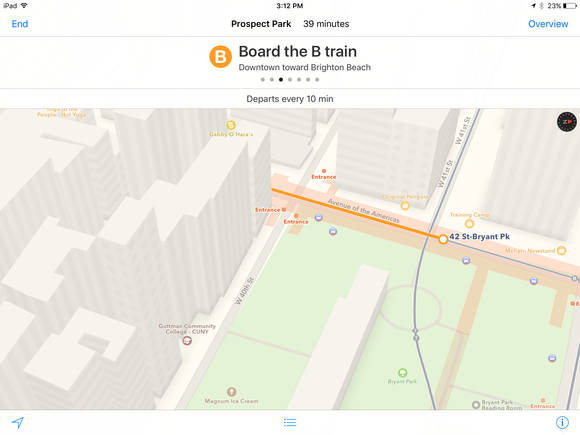 Maps also highlights the Long Island Railroad, Metro-North, and New Jersey Transit lines, which Google Maps doesn't. The more than 600,000 commuters who flood into Manhattan every weekday (and the travelers who come in from the outer boroughs) will probably find that useful.
As for San Francisco, Macworld's Leah Yamshon found Maps' mass transit info to be just as on point. Maps includes info on the Bay Area's major transit systems, including BART, MUNI, AC Transit, and the local ferry network. It sometimes failed to deliver ferry information when searching for directions from downtown San Francisco to waterfront spots in Oakland or Alameda, but for the most part it served up accurate, efficient routes on par to what Google Maps offers.
Nearby
Apple is taking a page from Yelp with a new feature called Nearby, which shows you shops, restaurants, places to drink, and other types of businesses around you or near the destination you enter in the Maps search bar.
Being able to see businesses in the area is helpful, but getting to Nearby isn't exactly intuitive. You can't tap into it when you're getting directions, for instance. After you enter an address in the search bar and the map drops its pin on the destination, then tap on the address in the search bar again—that's how you get to Nearby. A pop-up menu lets you get more specific. Tapping on "Food" lets you see all food nearby, or you can drill down to grocery stories, fast food, cafes, bakeries, dessert shops, etc. I appreciate the Yelp integration so you can see if that restaurant you've never heard of is well-reviewed or a dump.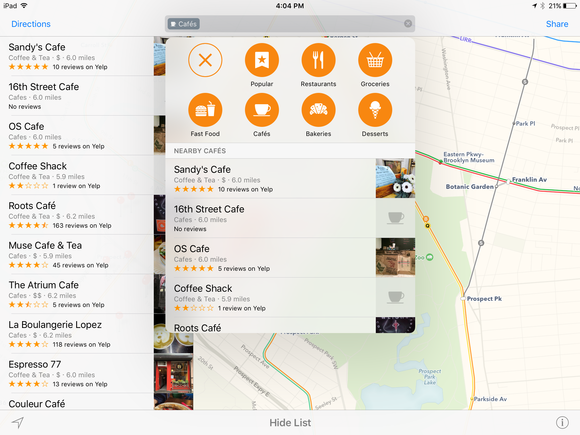 But Apple Maps still isn't 100 percent accurate. I used Nearby to look for coffee shops around my apartment, and a few popped up that I know for sure don't exist (at least not where Maps put them), in addition to my regular spots. Both the iOS 8 and iOS 9 versions of Maps show a Pret a Manger location directly across the street from my office, and trust me, I would know if there was a Pret so close by. It's actually two blocks south.
Handoff with El Capitan
Handoff between your Mac running OS X El Capitan and your iPhone running iOS 9 is nearly identical to the experience between OS X Yosemite and iOS 8. Just double tap the Home button on your iPhone or iPad and look for the Maps popup on the bottom of the screen to grab the Maps info stored on your Mac.

If you're on your Mac, look for a popup in the bottom left corner in your Dock to launch Maps info shared from your iOS device. It's a pretty seamless experience, and works with all of Maps's features. Beam transit directions, Nearby info, or whatever you'd like.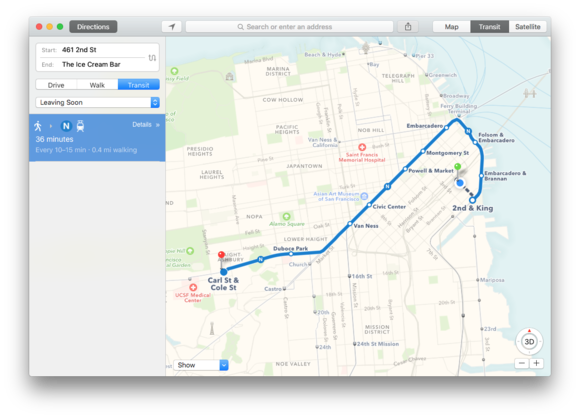 What's missing
Apple Maps still lacks Street View, which will likely take them years to roll out. There's also no option to save maps offline when you need to access them without using data, say, in a foreign country.
But iOS 9 has finally made me reconsider my Maps ban—and it just might earn a spot on my home screen.