Thanks to the improved optics and image stabilization of recent iPhones, it doesn't take much effort to shoot great-looking video, especially in the right lighting. Obtaining comparable results for the accompanying audio, on the other hand, requires more than just point, shoot, and pray for the best.
On the Mac, there are any number of software tools for cleaning up noisy or otherwise poorly-recorded audio. One of my longtime favorites is SoundSoap, which Soundness rescued from original developer Bias following their unfortunate demise in 2012. This powerful noise reduction solution has now been downsized and ported to iOS with the release of VideoSoap ( iTunes Store link).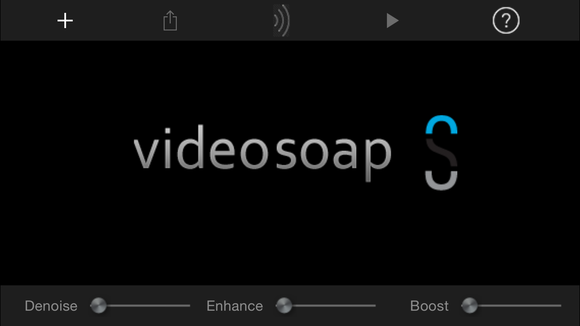 Now hear this
The core mission remains the same: Reduce or completely eliminate unwanted background noise. Both apps perform this feat by first "learning" a brief sample of the unwanted sound—be it an air conditioner, traffic, ceiling fan, or similar nuisance—and applying a Denoise filter to combat the problem.
I've turned to SoundSoap frequently over the years for cleaning up sound on everything from interviews to wedding videos and even feature films, where the software has been an indispensable tool. VideoSoap ditches high-end features like the ability to remove electrical hum, clicks, and rumble, reducing the user interface to four basic settings that produce equally impressive results.
While SoundSoap works standalone or as a plug-in with audio files, VideoSoap is a universal app designed to open movies shot on iOS devices, processing only the sound and copying it together with the untouched video to a new file in your Camera Roll. (One subtle difference: MOV extensions are changed to M4V instead.) For VideoSoap to work, iCloud Photo Library users will first need to download cloud-based videos, otherwise they won't be available inside the app.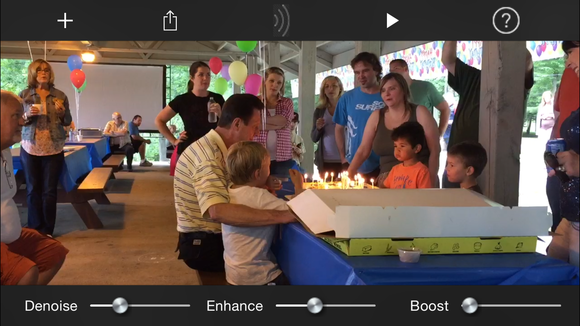 The landscape-only UI provides a handful of options: Three sliders across the bottom for manual control, and five buttons at top for opening a video (or downloading directly from a URL), sharing results to social networks, other apps, or saving to the same device, Learn, Play, and a menu for getting help with the app.
I can hear clearly now
To clean an audio track, tap the Play button and find a spot where only unwanted background noise can be heard. Should you miss it, swiping a finger back and forth across the video acts as a scrubbing tool to rewind or fast-forward. As the problematic noise plays back, tap and hold the Learn button for a few seconds.
When released, VideoSoap will automatically adjust the Denoise slider and intelligently scrub out the offending audio, leaving everything else intact. If the filtration is too much or too little, users can make manual adjustments as needed. I'd recommend wearing a good set of headphones while using VideoSoap—those tiny iOS device speakers really don't do justice to the dramatic enhancements the app is capable of producing.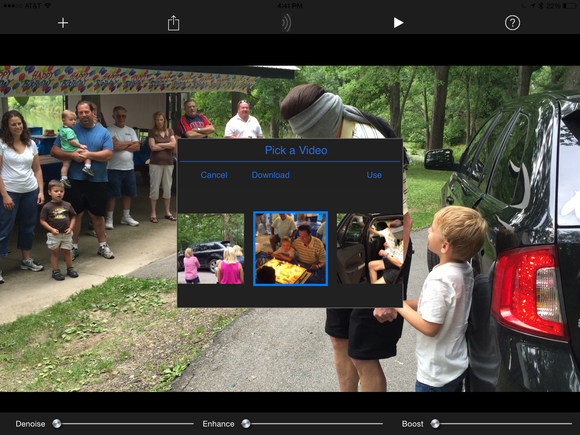 The other sliders work in tandem with Denoise: Enhance restores treble or "sparkle" at the high end that may have been lost, while Boost performs double-duty, raising the volume level on quiet recordings, or clamping down on any clipping with audio recorded too loud.
My only real complaint is that VideoSoap hasn't yet been fully optimized for either Retina or iPhone 6 displays. I'd also love to see extension support that would make it possible for VideoSoap to act directly on existing Camera Roll files, replacing only the soundtrack while leaving the video intact without having to create an entirely new file.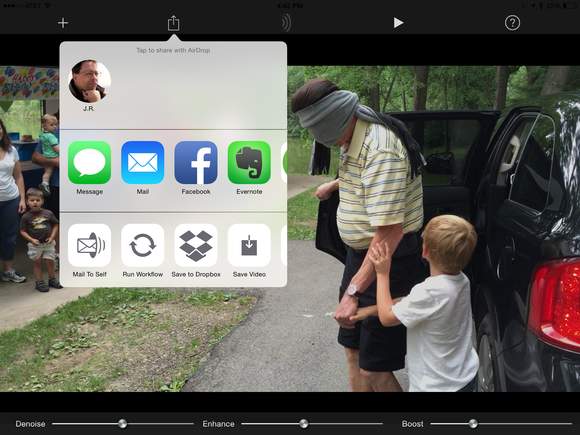 Bottom line
VideoSoap is a must-have for iOS videos recorded in noisy locations, with similarly impressive results as the desktop version distilled into a mobile app that's easy enough for anyone to use.