When Apple discontinued Aperture in favor of Photos for OS X—sacrificing most of the features that appealed to Aperture users—the presumed replacement was Adobe's Lightroom CC. But not all photographers are drawn to Lightroom.
Phase One's Capture One Pro offers many of the features that Aperture users expect. It's an organizer that stores, tracks, and remembers information about all of your photos; and it's also a sophisticated image editor that allows you to make adjustments such as cropping, exposure, and color changes.
The question is, how well does it perform in these areas? The core features are there for photographers looking to replace Aperture or expand beyond Photos for OS X, yet I was also often stymied by missing features or unnecessary speed bumps. Let's step through a typical workflow and see where it excels and where it needs more work.
Importing and organizing
Capture One Pro gets its name from one of its original features, the ability to immediately import photos as they're shot using a tethered camera. The software now supports tethering with dozens of cameras from Nikon, Canon, MamiyaLeaf (owned by Phase One), and Phase One's own models.
As a result, Capture One Pro offers two ways to store photos: discrete sessions, such as collecting photos from a particular event or job; and catalogs, which house your photo library the way Lightroom and Aperture do. You can have multiple sessions and catalogs open simultaneously, but you can search only one catalog or session at a time.
Importing photos from a memory card or camera works as you'd expect, although Capture One Pro's interface, with its black background and small white text, is tough on the eyes and makes it difficult to discern the boundaries of the Import window when it opens.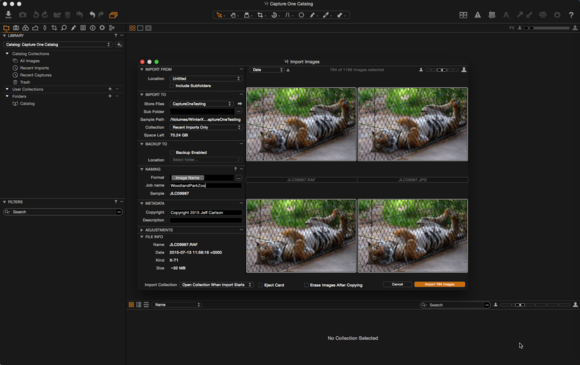 What I found puzzling, though, is that even though Capture One Pro supports more than 300 cameras (and the large array of proprietary raw image formats), it doesn't recognize a connected iPhone or other iOS device as a photo source. Phase One's audience no doubt reaches for DSLRs before iPhones, but professionals and amateurs alike shoot with their iPhones. In testing with two iPhones and two iPads on three different Macs, Capture One Pro didn't see the iOS devices as cameras. Getting those photos into your library therefore involves importing them to another application (like Image Capture) and then importing them from the hard disk into Capture One Pro.
Once the catalog or session is populated, you can rate photos from one to five stars (by simply tapping the corresponding number key), assign color tags, apply keywords, and group images into albums or smart albums. For the most part, reviewing and applying metadata is smooth—for example, it's easy to set up presets that contain frequently-used keywords and add them to photos.
But at the same time, you can't flag an unwanted photo as a reject; your options are to either keep the rating at zero stars or delete the photo. If you delete it, however, a dialog pops up asking if you also want to delete the file on disk, which gets in the way when you're reviewing your shots. This behavior suggests Capture One Pro encourages photographers to elevate the good shots instead of banishing the poor ones, but both approaches are useful.
Videos in Capture One Pro are just along for the ride. You can import and play them, but rating or applying any metadata other than changing the filename is inactive; smart albums don't even include criteria to identify videos.
If your camera is set to shoot Raw+JPEG pairs, the two files are treated as separate images in Capture One Pro. That's good in terms of being transparent about which files are in your catalog, but not great when you're seeing double of everything. One workaround is to hide the JPEG files (choose View > Global Filters > Always Hide JPEG Files), but that also hides photos you captured using a mobile device or other shots captured and stored only as JPEGs.
Capture One Pro also only barely supports geotagging. If the GPS data was saved to each file during shooting, it shows up in the EXIF-GPS field, but you can't copy the navigation information to other photos, such as those taken with a different camera at the same spot. There's no built-in map feature; instead, clicking a small button to the right of the field loads the location in a web browser using Google Maps.
Editing photos
Making adjustments to photos is a much better experience. Phase One touts Capture One Pro's superior raw image conversion, and I found that to be generally true, although not always dramatically so.
Part of that is because Capture One Pro automatically applies a profile to raw images, but I saw improvement even when comparing the same images after manually assigning a profile in Lightroom. Some cameras, like the Fujifilm X-T1, incorporate raw profiles within the raw files themselves, so the software can use that as a guide for rendering the images; even in those cases, Capture One Pro's versions appeared with more saturation and contrast compared to Lightroom's versions, which came through a little washed out.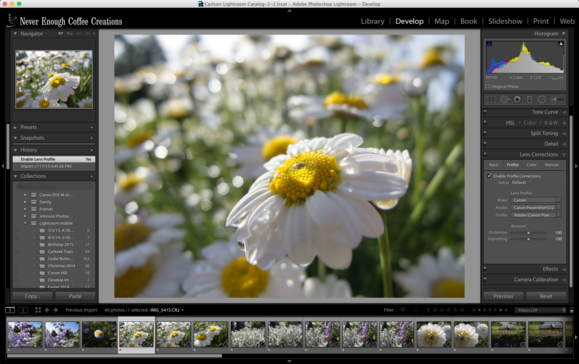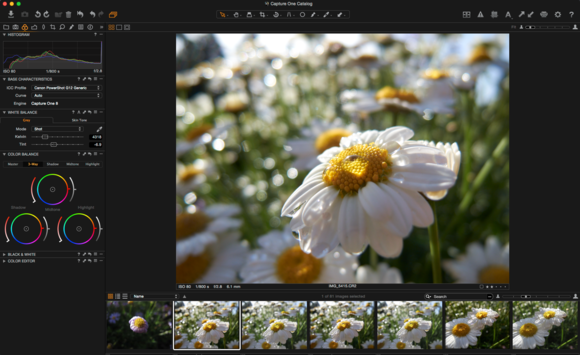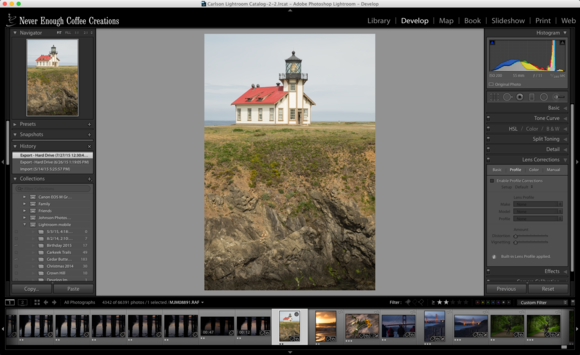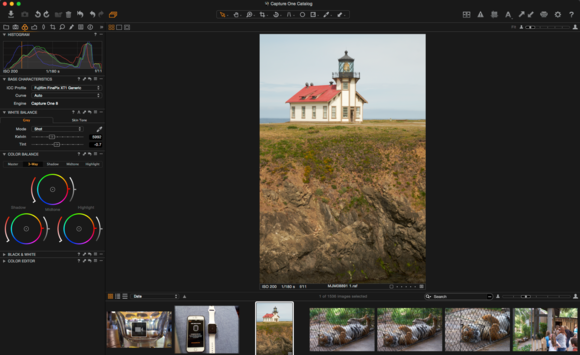 The raw file is just a starting point, of course. Capture One Pro includes a host of adjustment tools, such as a three-way color balance control for tweaking color casts of shadows, midtones, and highlights.
I also like the software's approach to local adjustments, or edits made to selected areas of a photo. You can apply gradient masks or paint specific areas, and also create them on up to 16 local adjustment layers, with the ability to toggle each one on or off as you experiment. I did find it annoying when painting masks to switch between the paint and erase tools to refine my selections. It would be easier to hold Option to toggle between the two, although Capture One Pro does offer keyboard shortcuts to switch between them.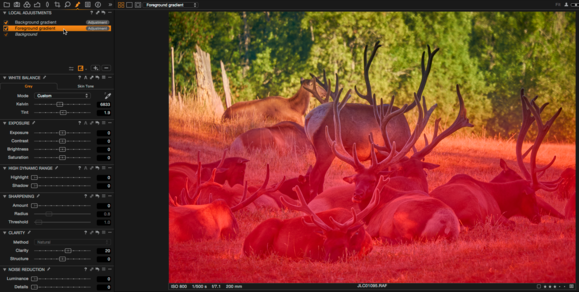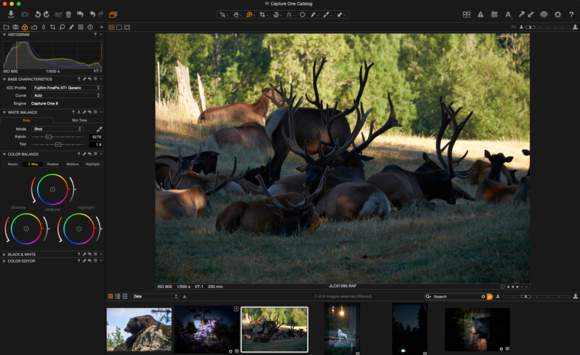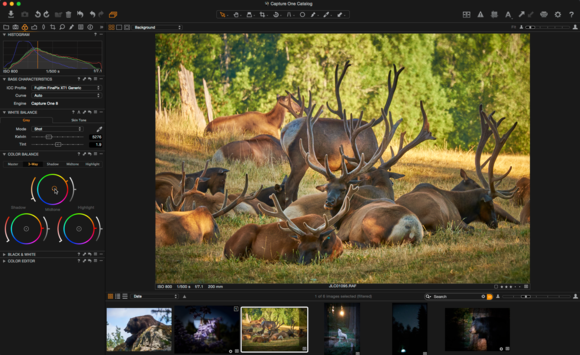 The application also includes an "HDR tool," which a little misleading: it's a control for bringing out detail in shadows and highlights. HDR (high dynamic range) usually refers to the process of combining two or more photos of the same scene that have different exposures into one image that includes a broader spectrum of tonal and color values. Capture One Pro doesn't offer that ability; instead you must export shots to an external application such as Photoshop, combine them, and then bring them back to Capture One Pro.
One unique feature I appreciated is the ability to edit offline images (where the original file may be on an external hard disk that's not connected). In most applications, offline images are off limits for edits, but Capture One Pro gives you the editing controls to work on the proxy stored within the catalog.
Bottom line
Capture One Pro feels like a focused tool that's been expanded to attract a broader market—which is a worthy goal, to be sure—but it's like the stage of a renovation where a few rooms still need to be finished. That's mostly limited to the organization features, which may frustrate photographers accustomed to the library features in Aperture or Lightroom. However, the editing tools have the potential to make up for that.
Then again, some photographers may be willing to put up with the software's limitations simply because it's not Adobe and not sold as an ongoing subscription as Lightroom CC is. Capture One Pro isn't inexpensive, though: a license costs $299. (Lightroom 6, which is identical to Lightroom CC but without any Creative Cloud features, is sold as a standalone product for $149.)
Capture One Pro can be downloaded as a 30-day trial, so I encourage you to give it a spin if the editing features appeal to you.