Mail is one of those apps most of us take for granted. It's one of the first apps we configure when setting up a Mac. In El Capitan, that foundational app experience is the same—what's more, Apple has introduced big improvements to Mail 9 that make it easier to work on and do more with your messages.
Much more robust full-screen support and swipe gestures are two of Mail 9's most noticeable visual changes. That's not all: Improved data detectors make it easier to add events to your calendar and contacts to your contact database. There are other under the hood improvements to make it easier to find what you need and act on it.
Full-screen support and gestures
Full-screen support in Mail 9 makes it easier to juggle multiple email messages. Let's say you're composing an email and you want to check another message or copy something from it. The email message you're composing now moves to the bottom of the screen, so you can access your email inbox, copy text or attachments from other messages, and more.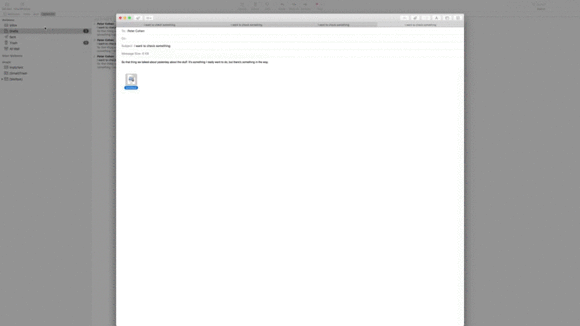 It's also easier to manage more than one email conversation at the same time. You can switch between active email threads using tabs, just like in Safari. And those tabs slide to the bottom of the full-screen Mail window, just like a single message. It's less clutter to deal with while you look for other important messages, copy content from them, find relevant attachments and more.
Mail 9's improved gesture support will be comfortable to anyone who also uses an iPhone, iPad, or iPod touch. On a Mac equipped with a Magic Mouse or a trackpad (either a built-in one on a Mac laptop or a Magic Trackpad), you can use the same gestures you're accustomed to on iOS: Swipe left to delete a message, swipe right to mark it as read.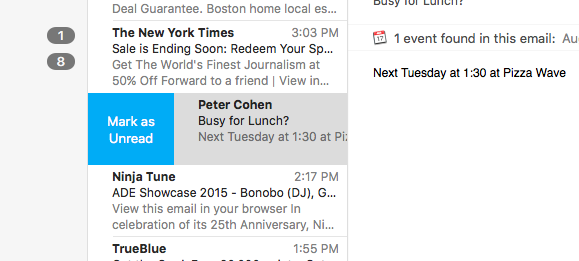 You're probably already familiar with data detectors: if you move your mouse over a date and time, for example, you may see a popup appear to add that as a calendar item. You can add contacts the same way. Data detectors get a little more front and center with Mail 9: Mail adds banners in between the address field and the body of the message with data it's detected and possible actions to take.
For example, if Mail 9 recognizes that someone's asking to get together, it'll list the event as an option you can add to your calendar. And if the message is from someone who's not already in your address book, you can easily add them to your contacts database the same way.
Mail 9 helps to provide more actionable intelligence even faster. It doesn't take long for muscle memory to kick in: Before you know it, you'll automatically check that spot in the message for action items. Grouping calendar and contact actions together gives you a bullseye to see where you need to be, at what time, and with whom.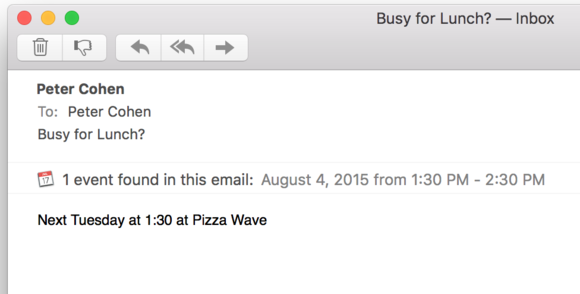 Other changes
Apple emphasizes natural language search in El Capitan beginning with Spotlight, OS X's system-wide search function. You look for a file the same way you would if you were using Siri, in your own words. Natural language search isn't limited only to Spotlight. It's come to Mail's search functionality, too.
Expect to spend less time fighting with Mail search function to get the results you want. Just write, "Show me emails with 'El Capitan' in the subject line" and expect to get what you asked for.
Internet Message Access Protocol (IMAP) is one of the most popular ways to access email. It's how iCloud and many other popular email services work. Apple has shored up the IMAP support in Mail with a new engine that it says is up to twice as fast on setup.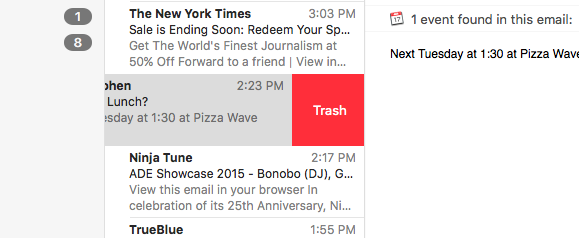 What's more, Mail 9 better prioritizes message downloads that you're currently viewing. You spend less time waiting for Mail to synchronize your messages before you can read them. This is particularly helpful if you're stuck with a slower connection to the Internet: Wi-Fi on airplanes can get Mail 8 (Yosemite) spinning as it tries to synchronize your inbox. Some public hotspots and even some cell data networks sometimes can cause trouble for Mail 8.
Mail 9 exemplifies a design philosophy often reiterated in Apple's products: A conscious effort on Apple's part to get the interface out of your way. With improved data detectors, more effortless full-screen support, improved IMAP performance and the addition of iOS-like gestures, Apple's making it that much easier for you to do things with email, instead of just reading it.
Editor's note: This article was originally written using the El Capitan beta. It has been updated and checked using the El Capitan released version.