Remember the good old days when the only thing you could do to a song was play it?
When Apple Music first launched in iOS 8.4 on June 30, the streaming service was bombarded with hidden menus and a wild array of options. In fact, this "menus on menus on menus" design was one of our biggest complaints about Apple Music when it first launched.
Well, if the iOS 9 public beta is any indication, it looks like Cupertino's UX design wizards have started to clean up Apple Music's messy interface. The iOS 9 update gives the Music app a subtle but much-needed makeover so you can spend less time browsing through options and more time actually listening to music.
The most drastic change to Apple Music in iOS 9 is the redesign of the More Options menu that can be accessed by clicking on the ellipses (…) next to each song. In iOS 8.4, this More Options menu was just a long list of options—pretty overwhelming, especially when listening to music on the go. Tapping it surfaced no fewer than 10 options for each song, and that didn't even include the hidden-but-basic functions to View in Album or View Artist.
Everything that you can possibly do with a song on Apple Music you can do via this bloated More Options menu, so it makes sense that it took a few tries for Apple to get the design just right. In iOS 9, all the functions are still there, but in a more elegant way that gives each option some breathing room.
Why this matters: Early reviews of Apple Music called it " uncharacteristically complicated by Apple standards," while others basically said it was a " hot mess." Even though streaming services like Spotify and Tidal can be equally confusing, Apple prides itself on the simplicity of its products. The Apple Music updates in iOS 9 prove that the company is looking to simplify its streaming service, quickly getting rid of all the clutter to soften the learning curve.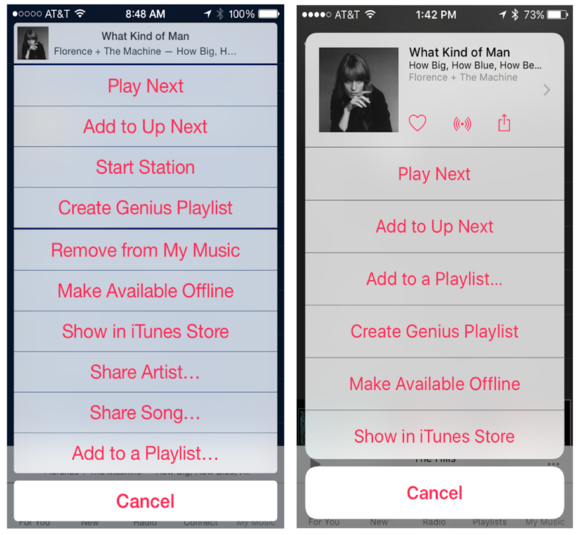 First off, the top section makes the album cover and song information more prominent, and it adds new, nearby icons to signify different actions. Tap on the heart icon if you want to see more songs like it in the For You tab, the plus sign to add the song to My Music, the radio signal to launch a radio station, and the share icon… well, you've probably seen that before.
This section also includes a very small arrow on the right to View in Album and View Artist. This is a far more instinctive way to get to these options than in iOS 8.4, where you simply had to guess (or read on Macworld) that you could tap on the album info to get there.
Now that some of Apple Music's most basic song functions have been designated to intuitive icons at the top, the More Options menu is less cluttered and easier to read. Each option button is also larger on the screen so you won't accidentally tap the wrong one. Perhaps most importantly, the More Options menu no longer causes minor anxiety whenever it pops up. There is one hidden option in the iOS 9 update, though. Scroll down and right below "Show in iTunes Store" you'll get the "Remove from My Music" option.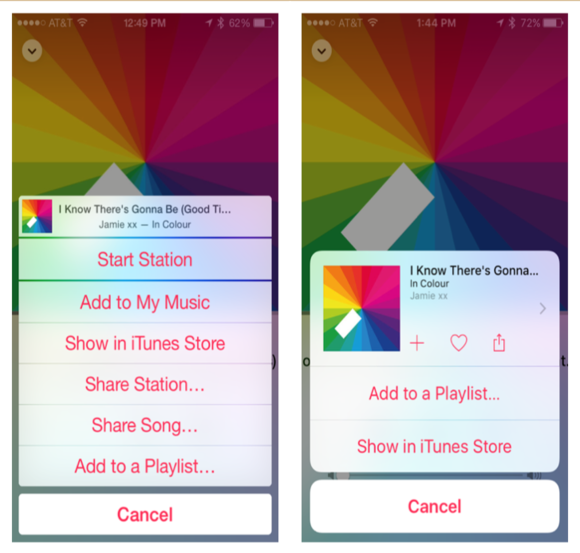 The options available in the More Options menu change accordingly, depending on whether you are listening to a song from the Apple Music catalog, the My Music library, or a random radio station. In iOS 8.4, for example, you could start a radio station from a song that was not in My Music. In iOS 9, it seems that you must first add a song to My Music (the plus sign) before being able to create a radio station. Once you add the track to My Music, you are able to start a station (radio signal), create a Genius playlist, and "Make Available Offline."