MG Siegler shares his thoughts on Apple Watch "three months in." He writes:
Here's what I do know: I almost never explicitly tap an app to open it on the Apple Watch. Hell, I almost never visit the app screen. To me, the Apple Watch remains all about the push notifications, and a few of the Glances.

I suspect truly native Apple Watch apps will change this slightly, as one issue I have with the apps is that they're entirely too slow. But I still believe there will be only a handful of apps that are worth having installed on the watch. And the majority of those will still be for richer notifications (I really hope developers are able to take advantage of varying haptic feedback for these).
That passage greatly resonates with me, as it reflects my experiences using the Apple Watch—its apps have proven to be an ancillary part of the experience. For me, the watch is two things: a way to tell time (obviously) and a satellite device for my iPhone notifications. Put another way, I don't see the Apple Watch as another app-centric device akin to my phone. I look at my Apple Watch on my wrist and think, "This is one super cool Dick Tracy/ James Bond thing."
How I use my Apple Watch (and why)
Here's the thing: From an accessibility standpoint, the Apple Watch's screen is just too small for me to get a lot from apps. As someone with low vision, I try to minimize my interaction with the watch; I don't want to spend much time looking at the screen for fear of increased eye strain and fatigue. I've been using a 42mm Apple Watch on loan from Apple for the past few months, and I find the screen small even on it—and it's markedly better than my personal 38mm model.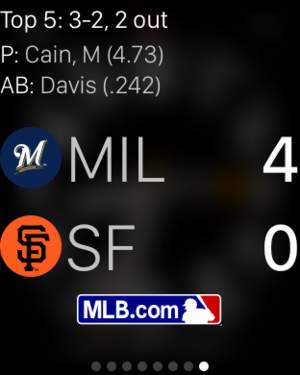 Because of the Watch's small screen, I've made concerted efforts to ensure that I only see the things I really want or need to be notified about. One example is email. I get a decent amount of mail throughout the day, but most of it doesn't require immediate attention. Thus, I have Mail configured so that only messages from people on my VIP list—mostly family and my editors—get pushed to my wrist. Likewise, I have Overcast set up so that I'm alerted whenever a new episode of, say, The Talk Show is ready for listening.
The bottom line is that I want only the essentials on my wrist. I want to be informed, but more to the point, I want to save my eyes from undue stress. Quick glances, with minimal squinting (and scrolling).
The issue of function not following form
Brian X. Chen recently co-wrote a story for The New York Times in which he describes third-party developers (such as Facebook) as reticent to writing apps for Apple Watch. The logic behind this trepidation is best summed up by Facebook's Adam Mosseri, who says:
"I don't know if we could get it all in there in a way that feels good and works well," Mr. Mosseri said in a recent interview. "You'd just want to get your phone out at that point."
While viewing content on a small display can be problematic for anyone, the issue is even more troubling for the visually impaired. I'd much rather scroll through Facebook on my iPhone than on my Apple Watch. I don't want a fully featured Facebook app on my watch, because the user experience would be terrible. Not only would it be murder on my eyes, but my finger would surely cramp from constantly flicking the Watch's screen and Digital Crown.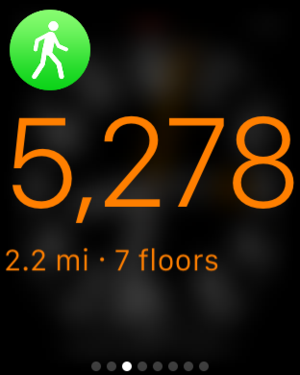 The biggest issue with Apple Watch apps isn't that developers are reluctant to make them, but rather that there seems to be an expectation from many developers that Apple Watch apps should be miniature iPhone apps. My opinion is that not every iPhone app needs or deserves a watch version, precisely because of the small screen. Tons of content in a small space isn't ideal for anyone, and especially for people like me whose eyesight isn't the greatest.
Instagram is, to me, the canonical example of an iPhone app that doesn't warrant an Apple Watch version. I don't see the appeal in viewing photos on a screen that small. (Even the built-in Photos app is dubious.) Instagram was one of the first apps I tried after getting my Apple Watch on launch day, and I think I deleted it after two minutes. The thumbnails were way too small to see comfortably. I get the appeal of wanting to be notified when someone posts a photo, but that's all. Instagram just doesn't translate well otherwise; as with Facebook, you're better off pulling out your phone.
My favorite Apple Watch apps: A precious few
There are few Apple Watch apps that I use regularly. They are:
Pedometer++
Activity
MLB At Bat
Fantastical
Transit
Overcast
All of the apps I list here are used in Glances, which I very much enjoy for quickly gleaning information. My favorite ones, though, are the first three.
Pedometer++ is great because I enjoy keeping track of my step count throughout the day, and the stats are presented in an easy to read format. Similarly, Activity is useful in that I also like to see how my circles are progressing through the day. Both apps are on my watch for the sole purpose of motivating me to move more often.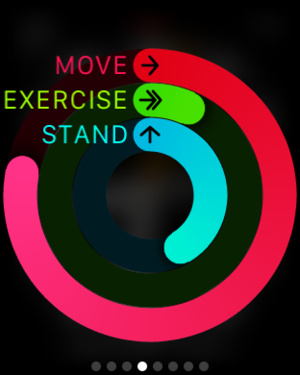 As for At Bat, I'm a huge baseball fan, and Major League Baseball's iOS app has long been one of my favorites for keeping up with the season. Living in San Francisco, I'm also a Giants fan, so having the watch app is handy in keeping up with breaking news and game updates. I want to know if the Giants take the lead on a big hit or are rallying late in the game, and I can get all that from my wrist.
As I explained with email, my approach to apps on my watch is to keep things as lean as possible. Again, I only want to be notified of the essentials because I don't want to overwork my eyes by always checking my watch. It seems like a small thing, but the little things make a big difference when you consider a disability like mine.
Bottom line
I agree wholeheartedly with Siegler when he says that truly native apps written with watchOS 2 will make Apple Watch apps better and faster. Further, I'm also in agreement with his sentiment that notifications is the Watch's "killer app."
I doubt that I'll ever come to conceptualize Apple Watch apps in the same way I do their iPhone counterparts—using lots of apps with deep, rich feature sets and user experiences. The screen is just too small. Today, Apple Pay and notifications are my killer apps. No one knows where Apple Watch will go in the future, but I'm pretty confident that stuff like Apple Pay on my wrist will trump anything that Facebook or Instagram could ever offer me.