iTunes has always been designed for "songs," and, for the most part, classical music isn't a song-based genre. Because of this, organizing classical music in iTunes can be a bit complicated. But with a few workarounds, it's possible to maintain a large classical music library in iTunes. Here's how.
Ripping CDs
To start with, if you still buy CDs—as many classical music fans do—you need to rip them. When ripping CDs, iTunes uses settings in its General preferences. You can rip in MP3, AAC, Apple Lossless, AIFF, and WAV. You've probably already decided on which format and bit rate to use, but, if not, here's a quick primer.
MP3 and AAC files are both compressed, though AAC—part of the MP4 standard—generally sounds better at the same bit rate than MP3. However, many classical music listeners prefer using lossless formats. iTunes doesn't support FLAC (a format that you'll find on websites selling music for download) but uses Apple Lossless, which is similar. I don't suggest using AIFF or WAV. Both of these formats are uncompressed, and take up a lot more space than Apple Lossless. They sound exactly the same as Apple Lossless—WAV, in particular, leads to problems with tags.
Ten years ago, when I wrote an article about ripping classical CDs, iTunes didn't yet play music without gaps between tracks. This is an issue for many types of music, especially operas. At the time, I recommended ripping entire CDs in single files, but there's little reason to do that now. However, if you want to join tracks, you can. Insert a CD in your drive, select the CD in iTunes. Select the tracks you want to join, and then click Options > Join CD Tracks. iTunes rips the selected tracks as a single file; this could be two tracks or an entire CD.
Tagging classical music
The real problem with managing a library of classical music involves normalizing its tags: its metadata, or information about your files. It includes the track name, artist, album, composer, genre, and more. There are many ways you can tag classical music, and, unfortunately, there's no consensus on the best way to do so.
Gracenote, who runs the database iTunes uses to look up the tracks on your CDs, displays classical tracks with the essential information in the Name, Artist, Composer, and Album tags: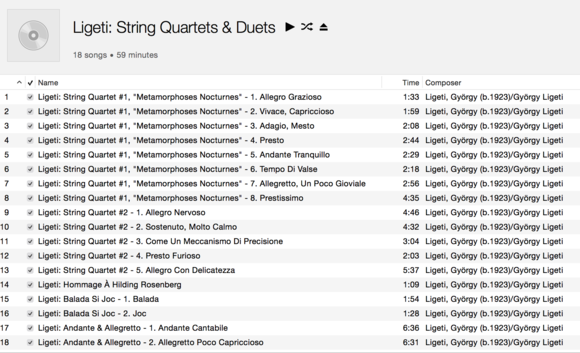 Gracenote's metadata, for many classical CDs, includes the composer's name at the beginning of each track.
As you can see, each track is prefaced with the composer's name, as is the album. The artist is the performer(s), and the composer's name is also in the Composer field. This structure is designed so listeners can see the name of the composer together with the track name, especially on devices like car stereos. Not all CD lookups return tags formatted like this, however; it depends on how recent and how common your CD is.
Apple's approach is different. They don't put the composer's name in the track name, and, in general, their metadata is much cleaner and more correct. However, you only get Apple's metadata when you buy tracks from the iTunes Store, or add them to your Apple Music library.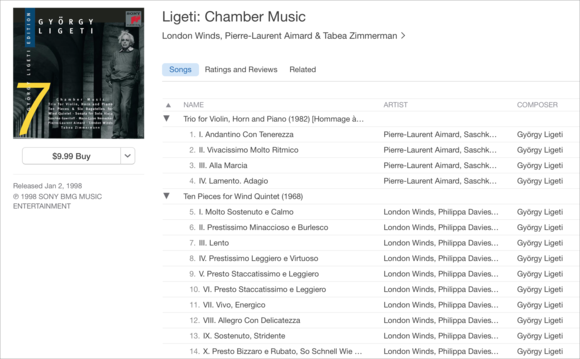 Having consistent tags makes it easier to find your music. Therefore, you should choose a tagging system, and stick with it.
Composers
To start with, you'll want to fill in the Composer field for all your classical music. To do this, select one or more tracks and press Command-I. Type the composer's name in the Composer field, and then click OK.
Be consistent. You could list a composer's name as, say, Johann Sebastian Bach, J. S. Bach, Bach, Johann S., or Bach, J. S. Unless you want multiple entries for composers in iTunes and on your iOS devices, choose one format. Personally, I find that LastName, FirstName works best for me; I can more easily spot composers at a glance when I'm looking at a list. And I'm more likely to think of looking for, say, Bruckner than Anton.
Artists
The same is true for artists. If you've got a recording with a single artist, such as Alfred Brendel, this is easy. You can choose to list him as such, or as Brendel, Alfred. However, it can get a bit complicated when you have a recording of a symphony orchestra. For example, the New York Philharmonic, conducted by Leonard Bernstein, could appear as any of the following:
Leonard Bernstein and New York Philharmonic
New York Philharmonic and Leonard Bernstein
Leonard Bernstein, New York Philharmonic [and other performers]
NY Philharmonic and Leonard Bernstein
Or even a soloist, such as Dietrich Fischer-Dieskau, could be listed with his name only—ignoring the names of the pianists who accompany him—or with the accompanists' names. In the former case, it'll be easier to find all of Fischer-Dieskau's recordings, but in the latter, you'll have more detailed information.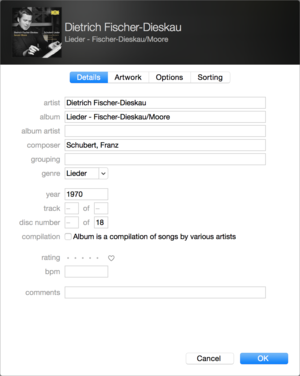 Genres
Both Gracenote and the iTunes Store use one monolithic genre for classical music: Classical. You may find that sufficient, or you may, as I do, want to have more granular genres. You can add any custom genres you want to iTunes. Just select one or more tracks, press Command-I, and type some text in the Genre field. Once you've applied the genre, it will display in iTunes, or an iOS devices you sync your music to.
There are several ways you can set up custom genres for classical music. Some people use genres such as Chamber Music, Keyboard, Opera, etc. But you could also use compound genres with names like:
Classical: Orchestral
Classical: Lieder
Classical: Vocal
In that way, all your classical genres stay together in lists, and having the word "Classical" in them means that you can more easily set up smart playlists in iTunes that include or exclude any of these genres. (A smart playlist could use the condition Genre contains Classical.)
Getting it right
If you've already got a large classical music collection, and haven't normalized your tags, it can take a while to do so. But tagging your files correctly helps you find them when searching, or lets you browse your iTunes library more efficiently. Make sure to tag all your new purchases in the same way. While classical music requires some different tagging techniques than other genres, once you get used to it, it's second nature.