Like many people, I oftentimes hold my iPhone in one hand and type with my thumb. This was actually fairly easy to do on the smaller screens of the older iPhones, but as screen sizes have gotten progressively larger, that practice has become more challenging. And unless you have particularly large hands, typing single-handedly on the iPhone 6 Plus seems practically impossible; at least not without Thumbly Keyboard, a $1 alternative iOS keyboard by Ronald McLaren.
As its name implies, Thumbly is an alternative iOS keyboard with a layout that's optimized for one-handed typing. Rather than using the regular typewriter-style keyboard layout that spans the entire screen, Thumbly's keyboard is laid out like a fan at the bottom corner of the device. This lets you hold your iPhone or iPod touch in one hand and reach all the characters with your thumb without having to stretch your hand across the full width of the screen.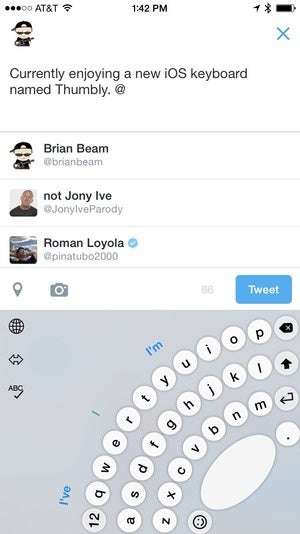 Like many other keyboards, Thumbly predicts your next word and presents those choices above the top "row" of keys. It also offers autocorrection which you can easily toggle on/off directly from the keyboard. When enabled, autocorrect will also flag unrecognized words and record them for later use when you select them. There are special keys that switch the keypad to numbers and symbols, as well as a small collection of smilies and emoji characters. Another handy key flips the keyboard from one side to the other in order to accommodate both left and right-handed use.
Typing with Thumbly felt a little odd at first, but since it still uses the familiar QWERTY layout, I grew accustomed to it pretty quickly. The keys seem a little small for my fairly normal size hands, so some people may find that it takes a little practice to hit the smaller targets. But handily, little bubbles pop up to show each character you're typing in case there's any doubt. The word suggestions could stand to be a little larger and bolder, as they're sometimes difficult to read clearly. But highest on my wish list is a swipe-to-type option. I'm a big fan of swipe-style keyboards and this option seems like an obvious choice for a keyboard like Thumbly; being able to type with one hand while keeping your thumb planted on the screen would be a big help, especially when wielding a huge device like the iPhone 6 Plus.
The only language Thumbly currently offers is US English, so hopefully the developer has plans to add more languages. On a similar note, Thumbly lacks the ability to select accented versions of letters, so I'm hoping this feature will be added as well.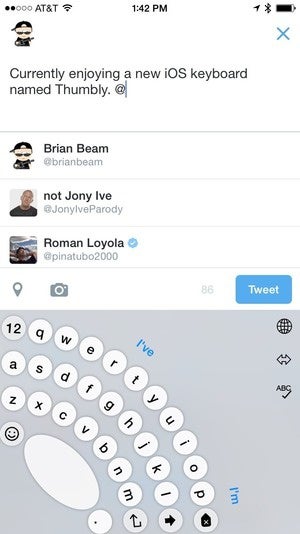 Bottom line
For a 1.0 product, I think Thumbly is a great start towards a convenient solution for people who prefer to type on their iOS devices with one hand. More so, I think it has the potential to be especially helpful to those who are forced to use their devices one-handed due to mobility issues. For that reason alone, I recommend that everyone download the app and help support the developer in making Thumbly even better.