Creative professionals must continually update their font management utility to keep up with new technologies and new versions of design apps—that's just a fact of our creative life. FontExplorer X Pro 5 supports all the newest technologies and apps, and runs faster than before while providing smarter organization and new design features.
The welcome tour
The first new feature you encounter after upgrading is a Welcome Tour. This may seem like a trivial feature, but fonts have become extremely complex and FontExplorer Pro is an extremely robust program. Unlike the old days, when "font management" meant activating and deactivating fonts and grouping them into sets, modern font managers also must deal with multiple desktop font formats, multiple web font formats, fonts that mysteriously arrive over the Internet but are invisible on the user's machine (Adobe's Typekit, for example), fonts being served from local font servers, and so on. In addition, users can now buy and install fonts directly from retailers such as FontShop, Fonts.com, Monotype, and others.
A modern font manager must handle all these issues while remaining user friendly—and FontExplorer X Pro 5 succeeds on all these fronts. If you skip the Welcome Tour, it's available later under the Help menu. (The Help menu also links to FontExplorer's comprehensive online usage manual and support site.)
New look
The first visual change you'll notice is the removal of almost all color in the interface, and a flattening of all the icons. While this attempt at keeping up with the OS X (and iOS) interface is commendable, some organizational efficiency is lost because color would help most people identify interface items more quickly. However, you can still apply a color label to any font for your own organizational purposes.
FontExplorer Pro 5 has several new timesaving and fun-making enhancements, including a new Font Tile view. This new view displays a few characters in each font, making it easy to find a font that has a specific flavor or quickly scan for appropriate fonts for a specific typographic logo.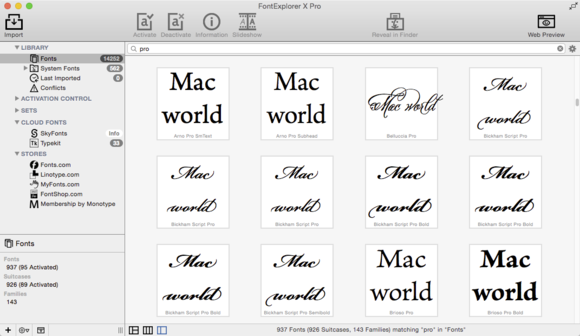 The most commonly used display settings are now available in an optional panel on the right side. Checkboxes let you enable the visibility of various features, such as a font's label, rating, activation state, and whether to show missing PostScript printer fonts and invisible fonts. A slider controls the size of font tiles, and when not viewing font tiles you can enable WYSIWYG display of font names, style linking and font family grouping.
In the bottom preview panel, you can control how the previews are colored and tinted, whether the font's built-in kerning values are used, and apply your own tracking values to bring the letters closer together or move them farther apart. You can also edit or create preview phrases, including various languages (great for multilingual publishing), numbers (because some fonts don't include numbers), common ligatures such as ff, fi, fl, ffl, st and sst (because some fonts lack ligatures), and special characters such as $, &, @, and curly quotes (either to find the best one of these characters from a selection of fonts or to determine if a specific font includes it).
Especially handy are the OpenType settings, which let you quickly see the intelligence built into an advanced OpenType font. For example, some fonts can automatically choose alternate characters based on their position in a word or sentence. Or, they may include characters optimized for small caps, fractions, subscripts and superscripts. These and other OpenType features can be instantly previewed on any sample text.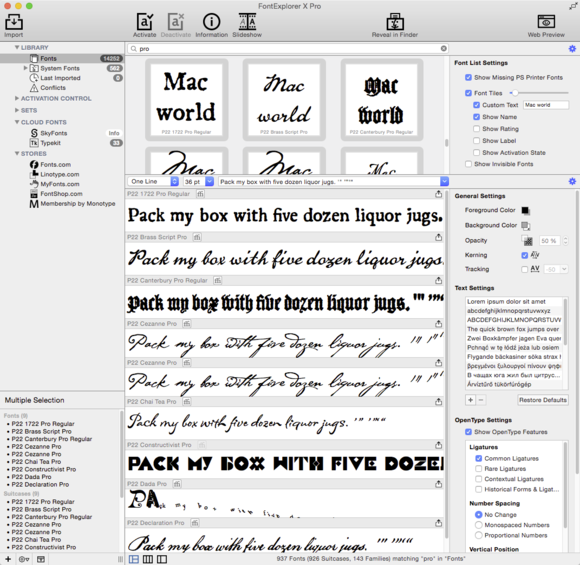 Plug-ins, previews, and more
Professional graphic design software such as Adobe InDesign, InCopy, Illustrator, Photoshop, and QuarkXPress require special plug-ins if you want your font manager to automatically activate the correct version of a font used in an existing document. FontExplorer X Pro 5 supports the newest releases from Adobe and Quark (CC 2015 and QuarkXPress 2015 respectively), as well as earlier versions. (The two-year-old FontExplorer X Pro 4 supports up through CC 2014 and QuarkXPress 10. See Lesa Snider's Creaticity story for a discussion on this topic.)
Historically, Photoshop has presented a unique challenge to font managers trying to automatically activate fonts as you open documents, and the problem continues today. Specifically, fonts in layered TIFF files are not activated when opened in versions of Photoshop from CS5 to CC 2014. (If you convert the file to PSD format, the fonts will auto-activate.) Similarly, when any version of Adobe Illustrator opens a PDF or EPS file, missing fonts are not detected.
As with previous versions, FontExplorer X Pro 5 lets you preview any block of text on any web page, using any font you've added to FontExplorer. Just enter a URL into FontExplorer's built-in web browser, click a block of text on the web page, and choose a new font. When you find a combination you like, FontExplorer can generate the CSS code required to use it, and create a new FontExplorer set that contains only the fonts you used.
Version 5 now supports Web Open Font Format 2.0 (WOFF 2.0), which delivers 30 percent smaller file sizes and faster loading times. You can now activate, deactivate and preview WOFF 2.0 fonts just like any other font.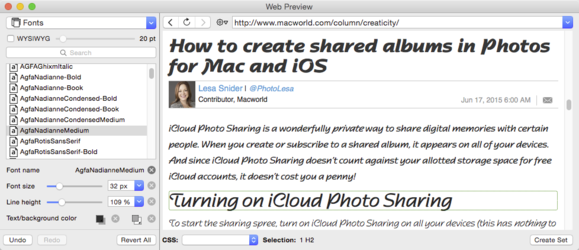 Every OpenType font uses the Unicode standard to organize its glyphs (characters), and FontExplorer X Pro 5 can show every one of the tens of thousands of possible glyphs available in each font. This is particularly handy if you want to view the additional 250 picture characters included in the latest Unicode 7 emoji fonts.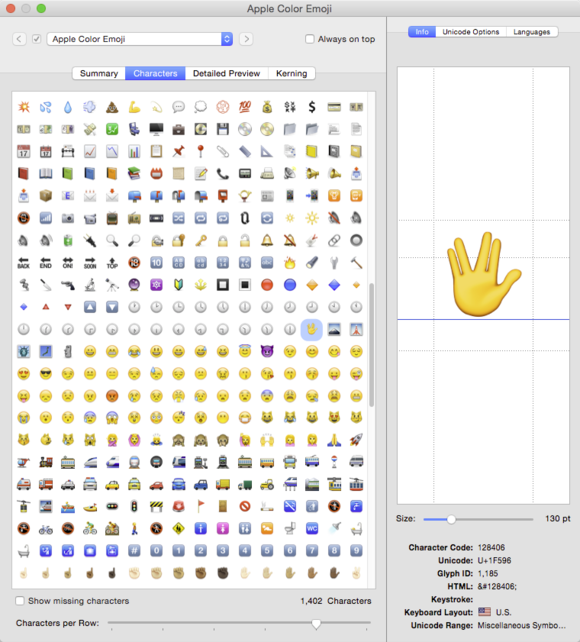 FontExplorer X Pro 5 is noticeably faster than previous versions when previewing or activating fonts—a welcome improvement.
Font rentals and purchases, and server support
The advent of font rental services such as Adobe's Typekit and Monotype's SkyFonts added an entirely new level of complexity to font management. Font files from these services are invisible on your computer, so font managers previously couldn't manage them. But in version 5, FontExplorer X Pro now can activate and deactivate fonts from these services, and show you the fonts you've downloaded—even the old ones you removed using those services. This makes it much easier to access previous fonts, without needing to fire up those services' utilities or websites.
In the heat of creating a design project or finishing a production job, it's not unusual to need to immediately purchase a font. Rather than heading to a font store's website, buying the font, downloading it, adding it to FontExplorer and then activating it, FontExplorer X Pro 5 links to popular online stores so you can quickly buy and activate fonts. Currently, those include Fonts.com, Linotype.com, MyFonts.com, FontShop.com and Membership by Monotype. When you buy a font, FontExplorer installs it and optionally adds it to a new set. And much like iTunes, you can click an arrow next to a font name to see related fonts available in the same font family.
FontExplorer X Pro 5 can act as a client to the new FontExplorer X Server 2 (available as a separate product). When connected, users can display server fonts in local sets, be notified of updates, see deleted fonts, and see detailed paths for fonts in nested folders—along with all the other abilities of FontExplorer X Pro 5. The server administrator can control permissions for each client, including the export of server fonts, font store availability, SkyFonts and Typekit fonts availability, and many other client capabilities.
Bottom line
If you need a font manager, there's nothing better than FontExplorer X Pro 5. Its new speed, Font Tile view, integration with font sale and rental services, and improved organization will make your work easier and more fun. And users of previous versions of FontExplorer require this upgrade to auto-activate fonts in Adobe CC 2015 or QuarkXPress 2015.