Two years ago, when Apple entirely revamped its iWork apps, I wasn't terribly impressed with Keynote 6.0. Although I appreciated the interface improvements, I was frustrated with lost features and reliability problems. But after a series of small-to-medium updates (the app is now at version 6.5.3), Keynote has improved enough that it feels like a true upgrade over Keynote 5.3 (part of iWork '09), even though some of the old features are still missing.
I recently wrote a book on using Keynote, and having explored the latest version in detail, I'm happy to report that many of my earlier complaints are now moot. I consider Keynote 6.5 to be on par overall with Microsoft's excellent PowerPoint 2016 for Mac, although each app has its strengths and weaknesses.
Rising from the ashes
One of the first improvements Apple made to Keynote 6 (in version 6.0.1) was to bring back customizable toolbars. (Apple did the same thing with Pages and Numbers.) Updates have also added numerous transitions and builds, including some that had been present in Keynote 5 and the spiffy new Trace effect for building text objects. The presenter display is once again fully customizable. And the Build Order palette at least shows the names of graphics, although still, sadly, not the type of each build (In, Out, or Action).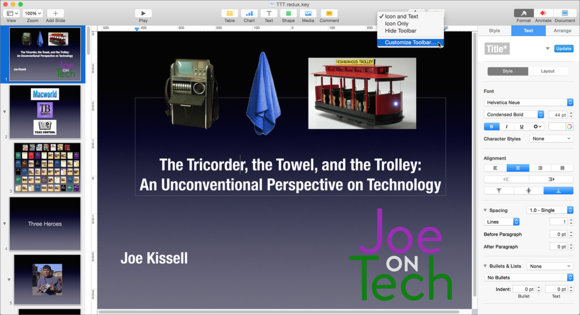 Other features missing in 6.0 but since restored include the option to put the origin at the center of the ruler, full drag-and-drop support, PDF scaling in Magic Move, a QuickTime export that properly omits skipped slides, a Ready to Advance indicator in presenter view, and the option to layer objects with those on master slides.
In addition, AppleScript support is massively improved, largely thanks to a new compatibility suite that brings back many of the old commands and terms from Keynote 5.3. Although some AppleScript features are still missing and older scripts might not run unmodified, there's now at least some way to accomplish most of what you might want to do when automating Keynote.
Apple has also added entirely new features, such as support for Handoff (letting you switch between your Mac and an iOS device easily while working on a presentation) and iCloud Drive. The ever-popular Magic Move transition now smoothly morphs text if the font, size, style, or other attributes change between slides. And, in my testing, Keynote has been far more stable than it was in the early days of version 6.0—I can recall only one crash this year.
All these improvements show that Apple does pay attention to customer feedback, and that the rewritten Keynote is evolving nicely after its rough start (much like Final Cut Pro X).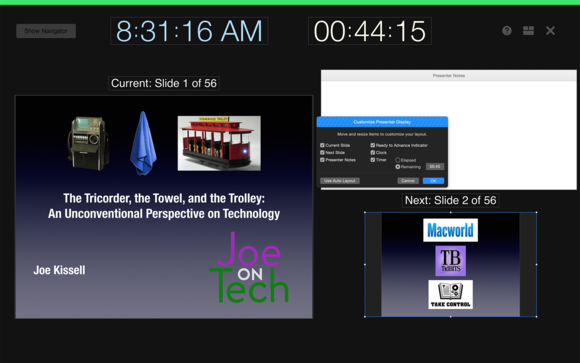 Still waiting
Although I'm happy to increase Keynote's mouse rating by a notch in recognition of its progress, I'm still waiting impatiently for the return of several other features that have been missing since version 6.0. Smart builds (an easy way to animate a series of graphics) remain absent. You still can't link objects to other Keynote presentations (or to any other external document, such as a Numbers file). Master slides still can't include animations, such as builds for lists or default transitions.
Resizing grouped objects always constrains their proportions, which may not be what you want. You can't split a table cell into multiple rows or columns. You can't select non-contiguous text (a bizarre limitation that affects the other iWork apps too). You can't apply a different theme to only part of a presentation. And if you export a presentation as a QuickTime movie, you can't select Manual Advance or Hyperlinks Only, making it awkward to use the movie for a live presentation.
Furthermore, PowerPoint has leaped ahead in some respects. I love the way PowerPoint shows you a 3D view of all the layers on a slide, and I prefer its more straightforward path animation. Since Apple killed my beloved Messages Theater feature, the least they could do is let us play Keynote slides in their own window, as you can do in PowerPoint. And the new theme variants in PowerPoint 2016 make it far easier to change a presentation's look without adjusting lots of different attributes separately, as you'd have to do in Keynote.
Macworld's buying advice
Despite the many improvements between Keynote 6.0 and 6.5.3, I know a number of people who continue to use Keynote 5.3 and insist that they won't upgrade until Apple restores their favorite old feature. We don't know if or when that will happen; meanwhile, people who use version 5.3 forgo all the improvements of version 6. Given that workarounds exist for almost every missing feature, I think the case for upgrading is strong—certainly far stronger than it was when 6.0 was released.
Deciding between Keynote 6.5.3 and PowerPoint 2016 is trickier. Keynote is much less expensive, but many people and businesses license all of Microsoft Office as a matter of course, so your choice may be which one to use rather than which one to buy. As I said in my PowerPoint review, each has features the other lacks, so your choice will depend on which features are most important to you (and which ecosystem—OneDrive/Office 365 or iCloud/iWork—you feel most comfortable in). Keynote has Magic Move; styles for characters, lists, paragraphs, and objects (much like the styles in Pages and Word); tables with full spreadsheet capabilities; and the capability to set the start and end times for audio and video. PowerPoint has that wonderful Arrange > Reorder Overlapping Objects command and an interface that will feel much more comfortable to anyone who's used to PowerPoint 2011 or the Windows version of PowerPoint. But ultimately both are fine (if slightly flawed) tools for creating modern presentations, and there's no wrong answer.