At its best, Wi-Fi can make voice calls without relying on a cell signal, but at its worst, Wi-Fi is frustrating enough to want to rip your hair out.
If the latest iOS 9 developer beta is any indication, Apple's newest mobile software update will make the most out of your Wi-Fi connection at all times—even when the Wi-Fi signal sucks. 9to5Mac has uncovered that iOS 9 will introduce Wi-Fi Calling to AT&T users. iOS 9 will also include Wi-Fi Assist, a feature that automatically boosts your connection by relying on a cell signal when your Wi-Fi is weak.
Wi-Fi Calling allows you to make a call using a Wi-Fi connection instead of a cell signal. Even though the option to enable Wi-Fi Calling shows up in the Settings of iPhones running the beta, once you toggle it on you get an error message. "Oops! Wi-Fi Calling isn't yet available in your area, but check back soon."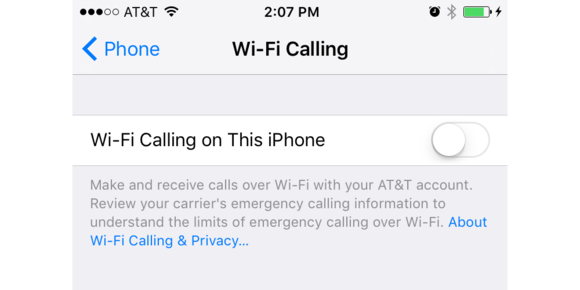 T-Mobile was the first carrier to support Wi-Fi Calling in iOS 8. Sprint quickly followed suit in iOS 8.3. AT&T, which promised to support Wi-Fi Calling in 2015, seems to be keeping its promise in iOS 9. It might be interesting to see if Wi-Fi Calling will be included for Verizon, the one holdout, once Apple seeds the final iOS 9 release this fall.
Unfortunately, Wi-Fi connectivity is not as ample nor as stable as cell signal coverage, so that's where Wi-Fi Assist comes in. This feature will automatically detect whenever your Wi-Fi signal is weak and switch instantly to using a cellular connection. It's for all those times when you manage to sign on to Wi-Fi, but the connection is barely just strong enough to keep you on without loading anything. iOS 9 will catch that this Wi-Fi is not delivering anything and drop you back to using your cell signal.
Why this matters: These new features expected in the forthcoming iOS 9 prove that we still rely heavily on both Wi-Fi and cellular connectivity to make our mobile devices work in different situations and locations, whether at home, driving through a rural area or traveling abroad. In iOS 9, Apple is giving us the option to choose which connection is best to make a call (Wi-Fi Calling), as well as making iPhones able to switch back and forth in a way that's both automatic and seamless (Wi-Fi Assist).