Editor's note: As of October 21, 2015, all of T-Mobile's Test Drive devices are out of stock. In the meantime, T-Mobile offers a 30 day return policy under its Lifetime Coverage Guarantee policy for new customers interested in trying out T-Mobile's service.
T-Mobile has a clever way to get you to take its service for a spin—hoping that, of course, you decide to make a permanent switch when it's over. With Test Drive, the self-described "uncarrier" loans you an iPhone 5s with a T-Mobile SIM card for a week in order to try out the network. The company started this practice in 2014, and Macworld's Susie Ochs gave it a shot and tested its network speeds in various places around the San Francisco Bay Area.
Now, with T-Mobile offering some of the best iPhone 6s deals around, the carrier is sounding more appealing than ever before. So, one year later after our initial benchmark testing, we decided to take another Test Drive to see if it had changed.
Based on Susie's experience, I had concerns over how good of a signal I could get while traveling with T-Mobile, but the siren call of Music Freedom, Jump on Demand, and other dangling carrots finally convinced me to at least give it a try.
After using the phone on the road, in town, and at home for the seven-day trial, the experience was straight out of the popular children's poem There was a little girl from Henry Wadsworth Longfellow:
There was a little girl,

Who had a little curl,

Right in the middle of her forehead.

When she was good,

She was very, very good,

But when she was bad she was horrid.
Poetry aside, here's what I mean. When I had a solid LTE connection, the Internet was lightning fast. It's not surprising that T-Mobile keeps winning accolades for being the fastest of the four large networks. But when leaving urban areas and going inside buildings, the network struggled.
How Test Drive works
You sign up for Test Drive online, so you don't even need to head into a store if you don't want to. I went into a T-Mobile retail store anyway, as I wanted some reassurance from a human that there wouldn't be any restrictions on linking the loaner phone up with my Apple ID and getting some logistics about the program. The manager confirmed I could sign in, download apps, and essentially use it as my personal phone during the trial period.
The test experience
I timed my trial with a road trip I was taking with my wife along the California coast, and I ended up setting the iPhone up while I was on the road. I excitedly opened the box, slapped in the SIM card, and… nothing. Surprisingly, the iPhone was completely dead. After about 15 minutes plugged into the car charger, it came to life, and I went through the setup while my wife was driving us through Monterey.
Setting up a new iPhone requires a Wi-Fi or data connection to complete, but right as its final step was about to start, we went through a tunnel. Radio silence. The connection was rather off and on during a lot of the outskirts of Monterey, but did much better later that day when going back downtown.
My road trip started out in my hometown near Fresno, California. We drove to Carmel-by-the-Sea, meandered around the Monterey Peninsula, headed down to Shell Beach for a day, and then back through the drought-plagued and desolate flatlands home.
Such trips are usually where some people struggle with T-Mobile service, and that was generally my experience. The highways to and from the Central Valley had a lot of dead zones. There was even an entire shopping center in Carmel Valley, just outside the main town, where I had no T-Mobile reception. By, contrast my wife, who also has an iPhone 5s, had a solid AT&T connection.
However, it wasn't a one-sided situation.
Very, very good
T-Mobile's plans and marketing tout the company's "data strong" network. Rollover data and fairly generous monthly limits are targeted at those, like myself, whose phones suck up large chunks of data.
And that's where T-Mobile really excels. In test after test, using OpenSignal and Ookla's Speedtest, T-Mobile outperformed the AT&T model right next to it. I didn't compile the data into a spreadsheet or come up with some statistical average, but it wasn't uncommon to get 50Mbps download speeds. There were even a few spots where the T-Mobile device had the superior signal to the AT&T iPhone.
Wi-Fi calling is another advantage, as you could use that to make up for a home, hotel room, or other spot where you're without coverage but do have Wi-Fi—however, this won't solve the issue if you want to start a call and head out to somewhere the signal isn't great.
Wanted: Low-band spectrum
The most frustrating part of my test was how quickly I could go from full-strength LTE to no service. This happened to me at Monterey's Del Monte shopping center, where after a couple minutes inside Macy's I didn't have a signal.
It was a situation that would repeat itself over and over. What was strong enough for app usage and music streaming in the car would become unusable once I walked inside.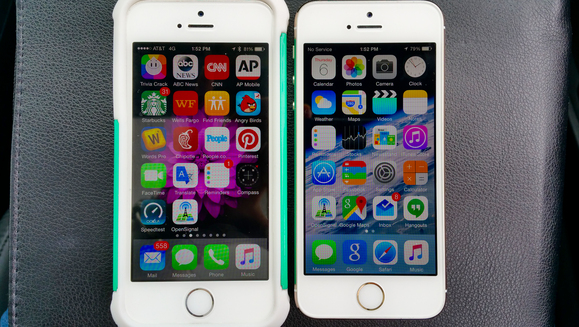 It's a problem T-Mobile knows about, which is why the company has its eyes on an upcoming spectrum auction. T-Mobile needs more low-band spectrum, which is better able to penetrate into buildings. Until then, even those in larger cities, which generally have excellent T-Mobile coverage, may continue to run into the same problem.
The verdict
When the seven days are up, you're required to hand over your iPhone and all the materials into a retail store. (Though in the interest of sanitation, they let you keep the earbuds, which is a nice $30 gift.)
I diligently submitted my test iPhone on the seventh day, and was greeted by a pleasant and enthusiastic T-Mobile representative. I shared my experience, and got a few head nods when I described where I drove and the challenges of losing signal indoors as if they'd heard this story before.
To the company's credit, the rest of the process was low pressure. I was thanked for trying it out, with a gentle pitch about how the company is constantly working to improve its network.
I hope this turns out, as even though some of T-Mobile's antics are a little on the gimmicky side, they've done great things for the industry and offer great plans. T-Mobile is what I want, but right now it just isn't what I need.