If you've ever accidentally deleted a document you saved to iCloud, Apple has a new way for you to restore your data. This new method can be used to restore lost iCloud files, Contacts, or data from Calendar and Reminders.
You'll find the new restore features when you log into your iCloud.com account and go into Settings. At the bottom of the Setting page, there's a new Advanced section, with links to Restore Files, Restore Contacts, or Restore Calendars or Reminders.
When you delete a file from iCloud Drive, you have 30 days from the day of deletion to recover it via the Restore Files feature. After 30 days, the file is permanently delete and cannot be recovered. When you restore a file, it reappears in your iCloud Drive.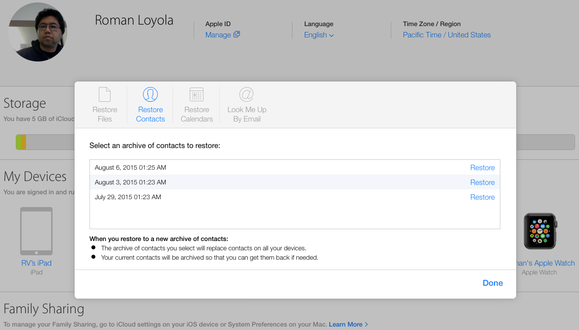 When using Restore Contacts, you can select which backup archive you want to restore. A restoration will replace the contacts on all of your devices—all your Macs, iPhones, iPads, and iPod touches. Before the restore, a backup of your current contacts is made, so you can revert back to it if needed.
Using Restore Contacts or Reminders is a little more involved. Sharing information is not in any of your archives, so you need to restore sharing privileges manually. Scheduled events get canceled and then recreated, so invitations are resent—you 'll need to let folks know what's up with all the event notifications they are being sent. And like with Restore Contacts, a restore replaces the contacts and reminders on all your devices, and an archive of your pre-restore data is made in case you need it.